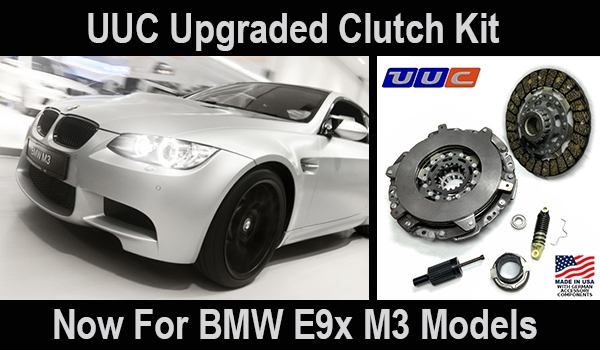 With all its experience, and the knowledge of what works and what doesn't for BMW cars, UUC has now developed a complete, upgraded clutch kit for the various BMW E9x M3 models.
The quest for the "ultimate" in replacement clutches has brought UUC to abandoning all commonly-available aftermarket brands, and instead focusing on a development relationship with the best street and race clutch manufacturer available. The result is a level of quality and performance beyond anything else available. Cerametallic is ideal for street use and track use and is suited to the high-torque demands of supercharged or turbocharged cars, or those w no upgrade, but looking for a clutch that will go the distance. This clutch's engagement characteristics and pedal effort are the same as a BMW OEM clutch, very smooth and easy to modulate.
PERFORMANCE ORGANIC for enhanced-power modified cars, track use, or frequent spirited driving use.  This is the ideal choice for street-driven M3s with basic bolt-on modifications.
This is a direct-fit replacement dual disk design.
This clutch has several advantages for the enthusiast driver:
Direct-fit clutch does not require special flywheel (or, in other words, can be used w the stock dual mass flywheel)
Greater clamping force than standard clutch.
If you are looking for a better clutch for your M3….don't waste any time, get your UUC Clutch from BRracing.
BRracing – bringing only the best solutions that are proven to work