Nothing that can make every drive more satisfying like the "snick-snick" feeling of a precision shifter. Too bad BMWs are not known for that, and that is where UUC Motorwerks has stepped in for many years…and continues to add to the product line for the newer BMW Models (see table below for new models now available).
"If you're going to do one thing to your BMW, it should be a UUC Evo3 Ultimate Shifter." This is a recommendation repeated over and over again in the press and on the internet for a good reason. Of all the control devices in a BMW, the shifter is the one that gives the greatest impression of mechanical interaction, the one that really puts the driver in control. Whether it's just commuting to the office, a spirited canyon run, a trackday driver's school, or even all-out racing… the shifter is a big part of the experience.
There is a reason UUC's short shifter for BMWs has been acclaimed as "the best at any price" by many enthusiast magazines, and why it continues to be the choice for competitors in Pirelli World Challenge, Continental Tire Series, BMWCCA, and other BMW club race series.
The reasons for all the acclaim and professional racer use? Simple:
PROPRIETARY DESIGN –
The UUC Ultimate Short Shifter is unique, and completely different than anything else available. Our design starts with the finest materials: T-304 stainless steel, T-6061 aircraft-grade aluminum, precision bearings, self-adjusting and lubricating primary pivot bearing, and the finest-grade silicone vibration absorbing material. Their products are not modified BMW components, and they are not "one size fits all" as with lesser offerings.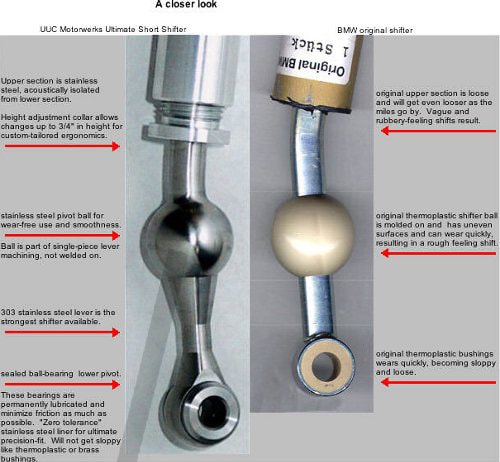 In the interest of continually improving their product, they are always developing and testing modifications intended to bring "ultimate" to higher levels. With that in mind, their latest generation brings the BMW shifter to a new level of smoothness and minimized shift effort.
The unique characteristics of the design include:
height adjustment via upper-section length change (this does not change linkage geometry like moving-ball designs).  (see image below)
flex and rotation-free lever construction with full-length vibration-absorbing bushing
linkage geometry perfectly corrected, with self-adjusting primary pivot bearing that permanently retains lubrication and precision (some models)
zero-tolerance lower pivot bearings that never require lubrication and eliminate significant mechanism friction. These do not wear or ovalize like solid-metal or plastic designs with expanding tolerances.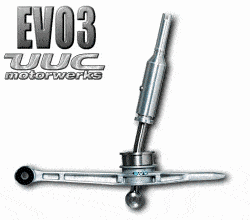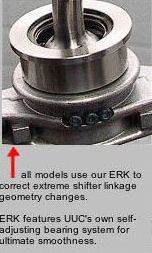 UUC's in-house manufacturing tolerances are "mil spec" using the latest CAM-controlled machining and milling equipment. Their ongoing dedication to quality and ultimate precision is another reason they continue to lead the market.
And if there was any question at all – UUC guarantees a satisfactory outcome.
But the UUC Shifter is NOT just another short shifter.
By using in-house professional engineering staff and outside materials and manufacturing experts, their ever-growing line of BMW shifters addresses each and every "compromise" of the stock BMW shifter system. The enhanced precision, direct feel, and super-smooth action cannot be duplicated by any means other than our than their precision solution.
How do they do this?
100% stainless steel, machined to exacting tolerances for a flex-free lever.
Lower pivot point enhanced with standard stainless steel bearings.
Primary pivot equipped with self-adjustin bearing mechanism that retains lubrication.
Delrin carrier bushings that eliminate carrier movement.
Precise calculations of linkage geometry and ergonomic placement (correct shifter position).
So in addition to a healthy 30%-40% reduction in shift throw (depending on model), you have durability and precision beyond your expectations.
 
At BRR we know there's only one Ultimate Short Shifter for BMWs, and that is the solution from UUC Motorwerks. Time has proven this solution, and the market has verfied all the claims.  If you want the precise feel, and shoft throw of a better shifter….UUC is it.
UUC doesn't take short cuts…see the new shifter for the BMW F3x series below….this is not an easy, cheap shifter to make, but they recognized the need in the market, and have filled it –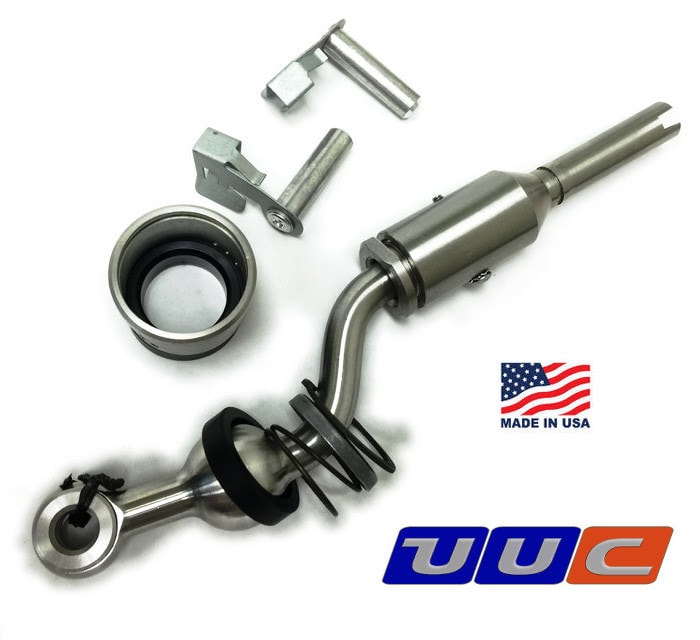 UUC is pleased to announce that their tradition of offering the best-feeling, highest-quality shifter on the market continues with BMW's newest generations car models. 
Already available for practically all BMW models, these are the latest Evo3 Ultimate Shifter additions to their catalog and available NOW:
Fits:                                                                Part number:
2013+ F80 M3 / F82 M4                                USSF80
2012+ F30/F31/F32/F34 335i/iX,
328i, 320i, 435i/iX, 428i                                USSEF30-1
2012+ F22 M235i                                         USSF22-1
2012+ F10 M5 and 550i                               USSF10-1
2012+ F10 535i                                            USSF10-2
Great value, great price, great fitment, great solution…don't delay, add this to your BMW today.
Use CODE UUCINTRO, and get 10% OFF on all UUC Short Shifter Kits.  Call us TODAY (408-356-1515)
BRracing – putting excitment back into your drive.