BMW E93 M3 – Evolving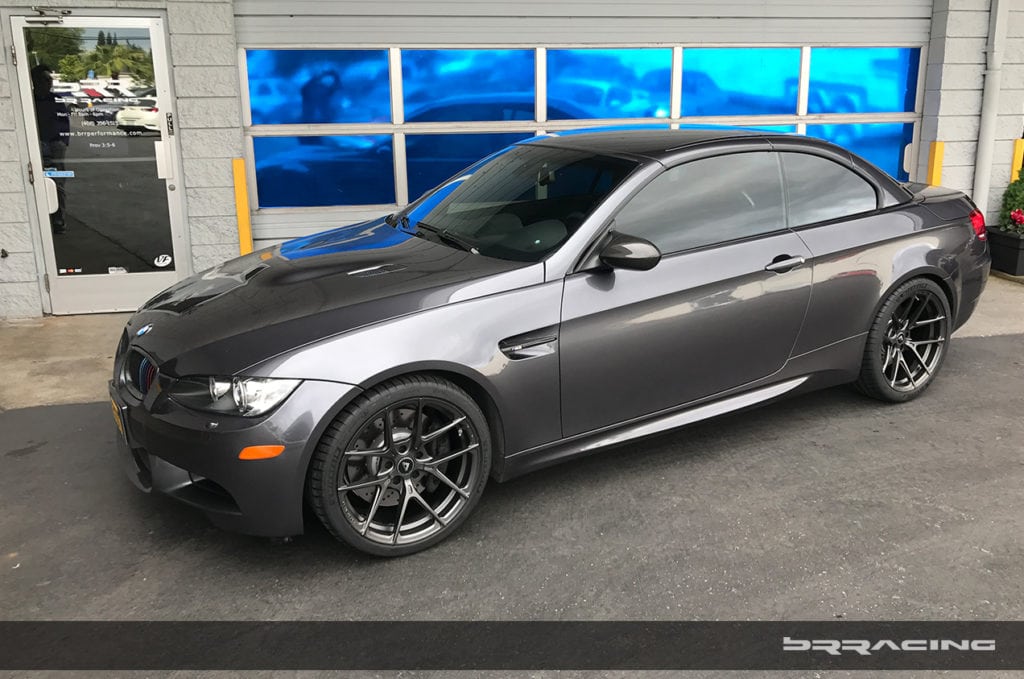 We would like to know what it is w BMW E93 convertible owners?  Of all the BMW E9x version M3's we have upgraded….the majority seem to be the M3 convertible. I would have thought the 2 door coupe (E92), but nope…it's the M3 convertible time after time. That is the case here too….this project was fairly straightforward, but as the title suggests, this is an ongoing project, and will continue to evolve.  But the requirements, objectives from the start were fairly simple – power, style, sound. That makes the answers fairly easy too….SC for the power, wheels / tires / tint / trim for the style, and exhaust for the sound.
Power
With almost all naturally aspirated BMW engines, they are very finely tuned from the factory, and there is not a lot of head room for traditional tuning (in fact, if you come in and see us, and have a non-turbo engine, and ask about tuning…we will say there is no need to waste your money on a tune…you need to go extreme, go big, or do nothing).  So, in this case, if you want power, we go big. If we are going big, then we go w VF Engineering SuperCharger solutions.  A VF-540 kit (non-intercooled).  Upgraded boost (4- 4.5 PSI), new injectors for better flow, cooler plugs to deal w possible "pre-detontation" from the increased power, Vortech V3-Si Supercharger, cast intake manifold (manifold is upgradeable, should the customer desire to move to a Stage 2 or Stage 3 solution), ECU software update / flash, and all the other supporting parts.
The kit installs great.  No unusual acts, no trimming…it just fits. It just works. It just delivers power, torque.
We can attest to not only the kit, fit, finish, but longevity and reliability of the kit as well…we starting installing these kits (Stage 1, 2 and 3) all the way back in 2010, and all those customers are still our customers today, and we have never had ANY issues….NONE.  We even have  a VF Engr SC kit on our own M3…and we drive it almost every day.
Exhaust
There are a range of exhaust solutions that we will recommend for BMWs.  Meisterschaft, Eisenmann, Armytrix, and Akrapovic.  We always like providing a suite of options, especially when it comes to exhaust.  The sound an exhaust produces is very personal…each person has a different set of tastes.  We may like loud, high pitched tones, but the next person may want something completely different.  There are cheaper exhausts out there…but there is a reason we lead w the solutions mentioned above…we know they work, we know they fit, and we know they last.
We have struggled with so many other exhaust solutions out there…and the manufacturing / fabrication quality shows.  Not only in the material, but, mostly in the fitment or method of fitment.  This mostly has to to w the tip area…if the exhaust does not have adjustment options, then the fitment inside the rear bumper cover or diffuser will not be correct….and you are stuck forevermore w an exhaust that will drive you crazy.  Every time you look at it, you are reminded of the issue…don't make that mistake.
For this customer, after listening to the many sound clips, the Meisterschaft solution was the right selection.  Enhanced w the upgraded black tips as well, this was a great choice.  Fit, fitment, style, looks, sound….perfect.
Style
One of our objectives when we lay out a full project view…and we do this for all customers, we want to provide a complete "master plan" view of what the car could be, and then allow the customer to select and pick & choose the elements most important to them, and that also fit their budget.  So, to tie all the pieces all together, the look has to say the same thing…that this project ties together.  We will determine what the base color to be enhanced or built off is, and then add the enhancements to that.
One of the first elements here…w the base color being the main car color, but the secondary colors were going to be black, carbon, and the accent color of red, was the trim.  We could not do w the chrome trim then on the outside of the car.  Rather than replace, we just blacked out all the trim.  We have done this hundreds of times, and know the right material / vinyl that will last.
Original Side Chrome Trim
Updated, Black Side Trim
Wheels
Probably the most significant element for a car in terms of style are the wheels…no question, they need to change.  There are three budget catagories….cast wheels, flow formed wheels, and forged. There is a drastic price difference in each of those catagories.  Cast wheels – thousands of styles, but heavy, not artistic, and don't do much to enhance the look of the car.  Flow Formed / Flow Forged – this is the newest catagory, and there are more and more options every day (see the new versions from Vorsteiner and HRE as an example).  These are nearly as light as forged, and offer great styles, and at a fraction of the cost of the forged wheels.  Forged wheels are the ultimate…strong, light, and as artistic as you can imagine.
For this customer, we went w the Vorsteiner Flow Forged wheels…not only due to the look, but also the color option to match the project color scheme.  With the new wheels, we added the new Michelin Pilot 4S, and they are just as good as all the reviews said…they hold like nothing else, don't make any noise, ride comfortably…what's not to like.  Even the price is better now.
BEFORE – OEM Wheels                      AFTER – Vorsteiner FF Wheels
There is always more to do, and more to come….look for more updates again.
BRracing – producing JOY for our customers.  How about you?