BRracing is your ONE STOP BMW SERVICE CENTER for all your BMW service needs. From simple oil changes, to the most complex engine and electronic diagnostic work, we have the experience, training, and expertise to deliver the best solution for your car. Not only do we work on all BMW models, but we drive and race these cars ourselves, and know them inside and out, enabling us to provide the best solutions for your car. Combine that with industry leading pricing, and you can see why more people are choosing BRracing for their service needs.
We utilize the latest BMW service diagnostic equipment, and tailor the specific solution to your exact BMW's needs, rather than forcing you into a higher cost and scope of work that may not be necessary.
BRracing has the skillset, knowledge and expertise of a BMW dealership service center but with the one-on-one, personal service of a independent auto repair shop.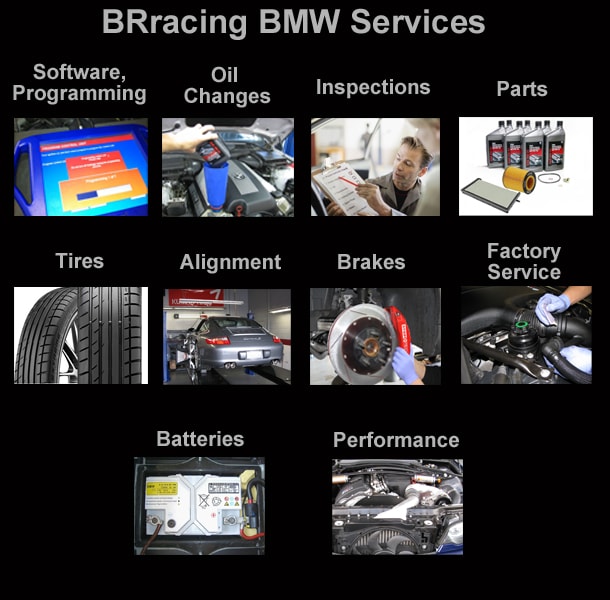 Sample of BMW Repair Services-
Oil and filter change
Normal BMW service intervals and inspection I & II
Fluid flushes – radiator, power steering, brakes, transmission, differential
Brake work – rotors, pads, sensors and "bedding" of the complete solution
Engine diagnostics, compression testing, coil and spark plug changes
Electrical system isolation, replication, module testing and repair
OEM BMW and aftermarket DME software updates, flashes
OEM BMW feature programming, coding
Engine rebuild, swaps, overhauls
Clutch, drivetrain, differential service, replacement, tuning
BMW E46 M3 valve adjustments, VANOS (I & II) valve timing
Full suspension servicing and alignment
Radiator, cooling system, water pump, thermostat, hoses service, refresh, replacement
Tire rotation, mounting, balancing and your direct source for new tires
Full restoration (body, engine, transmission, drivetrain, electronics, convertible tops)
BRracing – Your BMW Service Center
Better price
Better service
Proven experience
We warrant all our work
We make servicing your car easier, more convenient
Call us today at 408-356-1515, or send us an inquiry at brracing@gmail.com.
Check our customer testimonials , as well as our YELP and Google reviews, and see why more people are choosing BRracing for their BMW service needs.
You want the best for your car (best service, best value) and BRracing delivers. Come see us today.
And, if you want even more from your car, we can deliver all that too….see our other pages on our performance, upgrades, tuning and race support options.
Service
Repair
Inspection I
Inspection 1
Inspection II
Inspection 2
Oil change
Batteries
Alignment
Tires
Factory service
Factory repair
Tuning, software, coding, keys,
Alignment
Oil change
Valve adjustment
BMW Service Center
BMW Repair Center
BMW Models we Service:
BMW M1, 1 Series
BMW M2, 2 Series
BMW M3, 3 Series
BMW M4, 4 Series
BMW M5, 5 Series
BMW M6, 6 Series
X Series X1, X2, X3, X4, X5, X7
7 Series
8 Series
i Series (Full electric and Hybrid)
Z Series z4
And more, just ask!