DINAN VALVED AXLE-BACK EXHAUST – 2019-2023 BMW 330I/430I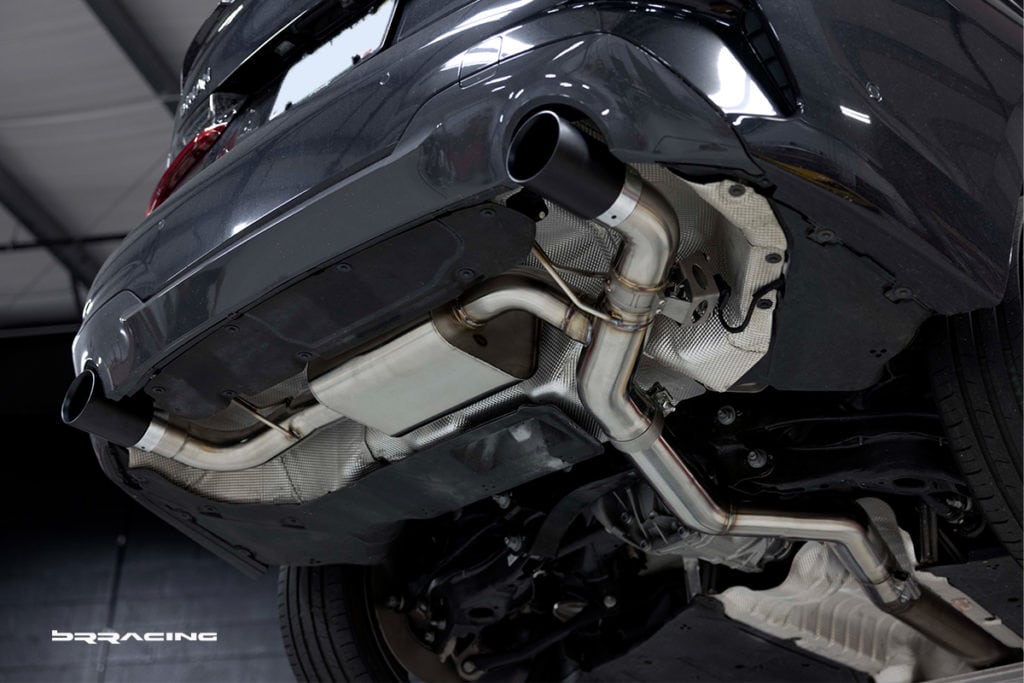 Delivering on the promise of performance (and sound) without sacrifice, the Dinan G20 330i / G22 430i exhaust not only grants the B46/B48 4-cylinder improved exhaust flow by reducing back pressure, but also imbues the platform with a deeper and fuller note, free of any added drone or other negative side effects commonly associated with aftermarket exhausts. The goal of OEM+ and then some, realized.
Utilizing factory cut points and mounting mechanics the Dinan exhaust system is a straightforward install with precision fitment just like you would expect straight from the manufacturer. Mounting and proper fitment is where the similarities to the factory exhaust end, however. Fabricated from brushed 100% T304 stainless steel, TIG welded and free of hydroformed pipes, the upgraded system is a substantial improvement from its predecessor – both in terms of material/construction as well as in overall looks.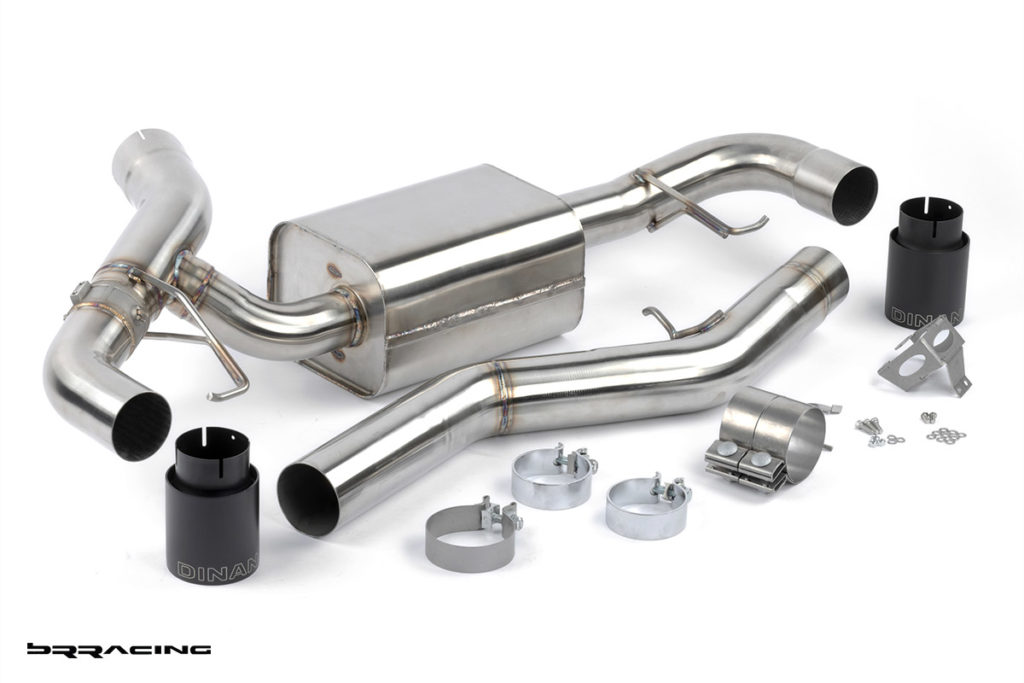 When viewed from the rear the difference becomes unmistakable if it was not already apparent. Going from the plebeian stock dual slash cut 90mm (3.5″) tips to the massive Dinan straight cut 102mm (4″) ones leaves no doubt that something above and beyond is present.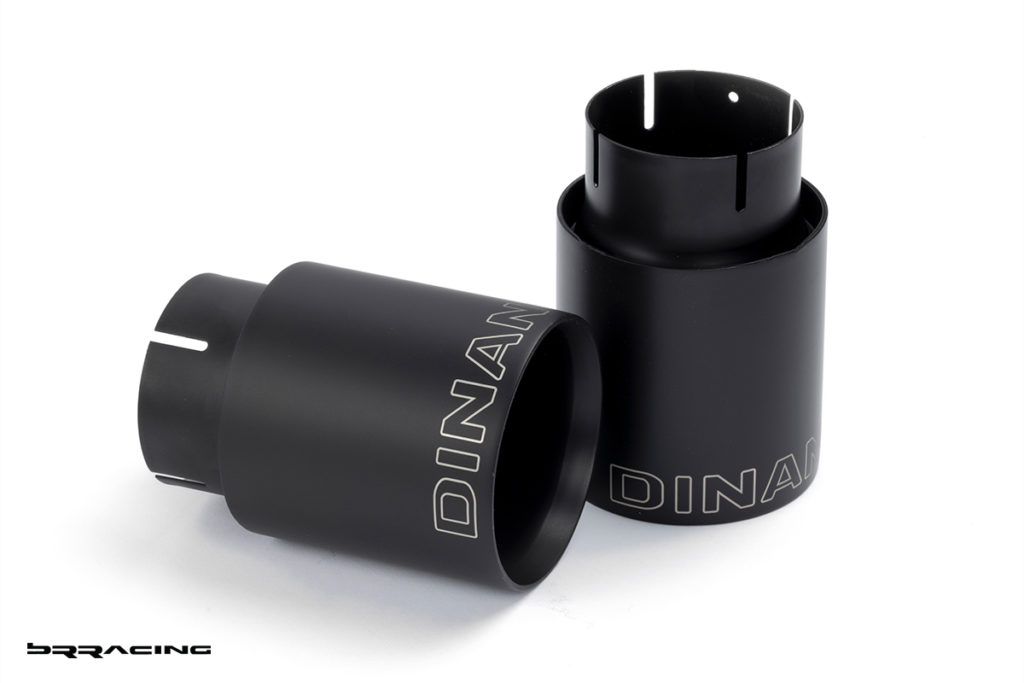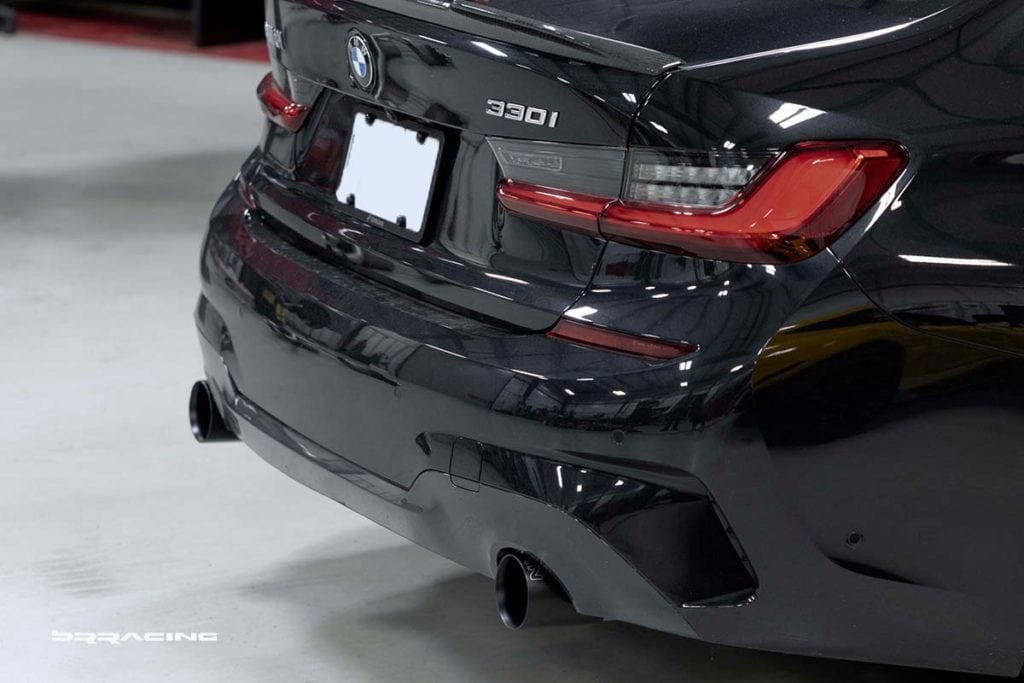 This is solidified by the Dinan logo laser engraved on the tips and the deep growl of the exhaust that is indisputably different than anything one would expect to hear from a base 4-cylinder turbo platform.
Unquestionable enhancements to the overall chorus emitted through the Dinan system transcends all modes making the vehicle a delight to drive and enjoy. However, for those that wish to have options to limit the extraordinary soundtrack for late night or early morning arrivals/departures (or any number of other reasons) factory valve control is retained. This ensures the perfect blend of civility when not pushing the car or the full spectrum of auditory delight when in it. No matter the situation the Dinan valved axle back exhaust system is the answer for the discerning enthusiast looking for performance without sacrifice.
Features:
* Maximum gains of +4 HP and +3 ft-lb of torque
* Enjoyably louder, sportier sound
* Drone abatement technologies used to reduce cabin resonance
* Dual 4″ (102mm) double-walled, black ceramic coated clamp-on tips with laser engraved Dinan logo
* Larger diameter piping for increased flow (85mm to dual 60mm vs. 85mm to dual 83mm)
* 100% 304 Stainless Steel construction
* Retains factory valve control
* Factory-like fitment with included mounting hardware
Applications:
BMW G20 330i
BMW G22 430i