MINI Cooper S F56 – Sinister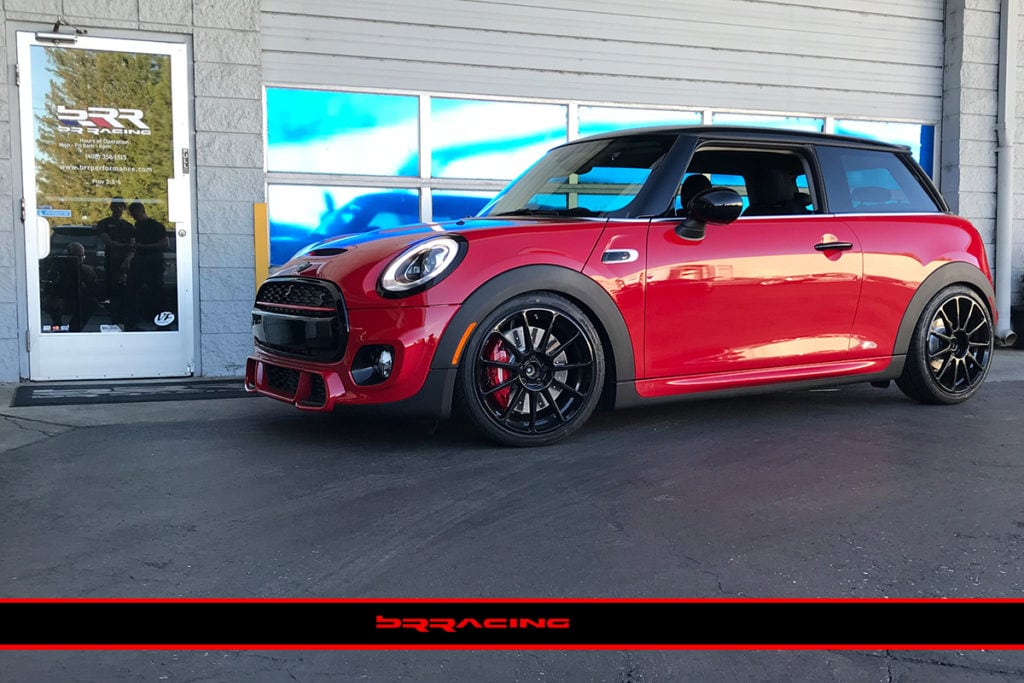 There is a common evolution happening with the newer cars. In an effort to gain market share, each manufacturer is making their cars better and better, and with more enthusiast options available.  BMW has probably gone the farthest…you can now order your new BMW w full coil-overs, adjustable shocks, different suspension bushings, carbon fiber bits, sport exhaust, different wheels…all the normal after market parts can now be had from the dealer / manufacturer, with the full manufacturer warranty.
So, there is less and less that "needs" to be done to the car to enhance it…..but there is indeed, still room for improvement.  Just because the manufacturer has upgrade options, does not mean they either match your objectives / desires, or they are the best.
Hence, we continue with project cars that customers desire to upgrade and make their own, put their personal touch on their car.  Here is another example on the recent, Gen 3 MINI Cooper. This generation is the first "all BMW" designed and parts sourced MINI.  Both Gen 1 and Gen 2 had motors sourced from other manufacturers, and, as a result, the first to incorporate all BMW ideas. Sometimes we see cars when they are very used, some with low miles, but on multiple occassions, we get them like this project, where the car basically came straight from the dealership to BRracing for the upgrades to be installed.
Nick was going to tackle his upgrades in several phases, and this is the first phase (suspension, wheels, tires).  Next up will be "tuning" of the engine performance.  If you haven't driven the new F56 model MINI, it is quite different from the early gen MINIs….in all areas.  Interior, exterior, power (much more), suspension (not the harsh ride of the early MINIs), and exhaust.
SUSPENSION
When it comes to upgrading suspension, first, obviously, we need to understand the needs and uses.  But the pieces to be changed / altered are almost always the same (springs, sway bars, struts / shocks, bushings, camber plates, control arms)….which are done, and in what order just depends on the needs.  For this customer, we were going about half way down the slippery slope….coil-overs (springs, struts), adjustable, rear sway bar.  But not camber plates, nor control arms or bushings.
This customer selected BC Racing coil-overs.  Simple, very inexpensive, and available (not many kits available at this time for the new MINI).
Besides getting adjustable struts…with true coil-overs, you gain a wide range of height adjustment with the threaded spring collars on the strut bodies (front, rear is by adjustable spring perches on the control arm).  Some coil-overs only provide a small amount of height adjustment range…but w these BC units, we had a huge range of adjustment.  Once we had the height and "rake" set, we just needed to update the alignment w a more aggressive set of values, and the suspension was set.
For the MINI, we normally only need to do the rear sway bar, not the front.  We would prefer not to have to do sway bars at all…but for the MINI, we just need to increase the rear roll rate, which helps in initial turn in, and dials out the slight understeer for the car.  With an adjustable rear bar, you can dial into the car the amount of rear end responsiveness.  Since the bar is already stiffer than stock, usually the softer setting of the stiffer rear bar is sufficient.  The bar implemented is a NM Engineering bar, with adjustable sway bar end links and bushings.
BRAKES
For brakes, the pieces are the same, but the options within those pieces are not (rotors, calipers, pads, stainless steel brake lines, brake fluid).  One of the determining factors is the wheels that the brake solution needs to fit within.  For MINIs…if you consider a true BBK (Big Brake Kit), then you have to start with 18″ diameter wheels.  If you want to stay within the normal 17″ wheels, then you can consider the MINI JCW brake upgrade option.
We could detail a long dialogue on brake pads…and you really have four options: stock, ceramic, street performance, or track.  Within those pad options, you need to consider three features (noise, bite or friction, and dust). You get to pick two of the three, but rarely can you get the best of all worlds in all three elements ……you can't get no noise, high bite, and no dust.  If you pick ceramic…you get no dust, you get no noise, but bite / friction is less than stock.  If you pick track, then you get noise, almost no dust, and great bite.  Street / Performance is where most street cars land….less dust, most of the time no noise, and better bite than stock (about 10% better than stock).
The complete JCW (John Cooper Works) solution, for both front and rear includes all the following: front vented, slotted, dimpled rotors (larger), front four piston calipers, street / performance pad set, new dust backing plates, rear single piston calipers, larger rear solid rotors, rear caliper mounts, stainless steel brake lines (front and rear)…..both JCW calipers painted red.
Just what the customer wanted…. a sinister looking, riding, handling new MINI.
WHEELS
The "go to" solution with MINI Coopers is the NM Engineering wheel set….for this car, it is the NM Engr RSe11 in 18″ x 7.5″ and black.
With the new wheels and tires as well….this MINI wants to carve up some mountain roads.  LET's MOTOR!