DINAN Engine Software Tune / Upgrade
MINI Cooper S / JCW F56 Models (2012 – 2020)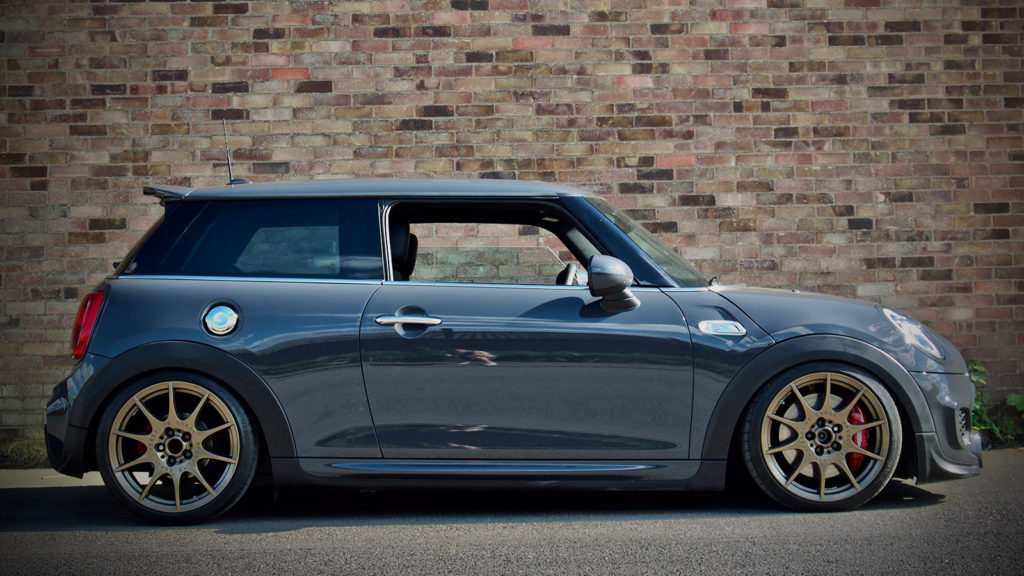 DINAN is back in the market for MINI Coopers.  For owners of F56 MINI Cooper S and F56 MINI Cooper JCW cars (2012 – 2020), DINAN now has multiple tuning options for your MINI Cooper.
DINAN STAGE 1 PERFORMANCE ENGINE SOFTWARE – MINI B46/B48 ENGINE
Note – this Stage 1 software "tune" is a flash of the DME / ECU software. The 3rd Generation MINI carries on the tradition of its predecessors and offers its owners an enjoyable driving experience via the virtue of being compact and nimble. However, stock levels of power are pedestrian for those enamored with maximum performance. This is especially true when compared to its BMW siblings that Dinan has tweaked and improved for decades. With the B46/B48 powerplant shared between both marques (BMW & MINI) it begs the question – what would the MINI platform be like with an extra 50HP or even 75HP to go along with its already gratifying handling characteristics? Extraordinary is the answer the Dinan R&D team has discovered. The B46 on 93 octane and absolutely no other modifications but the Dinan stage 1 tune clocks in with raucous gains of 87 WHP and 109 TRQ. That is nearly 1/2 another MINI's worth of power packed into that diminutive frame. What does this mean for you? Fun. Lots of it. Agility and power, together at last. While increases in power at this scale typically come at a cost to the engine's durability, this is typically due to improper calibrations that are simply after one goal regardless of engine health – maximum power. Dinan's calibrations are safe and reliable without sacrificing long-term reliability or performance. Dinan performance engine software is so much more than just turning up the turbo boost after all. It is a fully re-tuned engine management program that maximizes power while keeping all the MINI factory safeguards in place. In most cases Dinan software engineers also implement their own additional safety precautions in order to guarantee flawless performance that may not have been needed with factory power levels/programming. Protecting your MINI, while giving the most performance, is the definition of "Performance Without Sacrifice". To do just that, drivetrain and engine components are analyzed for strength, and then the calibration is tested on the dyno and in the real world for durability and drivability. This process has been a cornerstone of Dinan software development for decades and a major reason why Dinan performance tunes are often labelled as being the smoothest, factory-like solution in the marketplace.
Features:
More Power: Max gains of 87 WHP / 109 lb-ft of torque over stock with 93 octane on 'S' models. Consult the performance charts for additional octanes and/or detailed data on other vehicle variants.
Dinan Stage 1 performance software includes a limited lifetime warranty against defects in the software and provides free updates and reflashes as they become available. Labor or shipping charges are not included in the warranty.
Choice of numerous octane calibrations depending on your needs (91, 93 and 100).
No required parts. Install on a stock car and receive the full power gains.
Full map rescaling for drivability from idle to wide open throttle and everywhere in between.
Optimized boost control, cam phasing, fueling, airflow and temperature controls for maximum power output that is also safe and reliable.
Top speed governor (VMAX) removed.
Aggressive sport mode cooling added for optimum track effectiveness.
Downshift Auto-Blip added for DSC off / Sport Mode conditions.
Upgradeable from DINANTRONICS Elite via trade-in program. Consult B46/B48 FAQ for details.
Retains all MINI factory engine safeguards and adds additional safety protections such as the stationary rev limiter being set to 4000 RPM and implementation of per gear torque limits.
Sport gauges rescaled to reflect higher than stock power output.
Stock JCW pops and bangs settings retained (JCW), or implemented (S), depending on application
DINAN Software SPECS:
| | |
| --- | --- |
| Brand | Dinan |
| Dinan Point Value | 3 |
| Emission Code | 7 |
| Factory Rated HP | S: 189 (211 Measured); JCW: 228 (277 Measured) |
| Factory Rated Torque (lb-ft) | S: 207 (245 Measured); JCW: 236 (280 Measured) |
| Labor Time (Hours) | 0.5 |
| Max HP Gain | S: 98 @ 5500 RPM; JCW: 70 @ 4500 RPM |
| Max Torque (lb-ft) Gain | S: 118 @ 2500 RPM; JCW: 132 @ 2500 RPM |
| Peak HP | S: 309 @ 6000 RPM; JCW: 334 @ 6000 RPM |
| Peak HP Gain | S: 98 @ 6000 RPM; JCW: 53 @ 5000 RPM |
| Peak Torque (lb-ft) | S: 357 @ 2500 RPM; JCW: 384 @ 2500 RPM |
| Peak Torque (lb-ft) Gain | S: 88 @ 4500 RPM; JCW: 55 @ 5000 RPM |
| Product Type | Engine Software |
| Warranty | Limited Lifetime Warranty |
| Part Number | D900-B46-B48-M-S1 |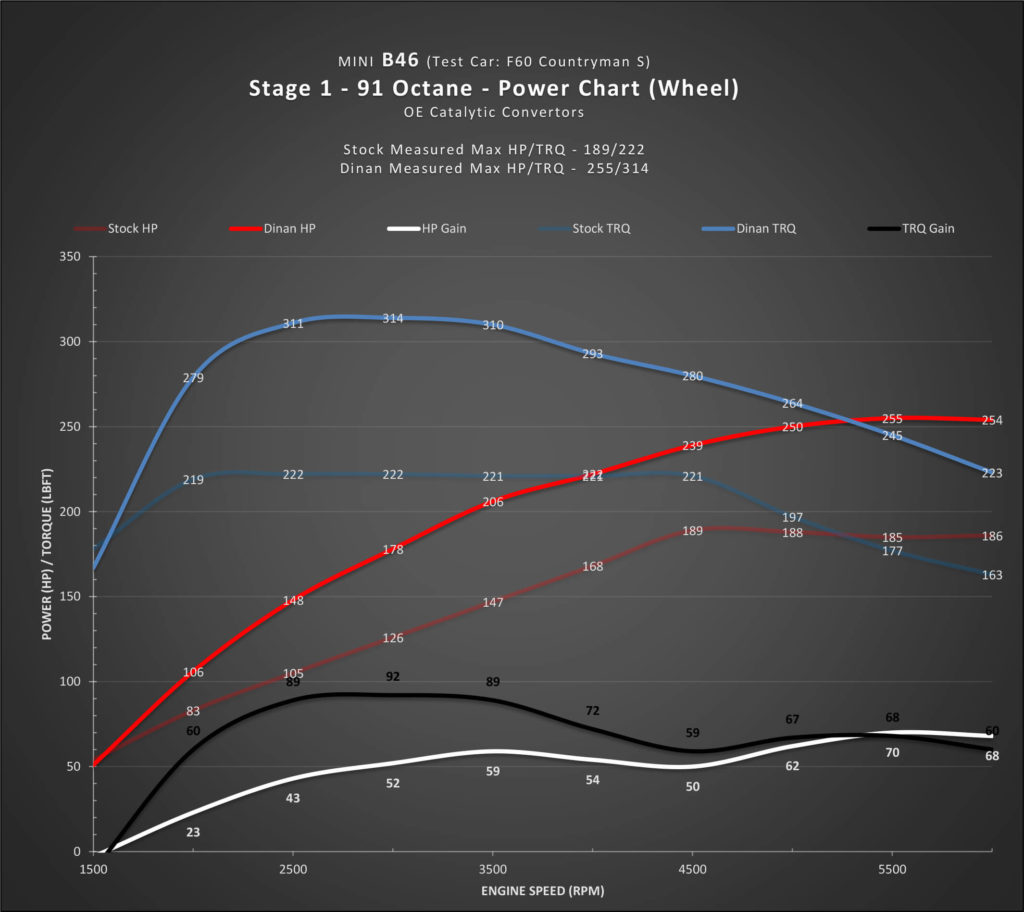 OPTION 2 For Your MINI Cooper S / JCW – DINANTRONICS X (Hand Held Tuner)
DINANTRONICS X – 2014-2022 MINI COOPER S/COUNTRYMAN S/CLUBMAN S
The DINANTRONICS X is the newest installment of the highly successful Dinan foray into inline tuning modules. Like its predecessors it is a highly engineered piece of computer hardware and software that enhances engine performance to levels the stock programming is not allowed to venture. It does this without affecting long term reliability or the functionality of on-board diagnostic systems when run under recommended operating variables. Unlike its predecessor however, the DINANTRONICS X is now Bluetooth smart and offers convenient access to the adjustment of power levels directly from the palm of your hand. A further advancement beyond its entry level little brother, the DINANTRONICS SPORT, X connects to additional inputs and has a more refined tuning strategy that yields more power as a result. For those that do not wish to (or can't) alter their stock ECU with a more robust engine flash the DINANTRONICS X is a perfect alternative to satiate the craving for "more" (This implementation is often referred to as a "piggyback" solution). Whichever level of engine tuning is ultimately chosen you can be sure to be pleased by the result. The Dinan Difference is possible by employing a full staff of talented engineers that are well rounded in many facets of automotive engineering and backed by a wealth of hands-on knowledge. Stemming from diverse backgrounds not only on racing teams but on standard factory production line vehicles, we have seen it all. Manipulating these signals/maps with an adept hand, all the while keeping an engine running at its best and with the most reliable power, is what Dinan is all about.
NOTE(S): (1) Please refer to the recommended mapping notice for important operating information.
Features:
More Power over Stock: Max gains of up to +45 HP and +55 lb-ft TRQ (Crank); +40 HP and +51 lb-ft TRQ (Wheel).
Bluetooth smart (Android and iOS Compatible). App download / pairing process detailed within the installation instructions located under the Tech Resources dropdown below.
7 power levels and a bypass setting to choose from.
Smooth and predictable power delivery.
On board diagnostics and factory safeguards maintained.
Unaffected by dealer factory updates.
Plug and play installation.
14 day satisfaction guarantee.
1 year limited warranty.
DINAN Software SPECS:
| | |
| --- | --- |
| Brand | Dinan |
| Dinan Point Value | 3 |
| Emission Code | 7 |
| Factory Rated HP | 189 (215 Measured) |
| Factory Rated Torque (lb-ft) | 207 (245 Measured) |
| Labor Time (Hours) | 1 |
| Max HP Gain | 45 @ 6500 RPM |
| Max Torque (lb-ft) Gain | 55 @ 2500 RPM |
| Peak HP | 259 @ 6000 RPM |
| Peak HP Gain | 35 @ 5500 RPM |
| Peak Torque (lb-ft) | 296 @ 2500 RPM |
| Peak Torque (lb-ft) Gain | 48 @ 3500 RPM |
| Product Type | Inline Module |
| Warranty | Limited 1 Year Warranty |
| UPC | 813725029412 |
| Part Number | D440-0136 |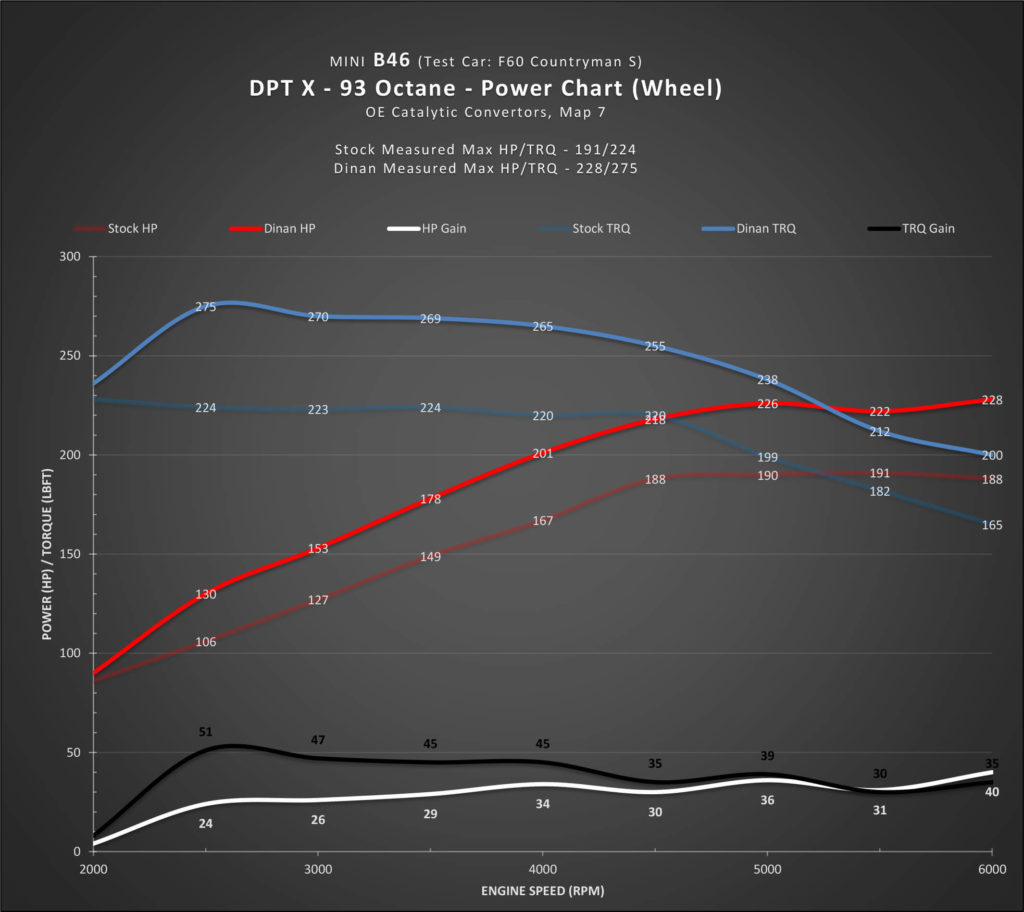 Mapping Table:
The DINANTRONICS X offers an array of different power levels (maps). These maps range from a bypass/stock setting at map 0 to a maximum power setting at map 7. The unit is shipped in map 5. This middle ground setting should be acceptable for all vehicle/engine configurations. However, you can adjust up or down as you see fit for your needs and/or modifications.
Please note however that for each map level we highly recommend the minimum fuel octane rating to run listed below. If you sense any unusual or unexpected behavior immediately turn down the map to a lower setting that did not exhibit the condition.
| MAP (S) LEVEL | MINIMUM OCTANE |
| --- | --- |
| 1-3 | 91 |
| 4-5 | 91/93 |
| 6 | 93 |
| 7 | 93+ |
BRracing – Talk to us about any of the DINAN products for your MINI (BRracing is an official DINAN Dealer)