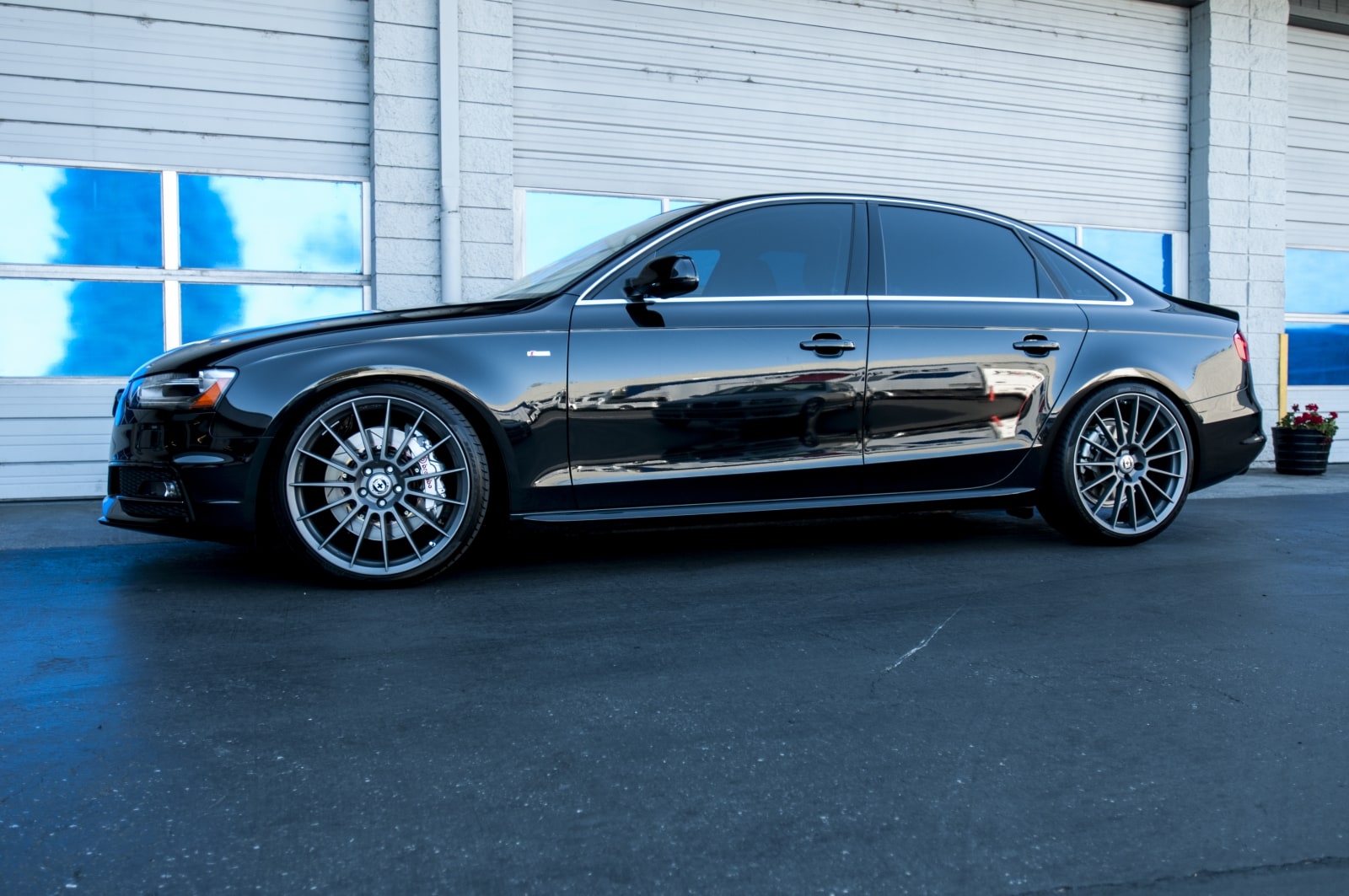 Audi A4 B8 2014 – Styling it UP.
So, what do you do when you want a car that has the power of the S4, but you want certain styles, sound and a defined "look"?  If you spend all the money to get the S4, then you can't get the car to look the way you want.  But, you want more than just an A4.
Then, you get the A4, and bring it to BRracing to "style it up".  You want unique, you want classy, you want style, you want quality, you want the complete package.
Its easy.  You style up the wheels, change the suspension, the exhaust, the tune, the brakes, the key defining body elements…you get the complete package.  This customer doesn't want to track the car, but does want to drive w enthusiasm.  He wants a car that screams, "take me out and drive me".
WHEELS
As the saying goes, GO BIG.  So we did.  20″ wheels, front and rear.  There is a shift in the wheel market, due to the spreading of the technology of "flow formed" wheel manufacturing.  It used to be that there were either "cast" wheels, or "forged" wheels, and there was a big difference in cost, weight, design, sizes….all elements.  Then, several years ago, the manufacturing process incorported pressurized casting, or "flow formed".  The manufacturing costs are not much more than traditional casting, but the amount of metal needed to ensure a proper design is way less than a cast wheel, and very close to a forged wheel.  With a flow formed wheel, you can also do more design treatment, you aren't as limited as you were with casting.  You can't do all the fancy machining and weight savings of a forged wheel, but you can get very close.  As a result, the cost of a well designed, light weight wheel has come way down, to just above the cost of a cast wheel. Most of the leading manufacturers have now jumped in, and produce "flow formed" wheels.  BBS, OZ, Vorsteiner, VMR, and yes, even HRE.
Although, don't think that means everything is the same.  We knew we want to install a "big brake kit" (BBK) on this project car, and when we went to verify fitment, we found that some "flow formed" wheels still do not offer the clearance that a forged wheel does.  Some do, some don't, so make sure you check and plan well when you consider new wheels for your car.
Our checking, along w selecting the right design or look, led us to the leader in wheels….HRE.  They now make flow formed in a couple of designs, and one was exactly what we wanted, and worked perfect w our budget as well.
We selected the FF15, in "liquid silver" (that's the other fun thing you can do w most wheels now, you can pretty much have the option of any color).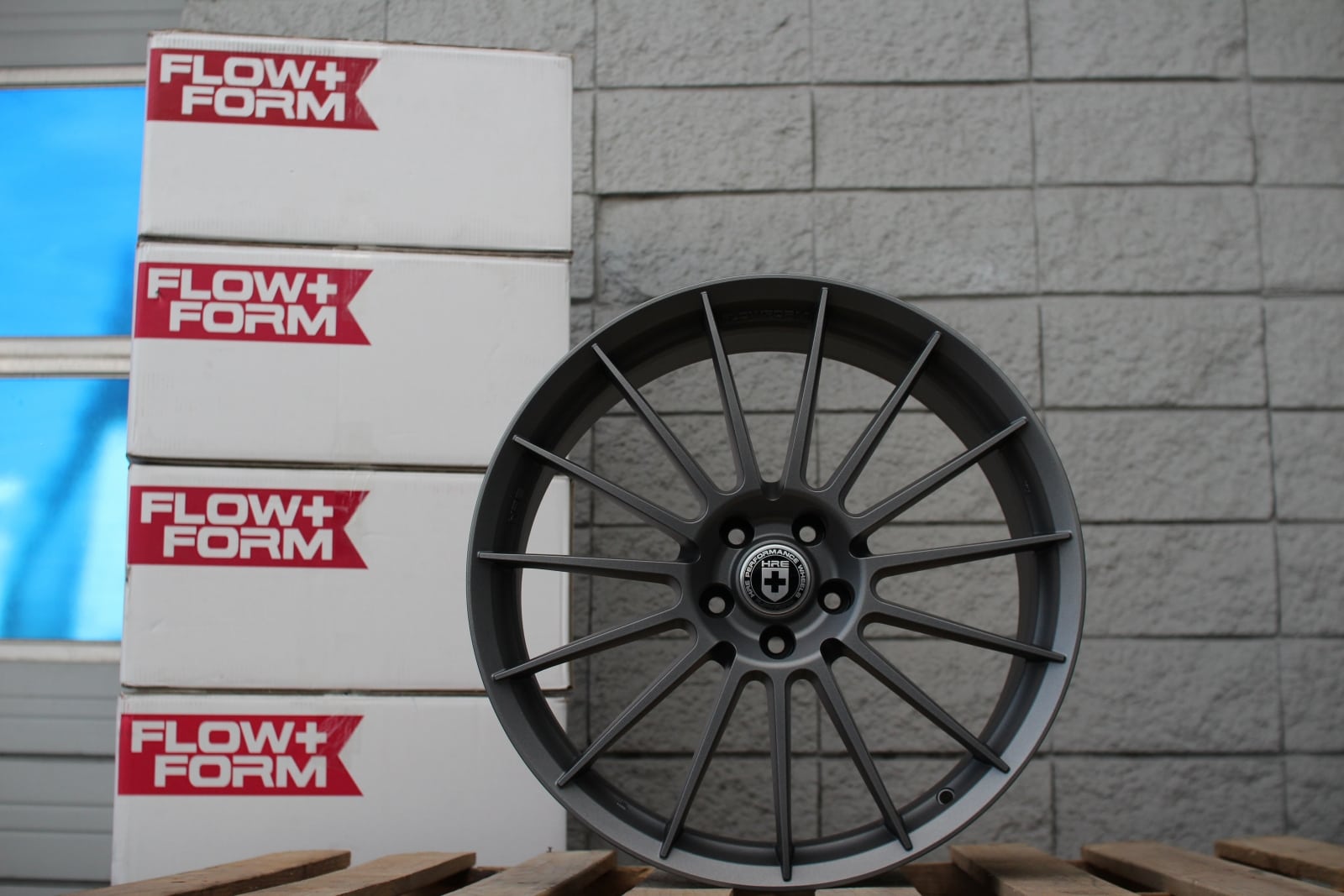 BRAKES
Lately, some of the European car manufacturers seem to have a problem producing or implementing a quality brake system.   They may produce or have calipers that are big and massive, and you would think they would do the job….but they don't.  On another of our project cars, a new Audi RS5, that does see some track duty, we have tried just about everything to leverage the big brakes that come on the car, but all to no avail.  So, with this project, we didn't waste our time trying this and trying that, we went with what we know works, what looks great, what fits well inside a 20″ wheel, and that would provide all the stopping power we would ever need under any conditions or use.  We choose BREMBO.  A 6 piston, forged caliper, 2-piece hat and rotor, and their latest in the street / performance brake pad options.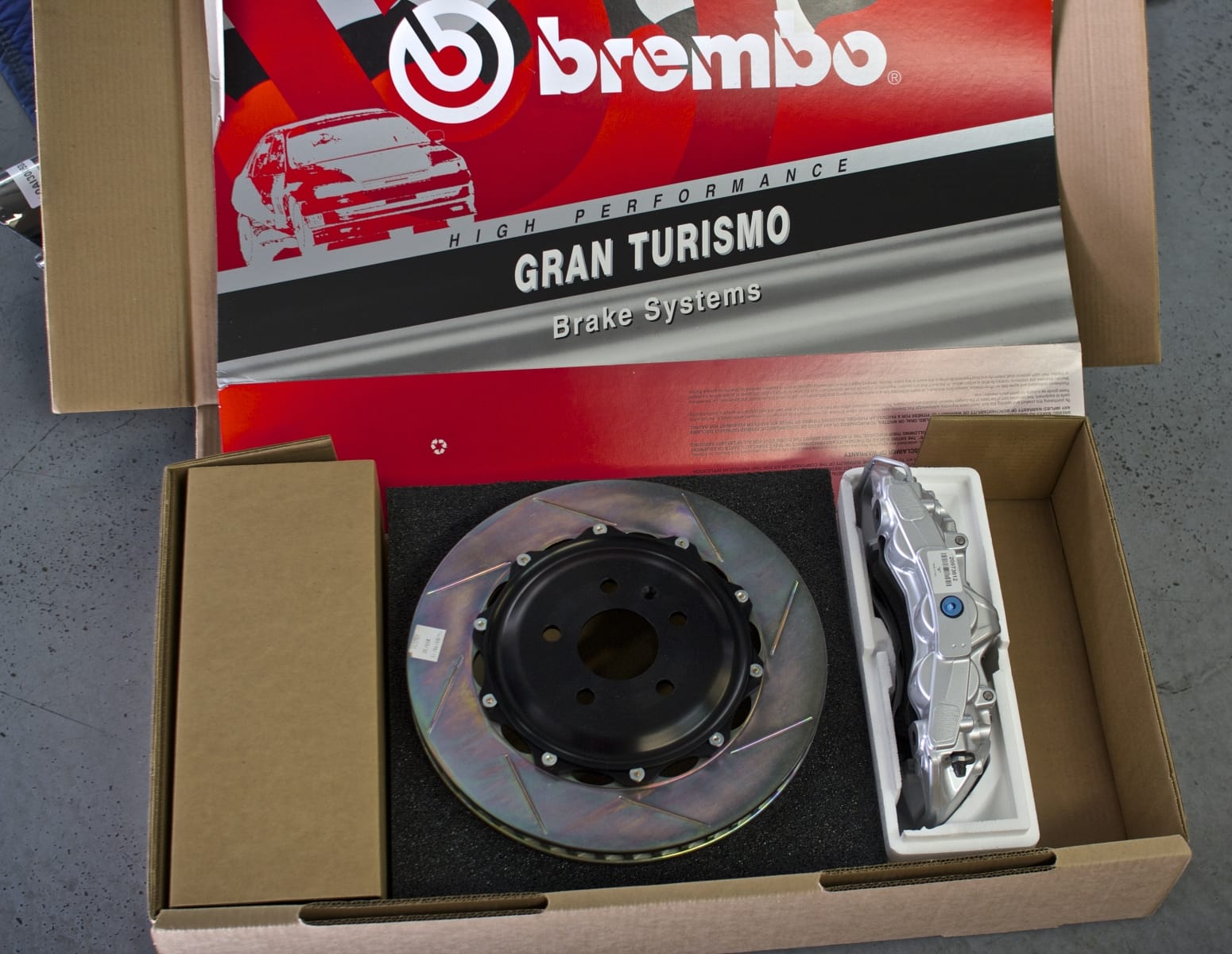 Brembo now makes several rotor designs (cross drilled, slotted, or their new J-hook style). Since we weren't going to be putting a BBK kit on the rear, we wanted an option that would allow us to tie the design together front and rear.  Therefore, for the front, we went w the slotted rotor option.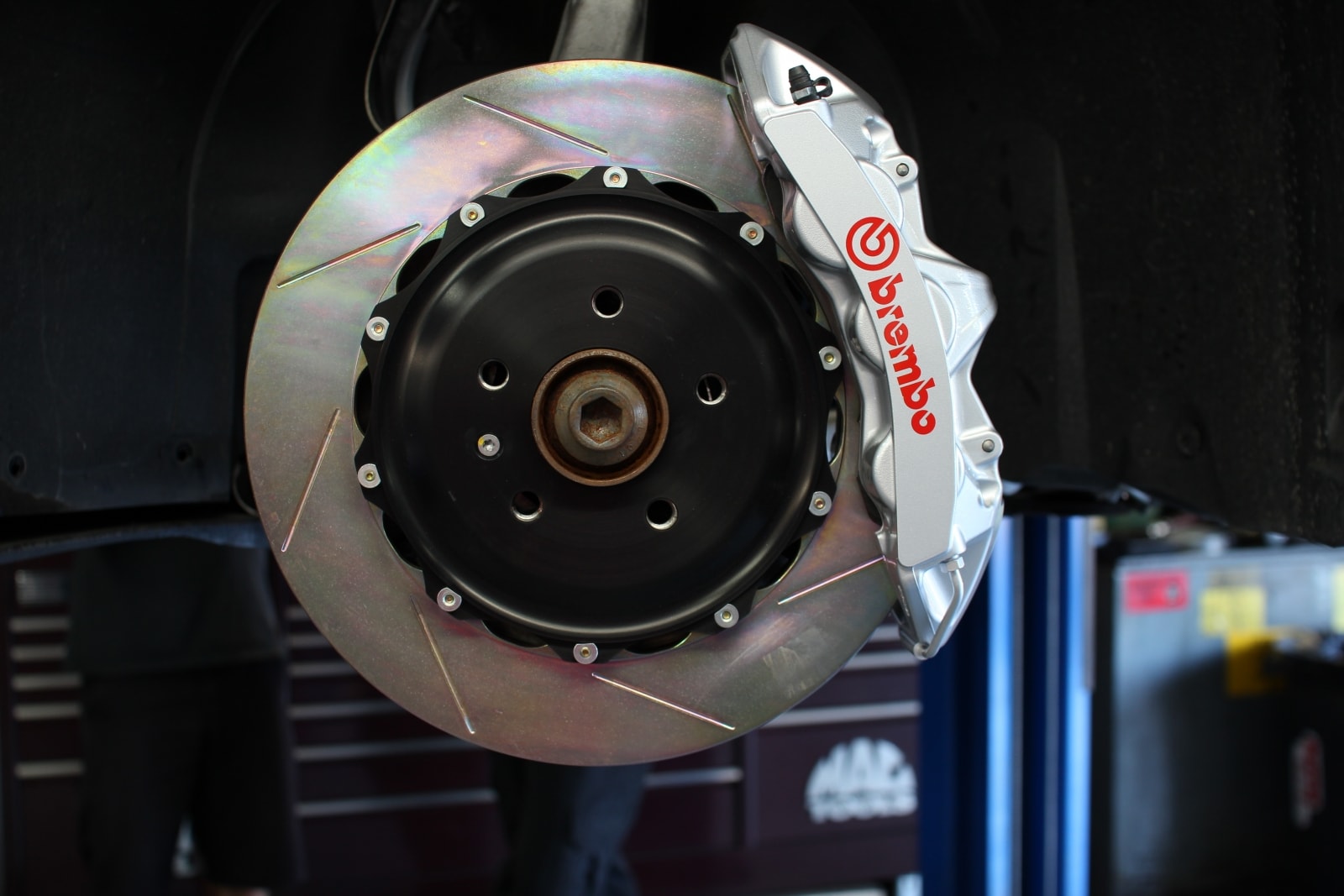 Here you can see the old and the new side by side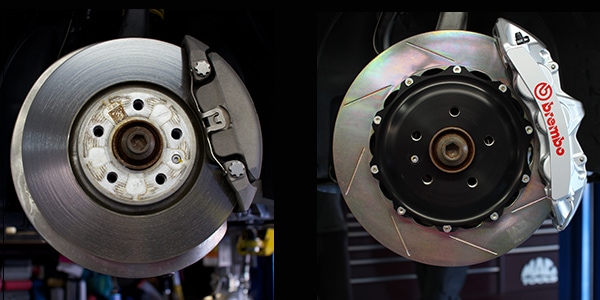 SUSPENSION
As mentioned, we didn't need an upgraded suspension, but we did want the full flexibility of altering the ride height.  That means there are two options, either the new "HAS" (Height Adjustable Spring) kits, or a traditional coil-over.  Luckily, the market has continued to evolve to provide a solution for almost every customer need and application, and you can now get a true "coil-over", w matching shocks, but that are non-adjustable in terms of the shock valving.  For most people, this is just what they need, as they are not likely to get down or inside and play w the various shocks settings that adjustable coil-overs offer (if someone did, then we would lead w the Bilstein PSS10 kit for street cars).  There are several of these new non-adjustable coil-over kits, and we selected the ST brand (KW is the parent company).  A little lower in the quality of the product, you only get a 5-year warranty, but the design and fitment is spot on.
EXHAUST
Here we look for the combination of performance / flow, quality, fitment, and design application.  For this project, we were going to go beyond the traditional / stock implementation of a single outlet at the rear, and instead, go w the look of the S4, that has dual exhaust outlets.  However, as you can see in the pic below, the stock rear valence does not support this.  This is where the concept of a "project car" comes true, and holistic nature of the implementation.  We were not only going to implement a beautiful new exhaust system, but we were going to change the rear valance to suit.  Here is the stock set up :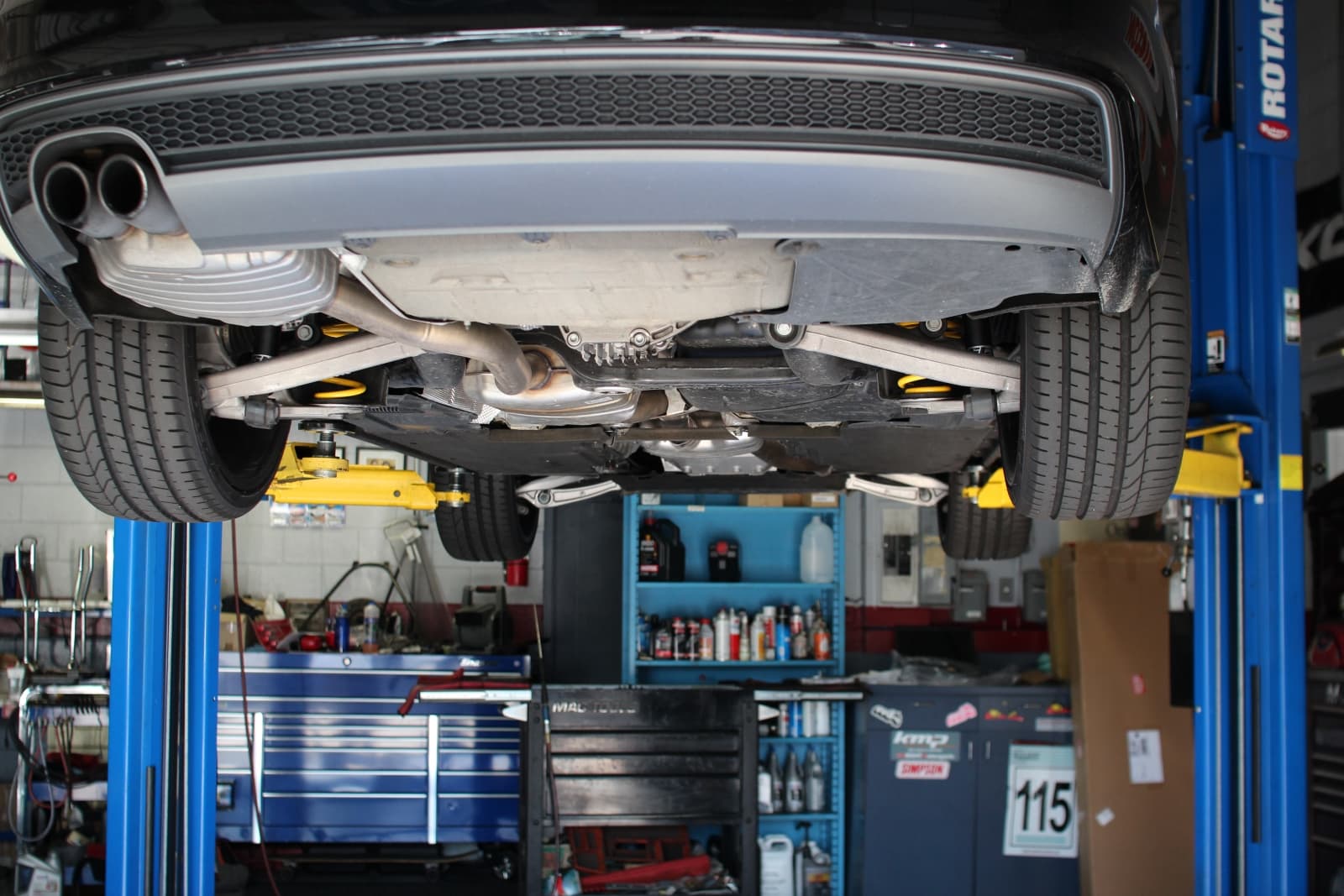 To solve this, we turned to the experts at APR…..a group that knows just about everything Audi. They make a killer exhaust that fits within the stock body work, in a normal manner, just like the S4 exhaust.  Here is a picture of the complete exhaust before installation –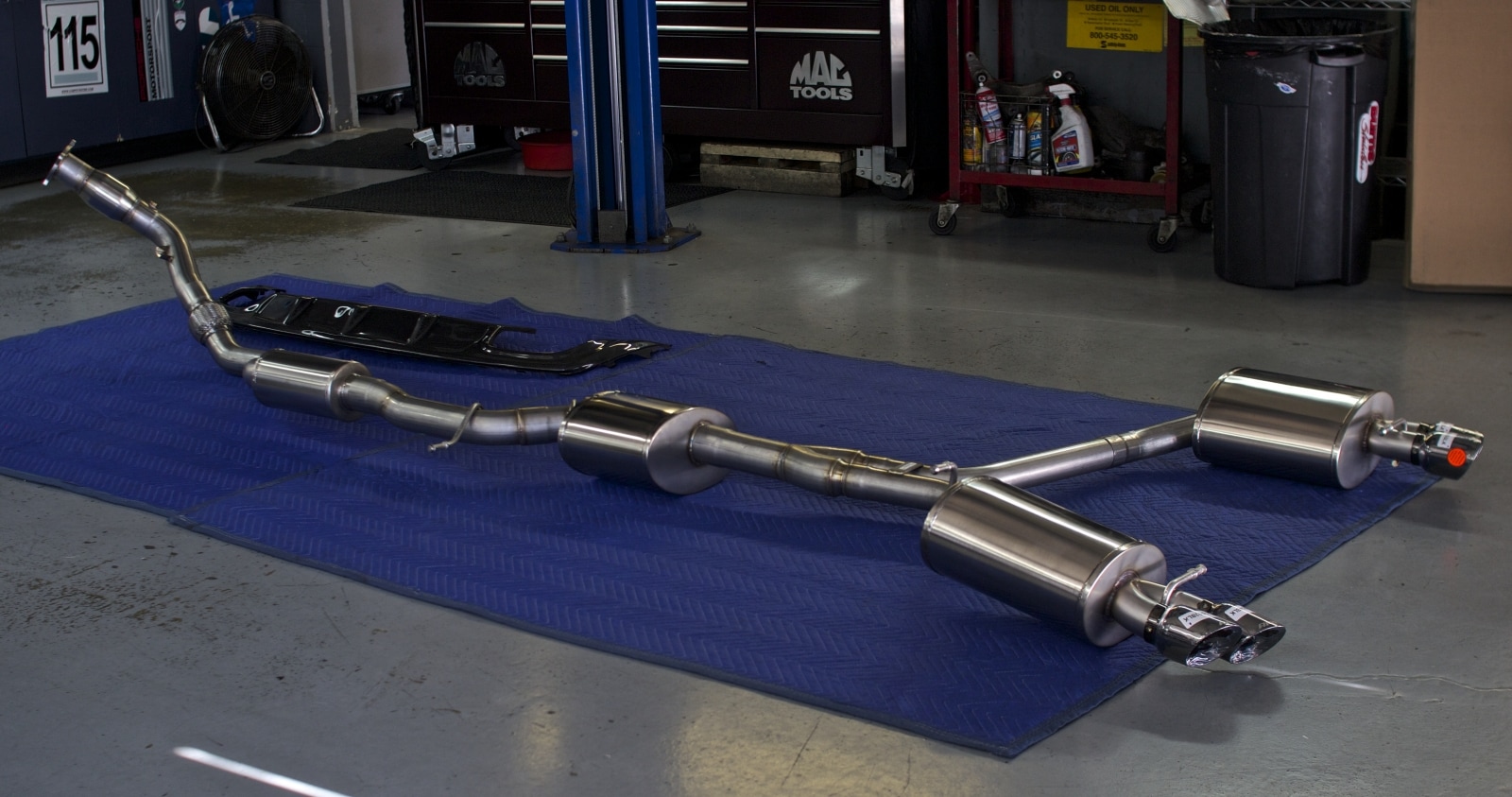 Great design, great quality, perfect fitment, even the tips and their diamond black treatment that goes so well w the black color of this Audi.  A complete system.  We have never had any issues on fitment or quality with any of APR's products.
BODY – rear
To make the rear work w the new exhaust, a different rear diffuser would be needed.  DEVAL makes a S4 replica, in Carbon Fiber, and that has the right size exhaust outlet cutouts for our next exhaust.  Here is a pic of the new vs the old –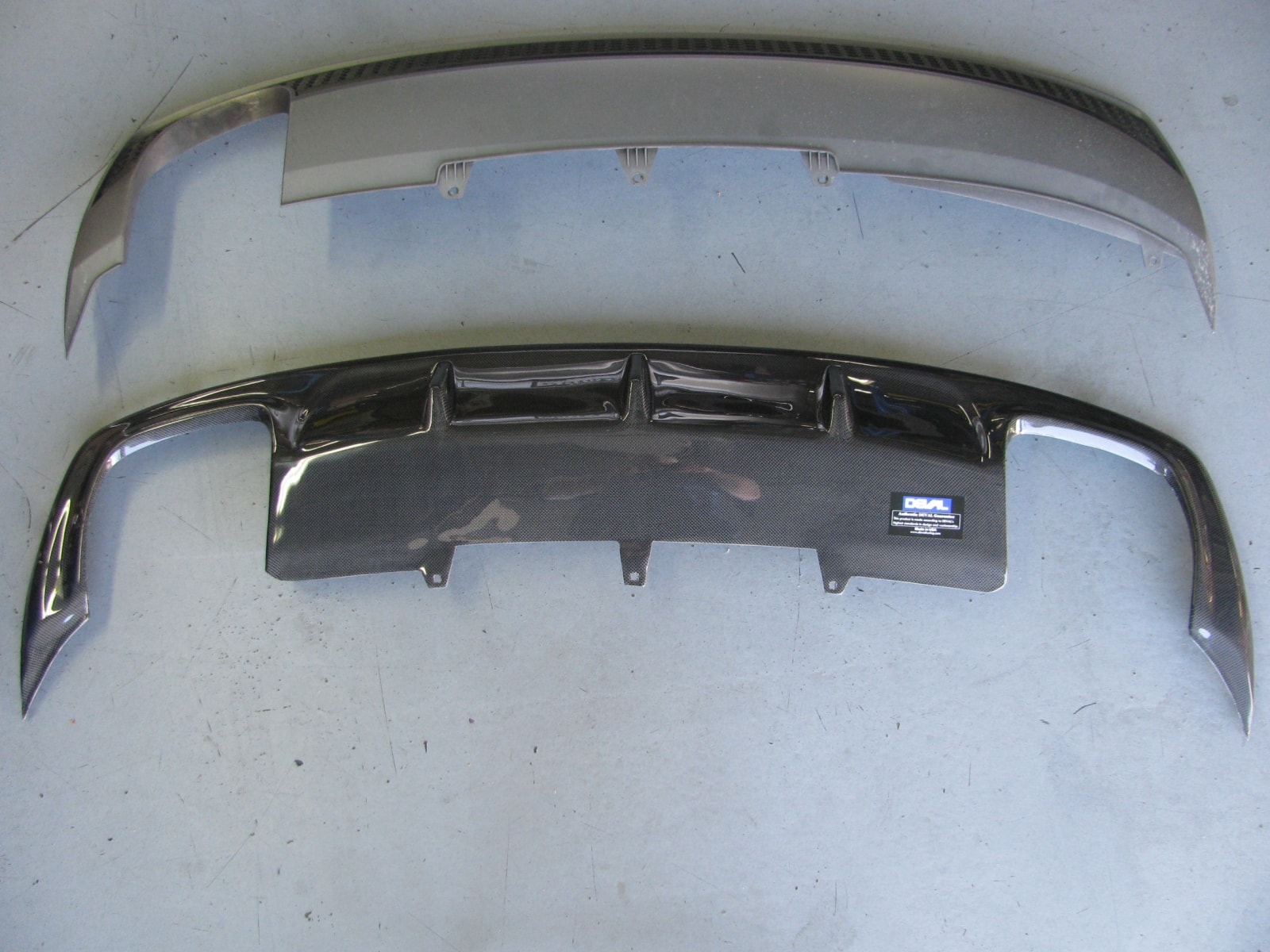 Agan, the quality and fitment were great.  Take a close look at the beautiful CF design…to bad it sits so low in the car and you can't get a more frequent view of it.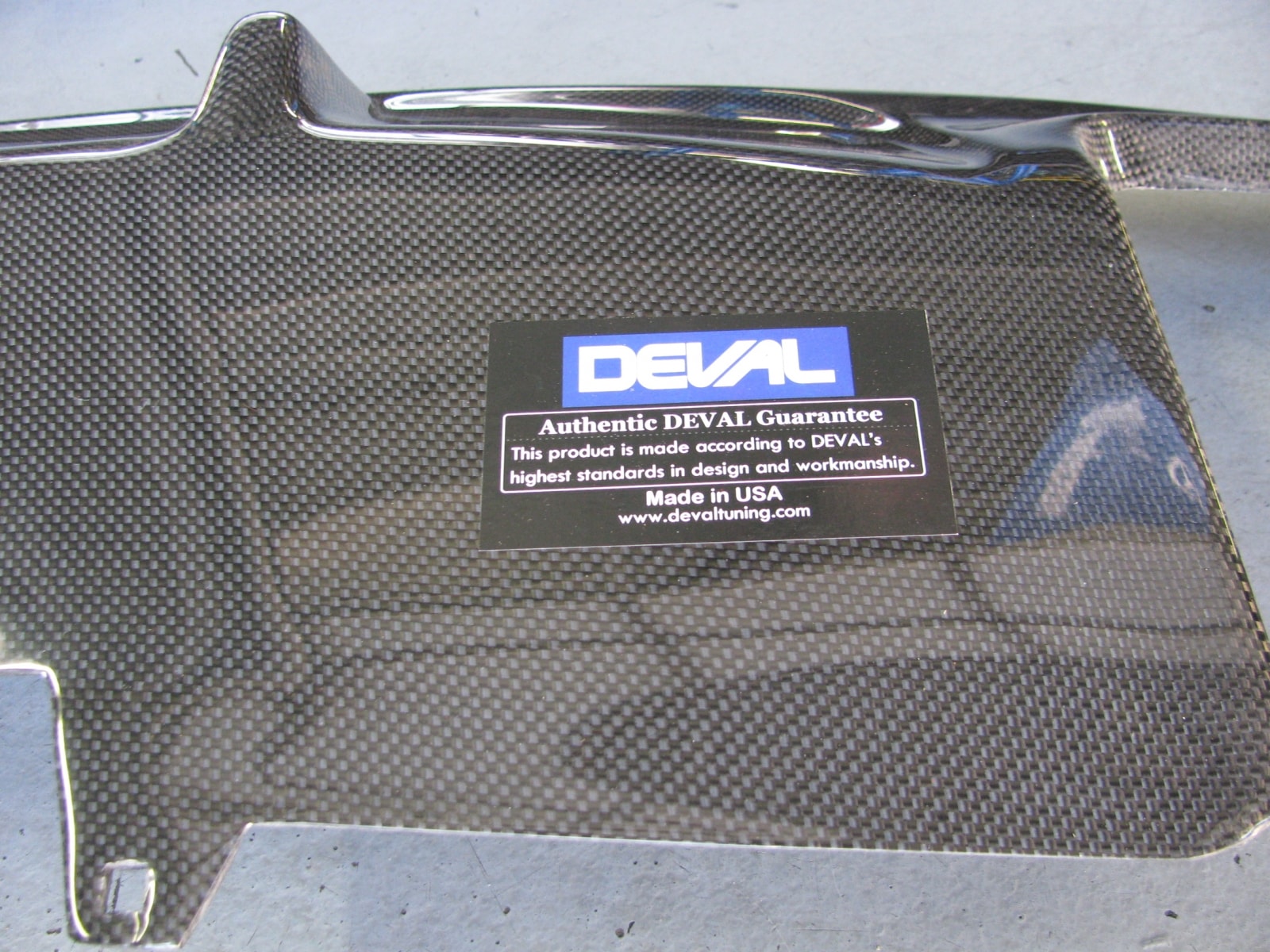 Since we made the rear of the car appear more like an S4….we couldn't leave the front alone.  So, we implemented a replica RS4 front grill.  There are two versions, one w the center plate band, one without.  We choose the one without.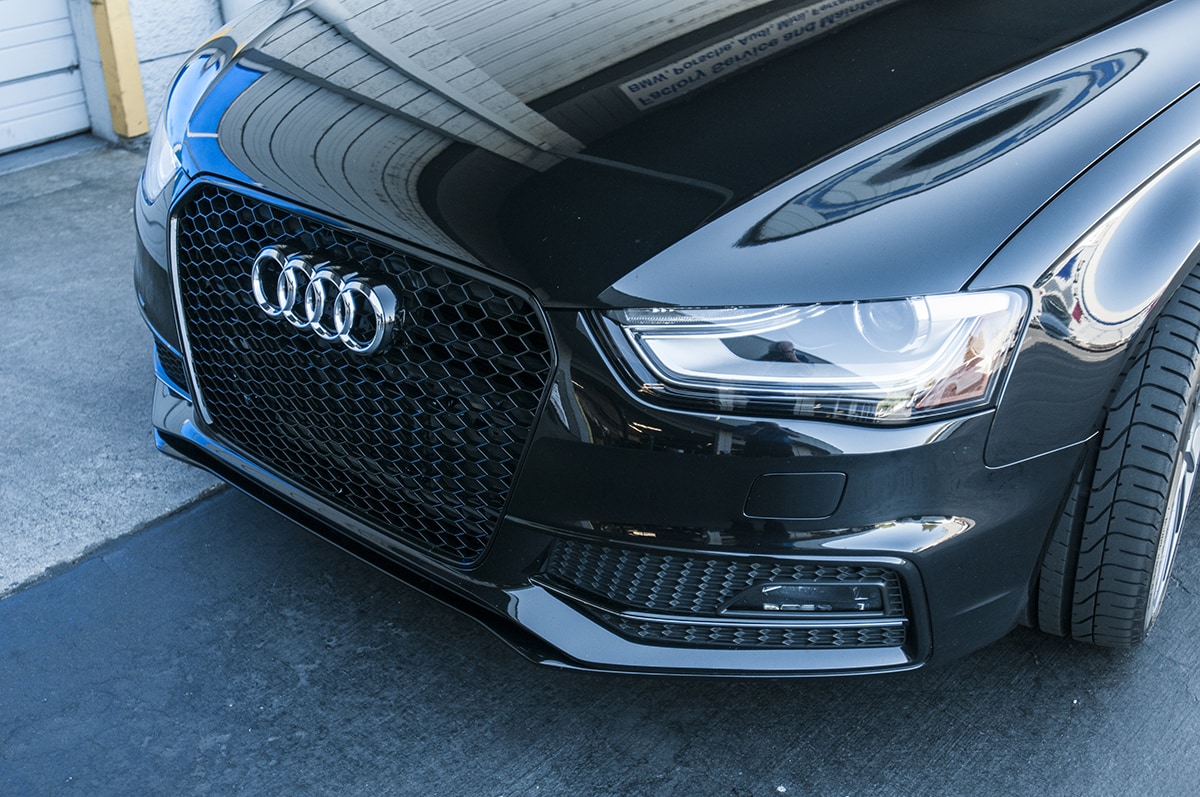 Viola!!! Another great project car.  Right look, right style, great stance, amazing brakes, killer wheels….what's not to like?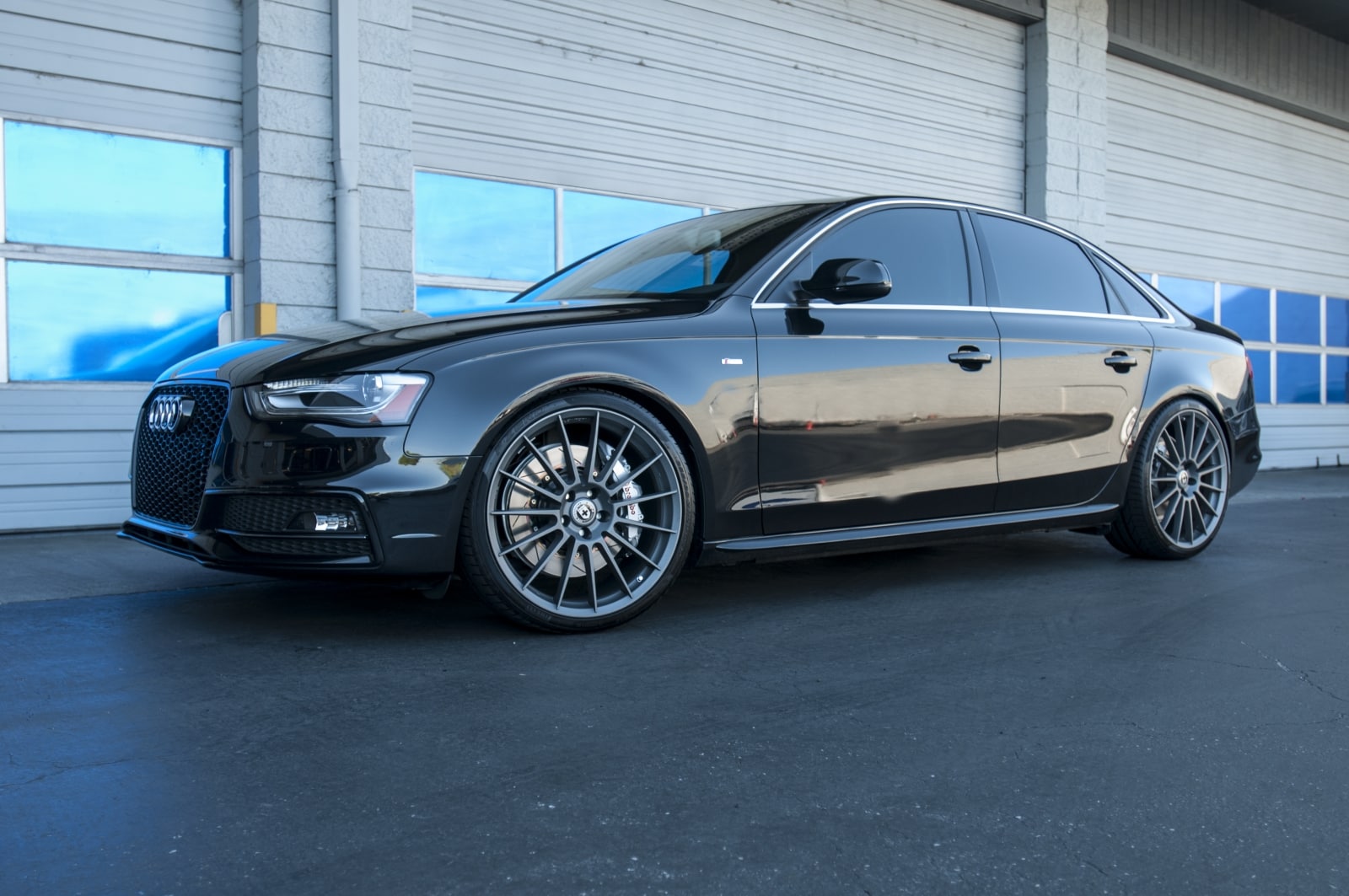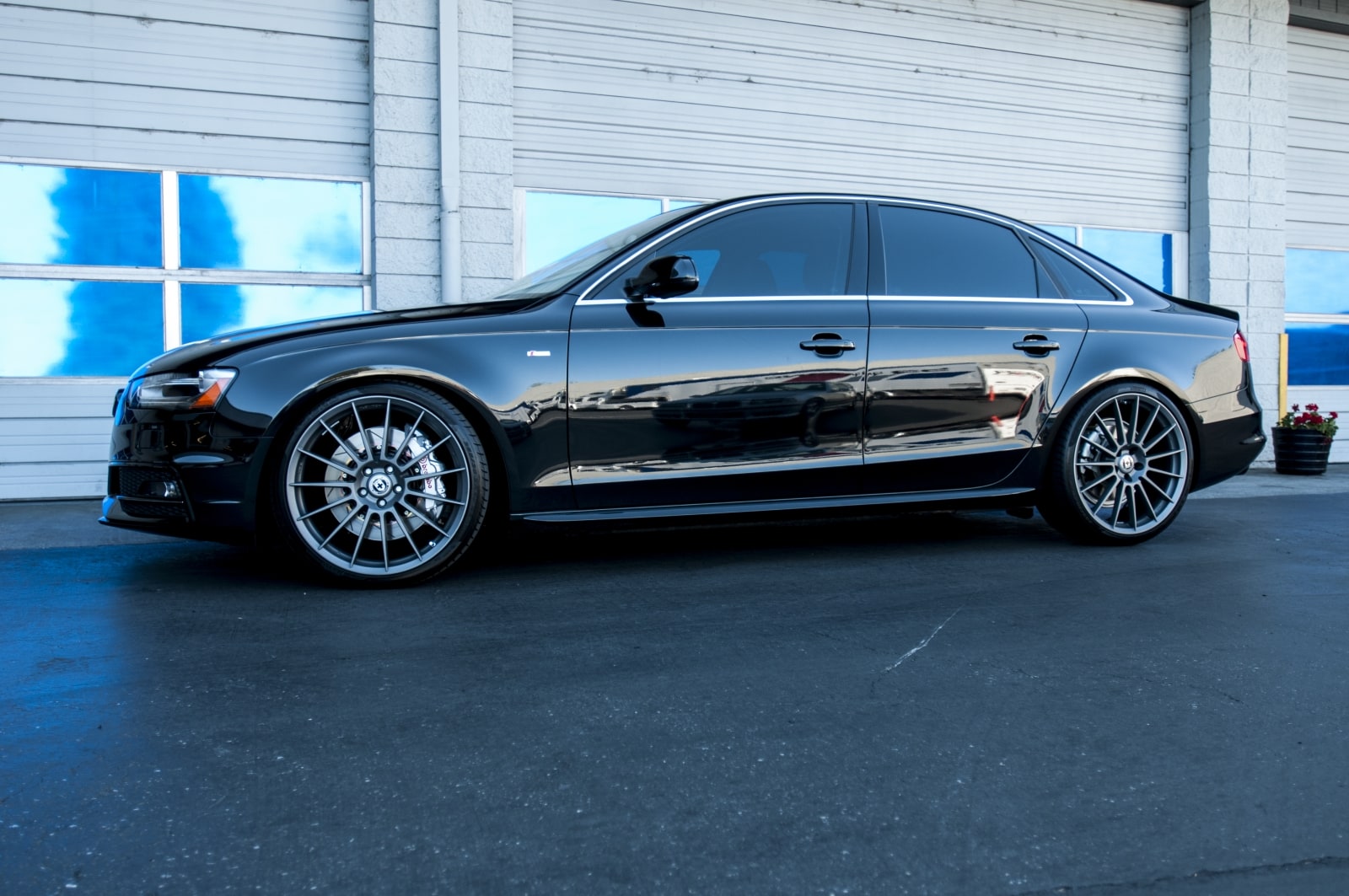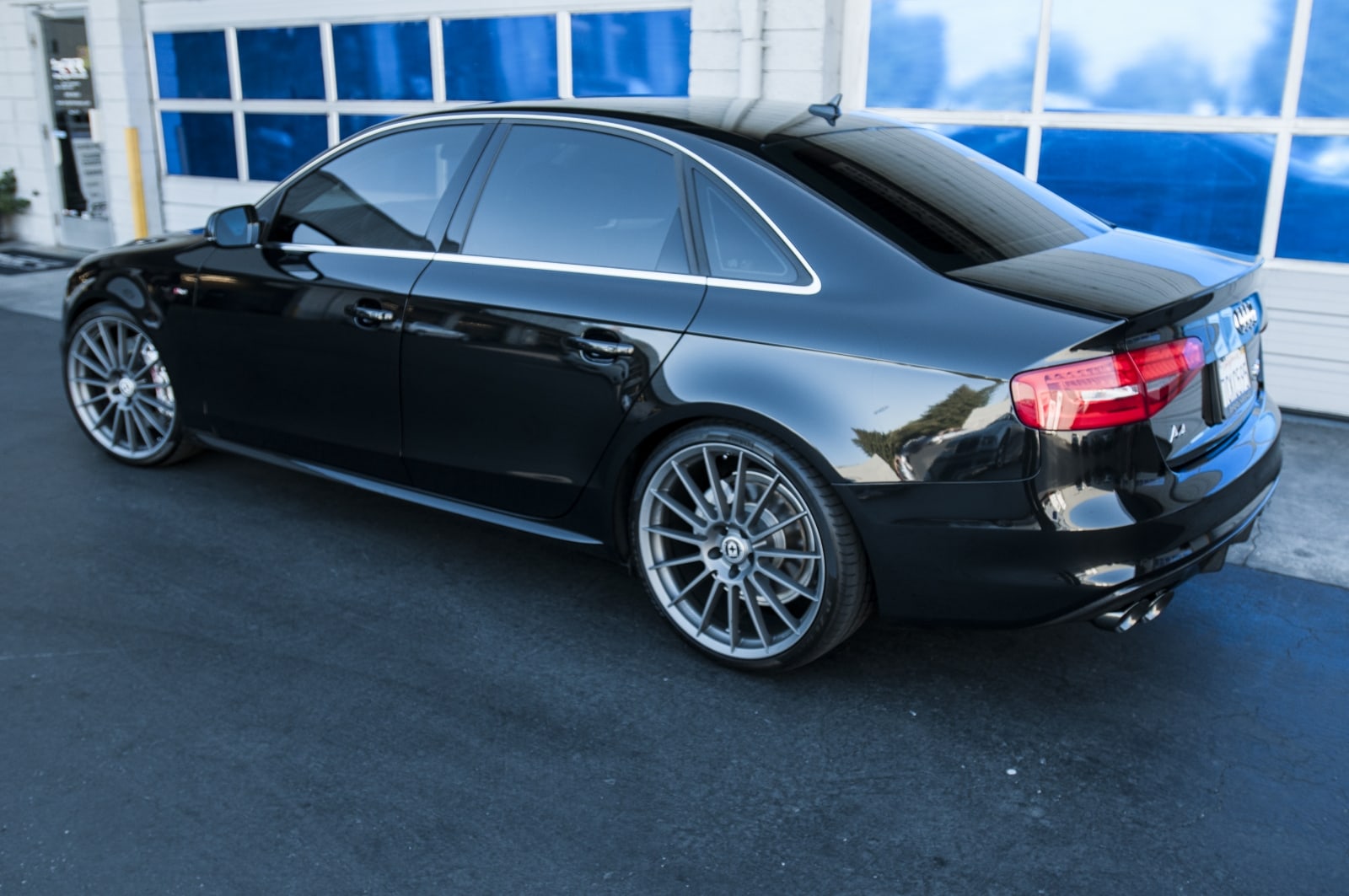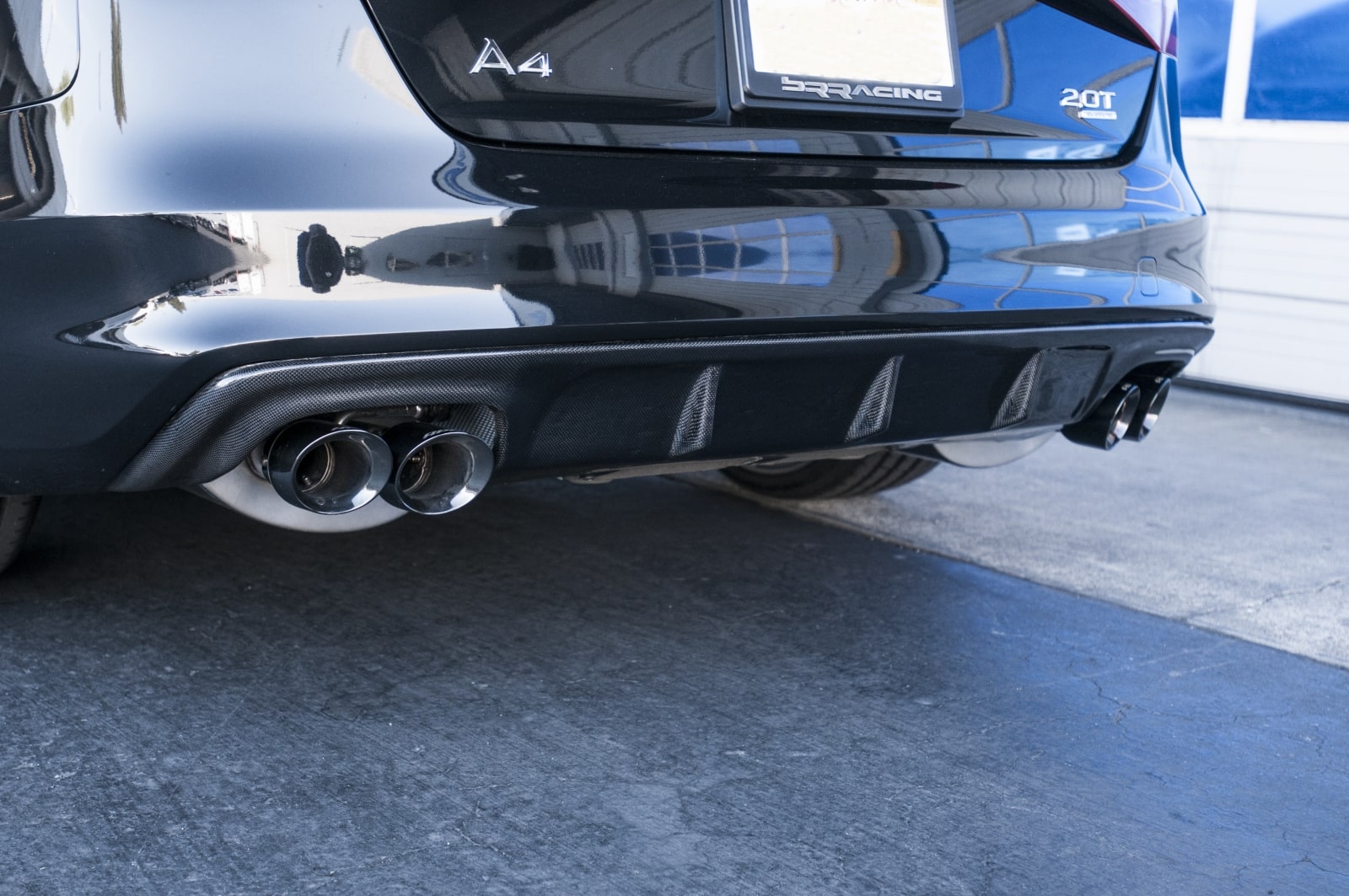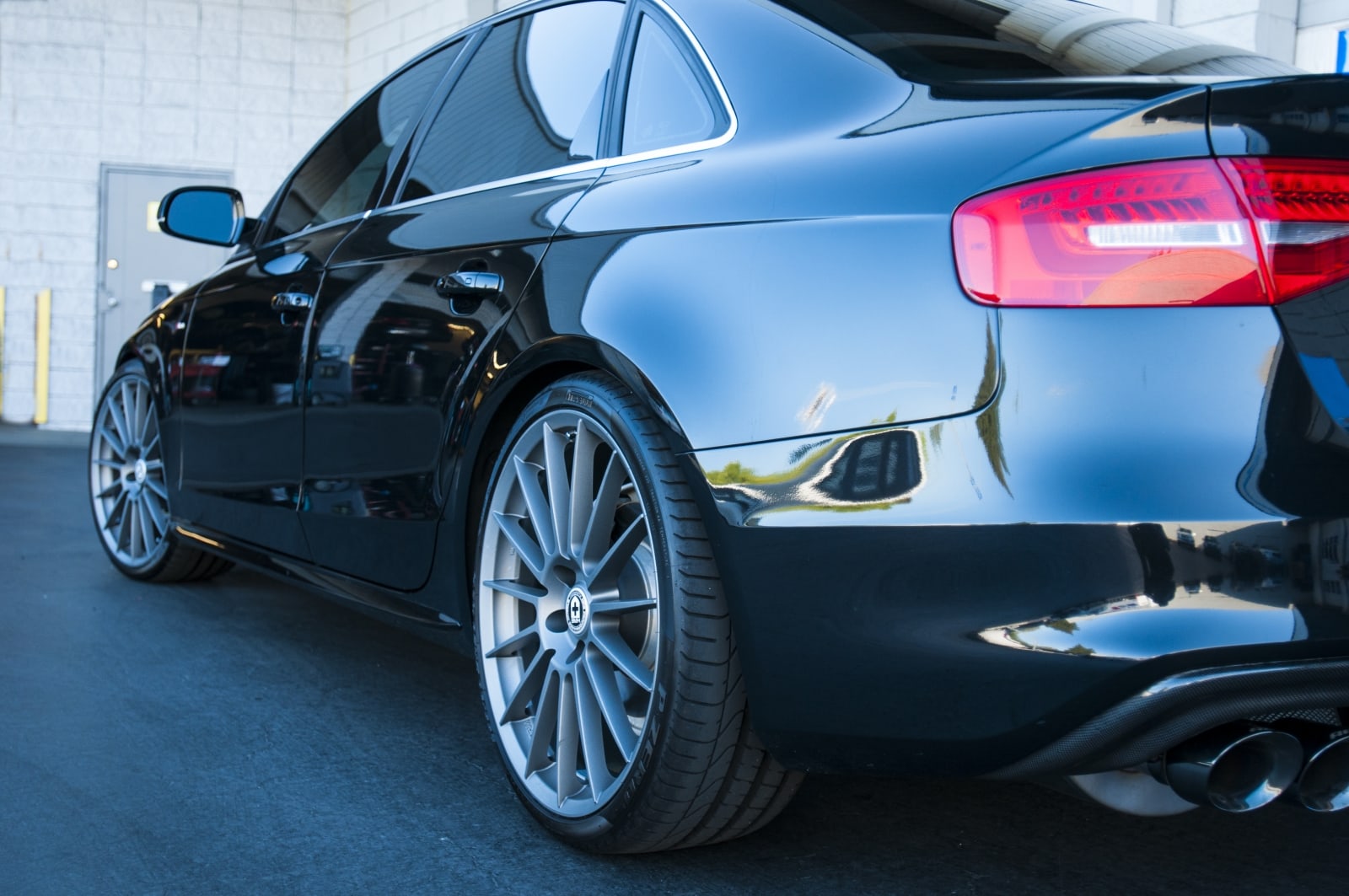 What can BRracing build for you?