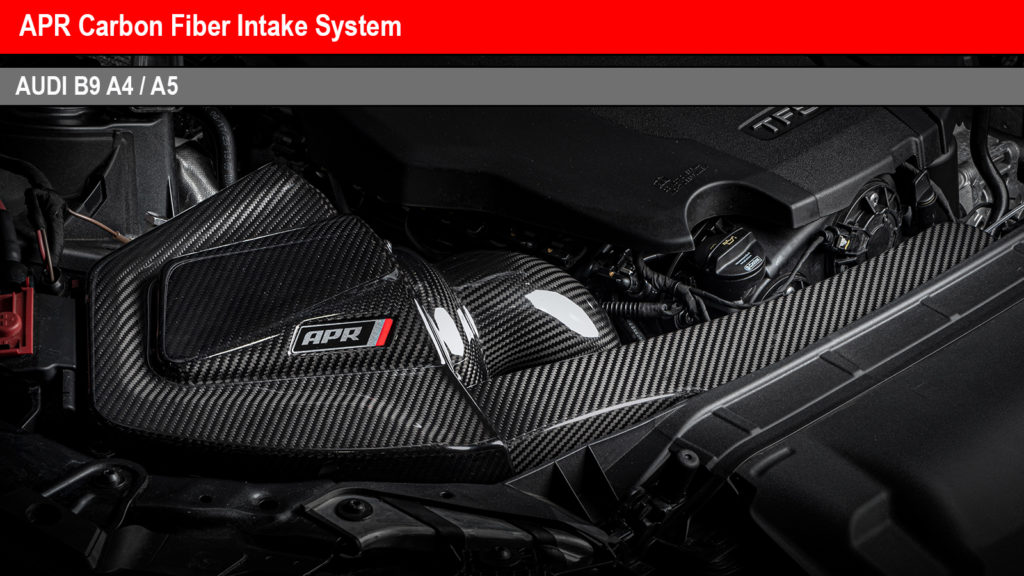 APR Carbon Fiber Intake System
For various 2017+ Audi A4 and 2018+ Audi A5 2.0T vehicles
Features and Benefits:
•Full intake system: Inlet, airbox, filter, and inlet piping
•Flows 46% more than stock
•Reduced pressure drop at the turbo inlet
•Enhanced engine sound
•Carbon fiber construction
•T304 stainless steel heatshield
•Turbo spool faster
•Turbo operatesmore efficiently
•Massive 7" x 7" filter with a 4" outlet and 5.5" frontal inlet
•High flow and washable pleated cotton gauze filter material
•Airbox has additional flow paths faced away from the engine
•Inlet piping diameter is maximized from the 4" filter all the way to the turbocharger
FITMENT:
2017-2018Audi A4 2.0T*2017+
Audi A4 Allroad 2.0T2017+
Audi A4 Quattro 2.0T**2018+
Audi A5 Quattro 2.0T2018+
Audi A5 Sportback 2.0T***
*Excludes 2017+ Audi A4 2.0T with MAF on intake (DBPA / 188-190 HP)
**Excludes 2021+ Audi A4 Quattro 2.0T with MAF on intake (DMSA / 201 HP)
***Excludes 2021+ Audi A5 Sportback 2.0T with MAF on intake (DMSA / 201 HP)
Please Note: This system does not fit vehicles with engines featuring a MAF sensor on the intake. Examples include the CVK/CVL/DBP/DEM/DKY/DLV/DLV/DRX engine codes / versions and may include more.
PRODUCT INFORMATION:
This is the ultimate intake upgrade for the Audi A4and A5(B9) with the 2.0T EA888 Gen 3 and Gen 4 engines. It flows 46% more than stock, reduces pressure drop, and improves turbocharger efficiency. This directly translates to more horsepower and torque making this a simple upgrade for more power you can feel. The APR system is a full upgrade as it replaces all of the intake components from the inlet scoop all the way to the turbo inlet. The APR system is made from carbon fiber and looks absolutely stunning under the hood. By using this material, APR was able to make the wall-thickness of the tubes smaller, maximizing the internal diameter, increasing performance even more! The material also allowed APR to make complex organic shapes necessary when working in a tight engine bay. The airbox is fed from an inlet scoop that maximizes the flow path into the airbox. The airbox has cutouts allowing for additional flow paths directed away from the engine. This keeps air temps down, and increases sound without it being overbearing. Furthermore, APR has incorporated a T304 stainless steel heatshield to keep hot engine bay heat from the turbocharger away from the airbox.The filter is massive as well. A big filter is desirable as increasing filtered surface area keeps the filter breathing easily for many miles as it filters dirt, dust, and particles. It measures 7" by 7" with a 5.5" frontal inlet, and a 4" outlet. The filter media is a washable pleated cotton gauze that can be cleaned for extended life, or replaced with ease. The APR kit includes everything you need to bolt on and go. No new tuning is needed to run this product, and the product is emissions friendly. We include all new clamps needed for an easy install.
Flow Bench and Dyno Testing
The factory intake simply can't match the performance of the APR system. The factory system flows a maximum of 478CFM at 28" in of H2O. APR improves this by 46% as their full intake system flows 699CFM! APR reduced pressure drop across the system and improved turbocharger efficiency. The turbo spools faster,and operates in a more efficient region of the compressor map. This directly translates to more power and torque you can feel.
EMISSIONS:
This part is legal under the provisions of EPA's Tampering Policy dated November 23rd, 2020. The company has reasonable basis (test results) to verify that this product allows the vehicle to operate within legal emissions standards and is therefore legal to be sold for on-street use in all states that accept the legal provisions of the Clean Air Act and the EPA Tampering Policy. This product is NOT LEGAL FOR SALE OR USE IN THE STATE OF CALIFORNIA. Testing with theCalifornia Air Resources Board, in order to achieve 50-state compliance, is pending with CARB. Once testing is complete with California, and an E.O. number is issued, this product will be updated to 50-state legal status.
PRODUCT IMAGES:
BRracing – When You Are Looking For The Best