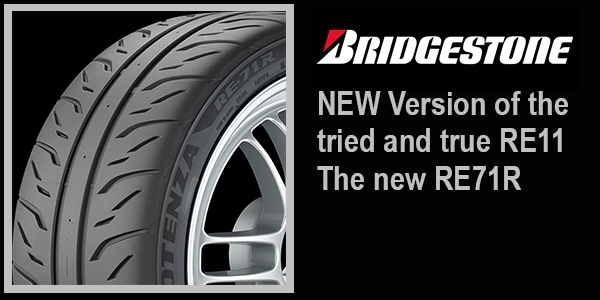 Bridgestone introduced this tire at the beginning of 2015, and now has a full range of sizes available, and we have finally had some customers try this out, and indeed, is a very good tire…..for those of you looking for a DOT tire, that is just above the 200 tire tread wear rating (some time trial and autocross groups set this as the lowest limit for tire wear for a "street tire"). This by no means is a Hoosier R7, nor even a Michelin Pilot Cup 2.  But, if you are looking for something gripper than a Michelin SuperSport, and are willing to sacrifice some tire life, then this may be the tire for you.   Other tires much like this are the Hankook RS3 or the Dunlop Direzza III.  This tire is better than those…or quicker.  It has been proven to "come in fast" for autocross customers.  The tradeoffs are this for better GRIP, there will be a slight bit more tread noise due to the tread design, the sidewalls are stiffer for better cornering response, but the comfort on bumpy roads suffers.
Bridgestone is a leader in the area of research and development in the tire industry. It's no wonder that their Potenza RE-11, and its successor, the Potenza RE-11A have been top-rated Extreme Performance Summer tires since their initial releases. Now with the introduction of the Potenza RE-71R, Bridgestone has raised the bar once again.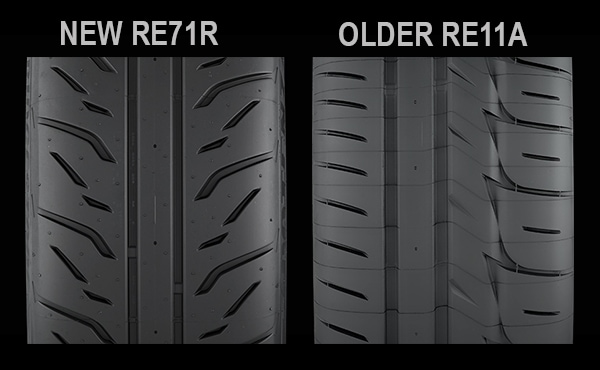 Some older enthusiasts may remember the original Potenza RE-71 tire from the 1980s when it was first used on a Porsche 959 Supercar. The "R" in the RE-71R name stands for "Revival" and the new RE-71R is a tire worthy of the name's heritage. In Bridgestone's internal testing, they found that the RE-71R was 1%-1.5% faster during track lapping sessions on road race courses, and even quicker in autocross testing.  
The Potenza RE-71R is an Extreme Performance Summer tire developed for serious sports car, sports coupe and performance sedan driving enthusiasts looking for Bridgestone's fastest DOT-legal street radial. Starting with a clean-sheet approach and a virtual slick tread, all of the design features were fine-tuned to maximize performance, traction, handling and control. Performance-tuned for dry and damp conditions, the Potenza RE-71R, like all Extreme Performance Summer tires, is not a rain or snow tire.
Potenza RE-71R tires employ a newly developed tread compound that enhances grip by increasing contact with the road surface. This compound is molded into a directional tread design featuring a continuous center rib flanked by massive shoulders to provide constant rubber-to-road contact that enhances steering response and cornering stability. While wide circumferential grooves and multi-angle "7-shaped" lateral grooves promote water drainage to help retain wet traction, longitudinal and lateral hydroplaning resistance will be challenged if heavy rain or standing water is encountered.
The tire's internal structure features a symmetric shape that helps distribute footprint pressure evenly during aggressive cornering. Two wide steel belts reinforced by spirally wound nylon provide strength, uniform ride quality and high-speed capability.
NOTE: Bridgestone has completed its testing and the UTQG ratings for the Potenza RE-71R are 200AA (tire wear rating).