WE ARE HIRING and GROWING AGAIN: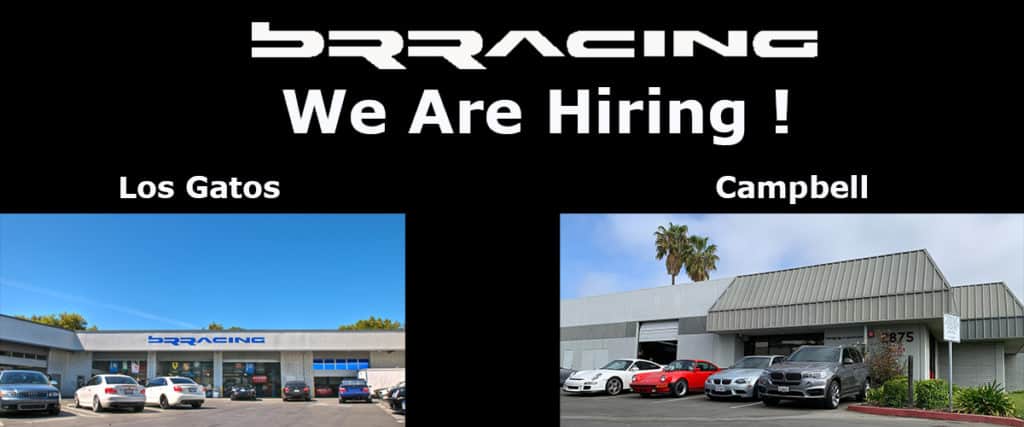 BRracing, BRracing Motorsport, a leading independent Auto Service Center with locations in Los Gatos and Campbell, CA is looking for several technicians to join our growing and leading automotive / motorsports business.
We are looking for leading, smart technicians and motorsports crew members, who can join our team and make a great contribution.  We've built a leading business in a very short period of time, and provide the highest results and strive to exceed our customers needs and desires (see our Google and YELP reviews to get an idea of how our customers love us).  We are always looking to grow, innovate, make improvements, while working in a strong family, team oriented environment.
On our street car service side, we manage and service the following cars:  BMW, MINI Cooper, Audi, Porsche, Ferrari, Mercedes Benz and some Aston Martins.  Who wouldn't want to work on cars like those?  Plus, we have our BRracing Motorsport side of the business as well, where we are looking to add to our crew for our diverse selection of customer race programs.  We have race customers from Driving Event level to the Yokohoma Drivers Cup and IMSA / SRO.  BRR Motorsport has won, and continues to win at all levels. Porsche Cup Cars, Porsche GT4 CS cars, Ferrari F458 Challenge cars, BMW race cars…..we even have 3 SEMI Haulers to get all our customers race cars around.  We currently have two facilities…but looking to grow that as well.
For the SERVICE side, we offer:
5 day work week (Monday thru Friday)
8am to 5pm work day
Guaranteed 40 hour work week
Paid Overtime
Paid Holidays, Paid Sick Leave
Full Health Care coverage, dental, vision options
Paid training – multiple times a year
Leading equipment – every tech has his own computer system
Autologic, Porsche PIWIS, BMW ISTA, Audi VAGcom…we have them all
Great team atmosphere
For the MOTORSPORTs side, we offer either full time or part time roles.  If full time, then we offer the same benefits and structure as on our service side, although Motorsports crew are expected to travel w the team for all events.
SERVICE TECHNICIAN opening requirements:
– strong automotive diagnostic skills
– prior work experience working on the cars we service
– working knowledge of computer / Internet
– personable communication skills
– detailed oriented, strong organization skills
– strong desire for upmost quality results
– driven, self motivated
– a love to work on cars
– great attitude, team player
– a desire to exceed customers expectations
MOTORSPORT crew members (we have multiple openings, from tire / wheel, fuel, crew, crew chief, truck driver, logistics roles)(get the idea that we are growing?) :
– prior motorsport crew work
– prior road racing experience
– willingness to travel
– team oriented environment
To learn more about us…check our webpage:
www.brrperformance.com
Check our FaceBook page:
https://www.facebook.com/BR-Racing-146308802058468/?fref=ts
Sound interesting?  Looking for an awesome place to work? If you are looking for your next great opportunity….call us, or email us your resume, and lets talk.
Phone:  408-356-1515
Email:  brracing2@gmail.com
Talk to Bruce or Robb.