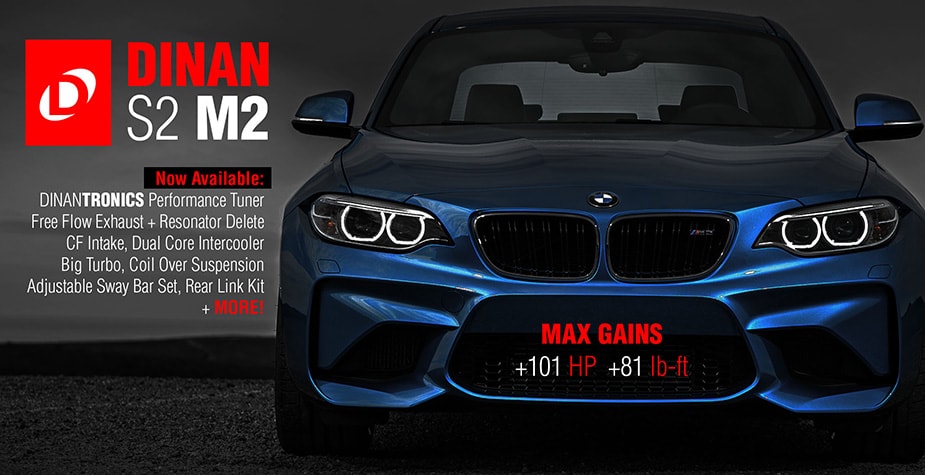 Back in August 2016 Dinan introduced its initial S1 package for the F87 M2 – complete with tune, intake, exhaust, and suspension. However, this initial package was limited from the factory in the power department by an already nearly maxed out turbo. In order to make any real meaningful additional power a new turbo and supporting hardware / tune would be needed.
DINAN started down the big turbo path immediately after that August 2016 release and offered a sneak peak of the new M2 with all of its prototype hardware at SEMA this past month (November 2016). With additional testing out of the way since that initial unveiling, they are now happy with the tweaked results and wish to unveil this new DINAN S2 M2 package to the masses. Now anyone can assemble the package that makes their engineers drool with anticipation for their own beloved M2. The wait for the fully Dinanized M2 is over.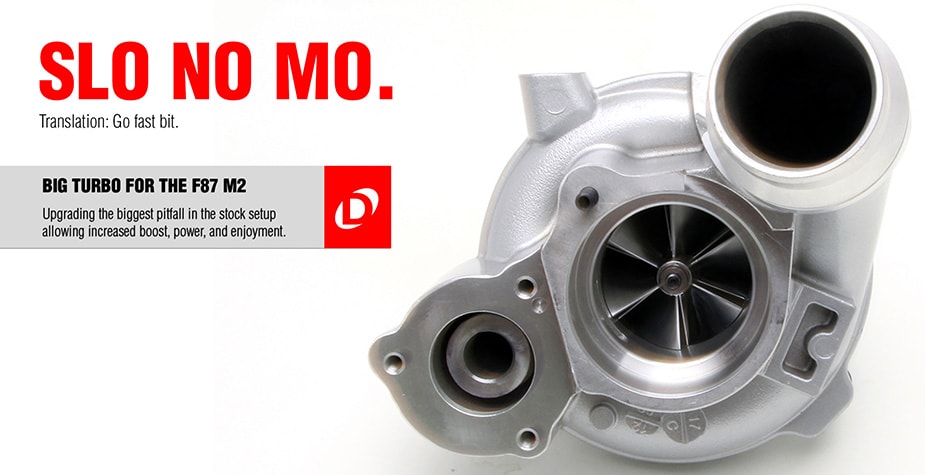 DINAN F87 M2 Big TURBO
Part Number: D310-0110
Applications: 2016+ F87 M2 Coupe
Release Date: December 22nd, 2016
Description: For the racing enthusiast or those just looking for the best, this is the ultimate upgrade to fully maximize the power output of your F87 M2. In stock form the turbo was essentially at its limit in terms of power production so Dinan is offering a bigger replacement unit so more power can be safely achieved. The compressor wheel inside the turbocharger is increased in size allowing greater flow thus enabling additional boost pressures at higher engine speeds while retaining efficiency. These are rebuilt factory turbos that are machined to Dinan specifications along with an upgraded thrust system to ensure reliable and prolonged life. In order to attain maximum advertised power gains these big turbos will need to be paired with DINANTRONICS age 4 software, as well as Dinan's intercooler to fully regulate the boost increase and deliver a polished product although the exhaust and intake are also recommended.
Benefits of the Dinan Big Turbo for the BMW F87 M2
* Factory turbo that is machined to Dinan specifications with an upgraded thrust system.
* Larger billet compressor/impeller wheel that allows ~30% greater flow over stock which then enables additional boost to be realized while retaining efficiency.
* Peak power: 446 HP @ 6500 RPM and 458 ft-lbs @ 4500 RPM with max gains of 101 HP @ 6500 RPM and 86 ft-lbs @ 4500 RPM when coupled with other Dinan Performance upgrades.
* Dinan Installation instructions detail a procedure which is quicker than BMW's turbo replacement procedure saving the end-user money and time at the shop.
* Includes o-rings and gaskets needed for complete installation.
* Factory matching new car warranty (4yr/50k) when run in Dinan specification.
* 50 State Emissions legal; CARB EO # D-176-49.
Please Note: Due to incredible demand and limited availability of cores the EWG N55 turbo has a waiting list associated with it. Any new orders will be a minimum of 4 weeks away from fulfillment. Dinan is working as hard as possible to minimize those delays.
Core Program: Turbochargers are a part of the CORE program they utilize at Dinan so you will be charged an additional fee on top of MSRP initially. This fee will then be refunded to you once your old turbochargers have been received at Dinan and passed a quality check. This ensures we have a continuous stream of product for rebuilding purposes and the lowest possible price to the consumer. Any cores sent back that are damaged and/or unusable will not be given credit for. Please ensure adequate packaging and packing is being used to protect returning cores.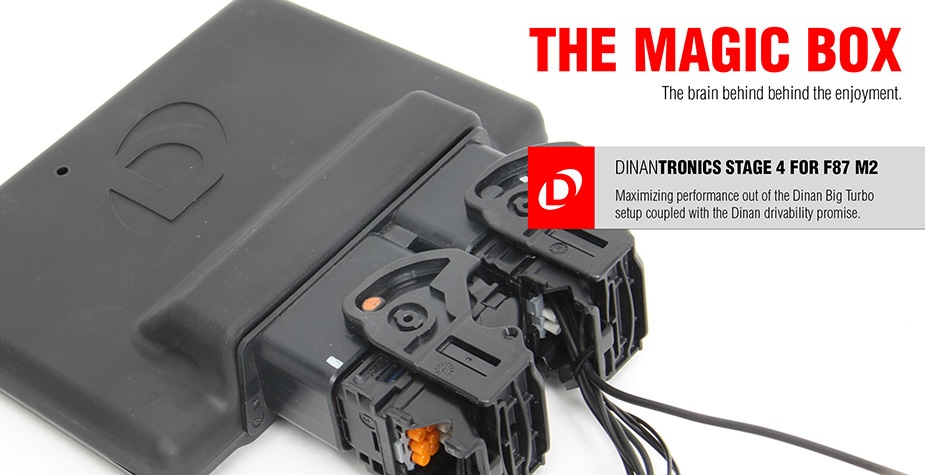 Dinan F87 M2 DINANTRONICS Stage 4
Part Number: D440-0049-ST4
Applications: 2016+ F87 M2 Coupe
Release Date: December 22nd, 2016.
Description: While the big turbo allows the additional power to be had, the engine still needs to be tuned to extract that power from the larger turbo. The stage 4 DINANTRONICS Performance Tuner does exactly that and unlocks an impressive swath of power in the mid-range and top end of the power spectrum. The result is a car that pulls hard all the way to red-line and puts a wide grin on the drivers face.
With Peak/Max HP gains hovering around +100, and max torque gains at +80 simply saying the car is being transformed is an understatement. With numbers like these, not many statements need to be thrown around. The numbers speak for themselves.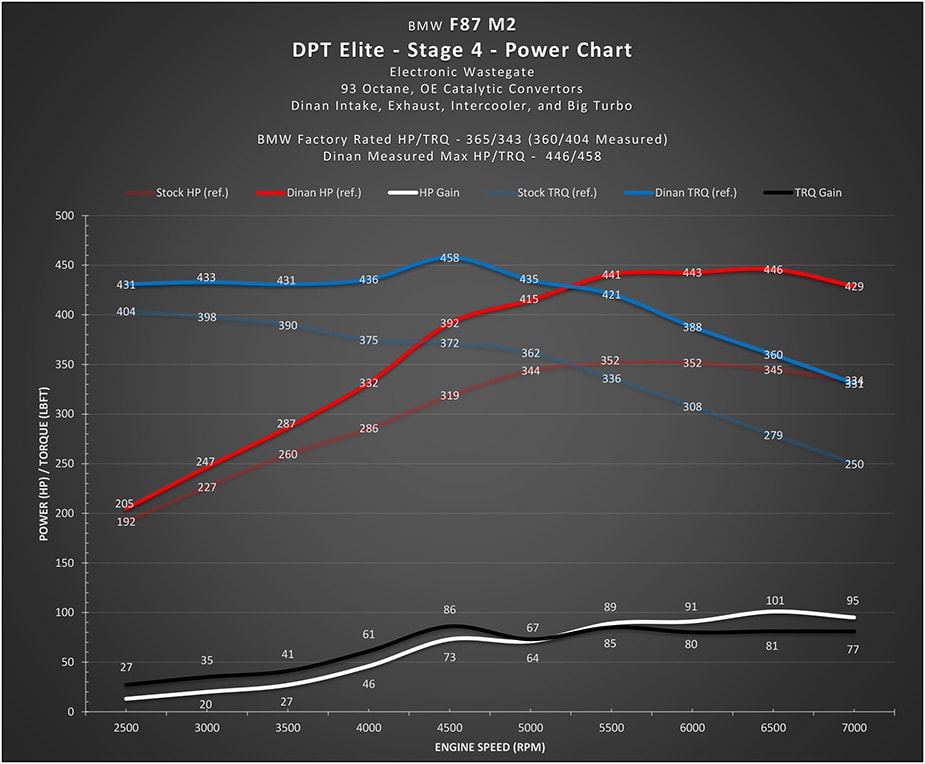 Dinan F87 M2 Dual Core Intercooler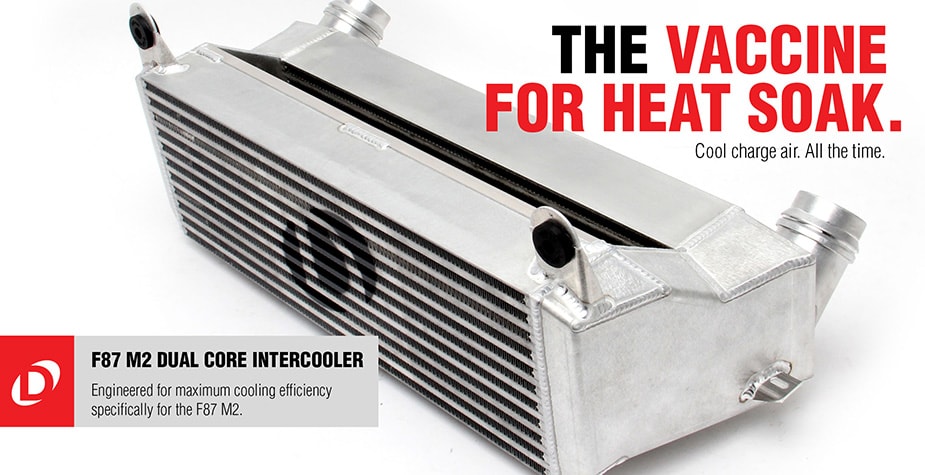 Part Number: D330-0026
Applications: 2016+ F87 M2 Coupe
Release Date: Friday, December 30th, 2016.
Description: With a bigger turbo and more boost to elicit greater power gains, heat becomes a larger issue. More heat in turn robs some of the power you just gained. A larger high performance intercooler combats the heat and those power gains are protected. The Dinan dual core intercooler provides a 278% increase in face area along with an equally impressive increase in volume, substantially reducing the pressure drop to 0.8 psi, as well as providing for more efficient heat exchange and more consistent output power. Dinan's unique dual core design allows 2 separate cores to be working in conjunction with one another at all times. This doubling of resources is directly responsible for a 39% improvement in the delta from charge air temperature to ambient temperature (See diagrams below). "Cool down" time is also significantly reduced, enabling the cars to produce full power under varying driving conditions such as stop and go traffic. This leaves the chances of being susceptible to heat soak nearly a thing of the past.
The system has been engineered to be as direct a replacement as possible to the stock unit, requiring only minor modifications for a clean, factory-like installation. The increased thermal efficiency provided by the Dinan dual core intercooler will also enhance turbocharger reliability in addition to overall power.
Benefits of the Dinan Dual Core Intercooler for the F87 M2:
* Max gains of 7 HP and 5 lb-ft of torque on a stock car.
* Face area 278% larger than the stock intercooler setup for maximum cooling efficiency to deter heat soak.
* Charge Air Pressure drop: 0.80 PSI (69% improvement over stock)
* Charge Air Temperature drop: 193º F (9% improvement over stock)
* Charge Air Temperature / Ambient Temperature Delta: 25º F @ 6250 RPM (39% improvement over stock)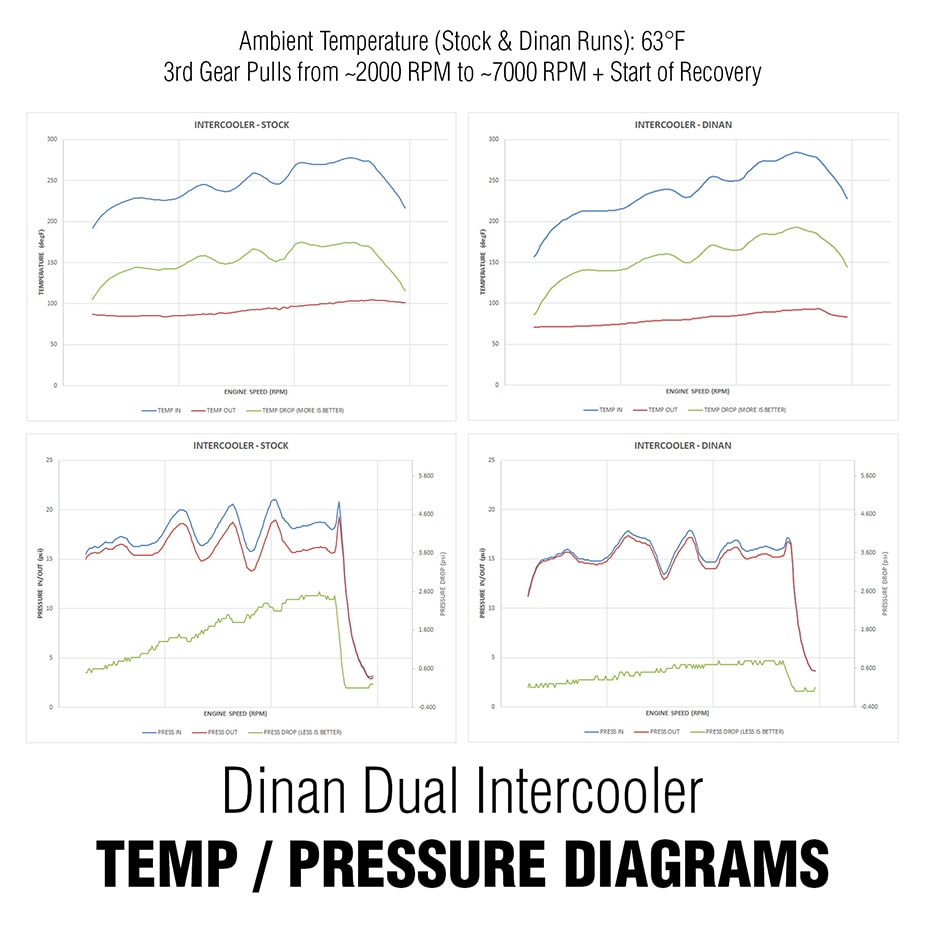 Get in line…and get yours today.
BRracing – your DINAN parts and service center