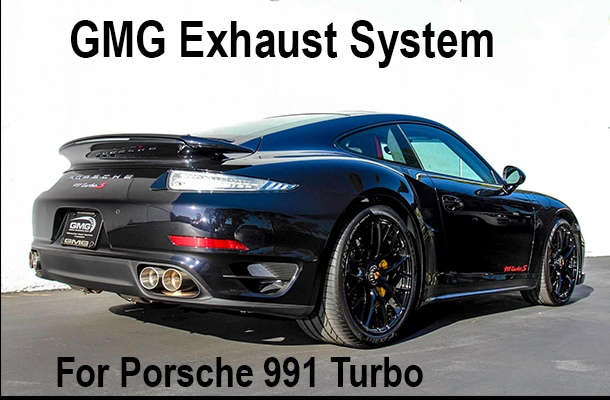 The GMG Porsche 991 Turbo exhaust system increases overall performance, enhances the sound, and reduces weight. Handcrafted out of T304 Stainless steel and meticulously TIG welded to aerospace specifications with great precision, the system is lighter than the factory system and displays a level of quality that is unsurpassed. Weighing 37 pounds, the GMG exhaust system is 20 percent lighter than the factory system.
Here is a picture of the original Porsche exhaust and the GMG exhaust system.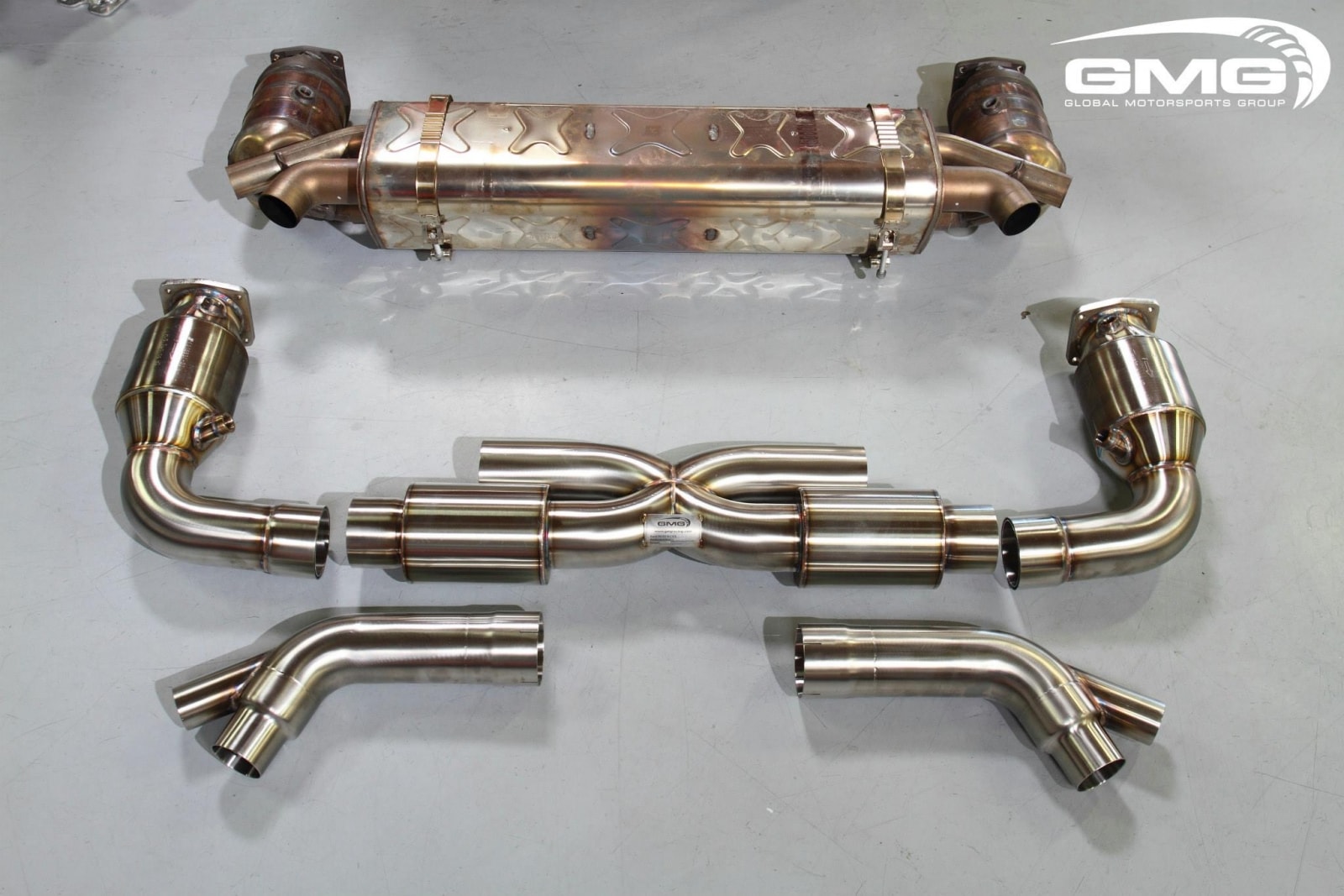 The system features German made 200 cell sport catalysts that are OBD2 compliant with proper 02 sensor placement to ensure no CEL (Check Engine Light) and a crossover x-pipe to increase power by balancing exhaust gas pulse coming from the engine and adds to the signature sound that only the GMG system can offer.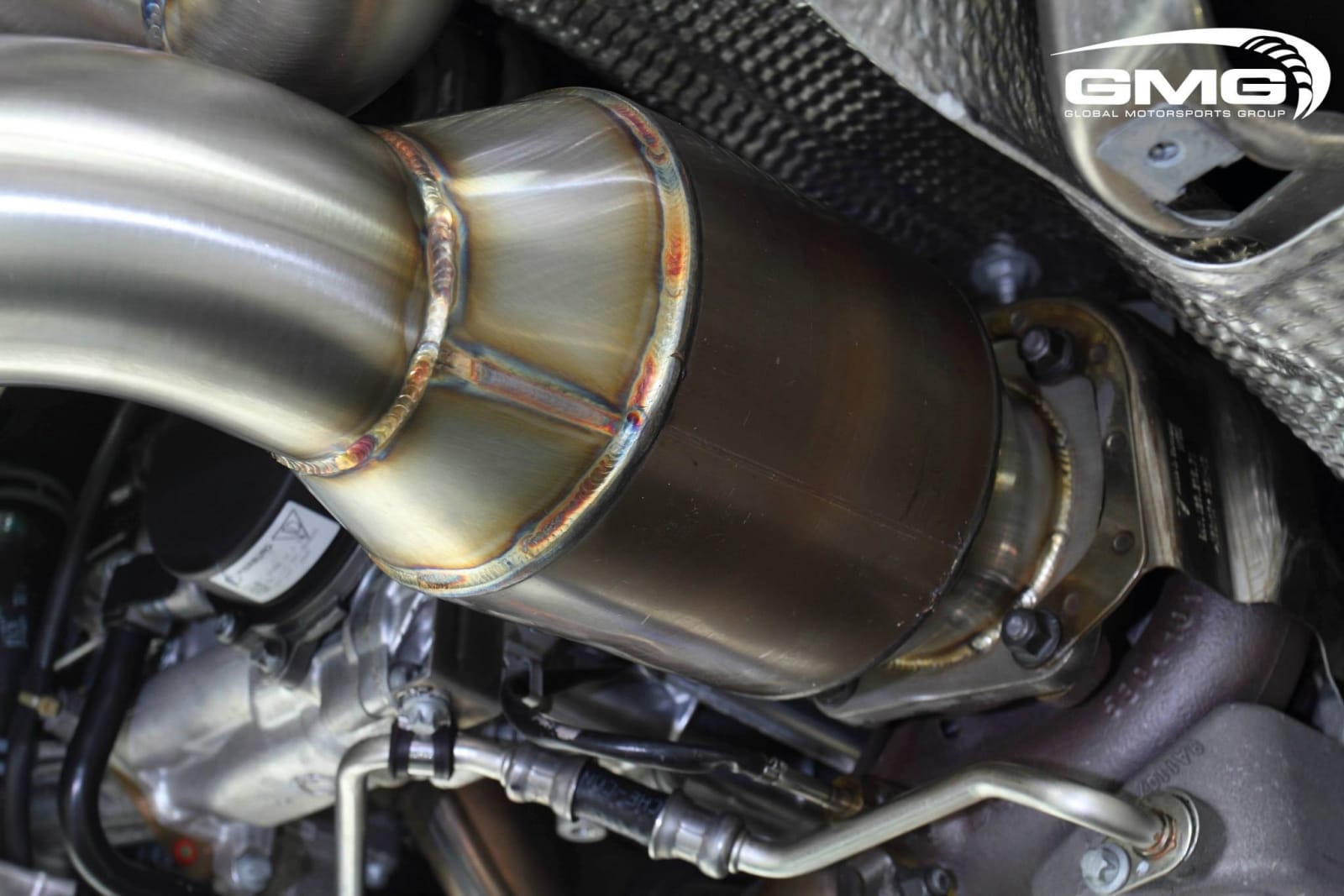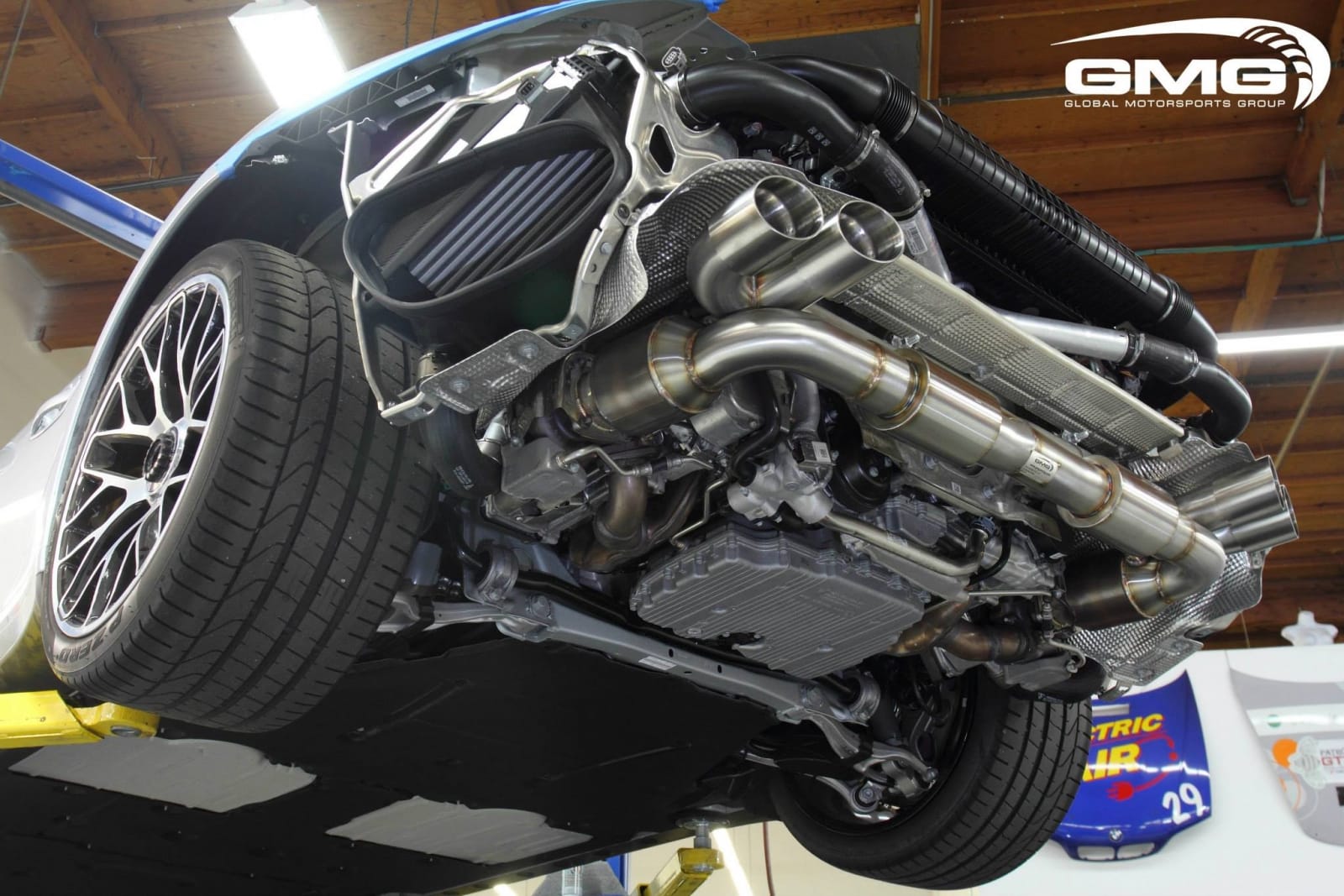 The crossover x-pipe works by balancing the exhaust pulses from either side — or cylinder bank – of the engine. It allows the exhaust to flow down the path of least resistance while speeding up exhaust velocity. At lower revs, turbulence is formed as exhaust gases try to shuffle past a second column of gases coming from the other side. While always producing more power than the restrictive factory system, exhaust speed is increased as the engine revs increase. The X-Pipe merges the exhaust into two uniform streams, allowing a smooth flow from engine to exhaust exit.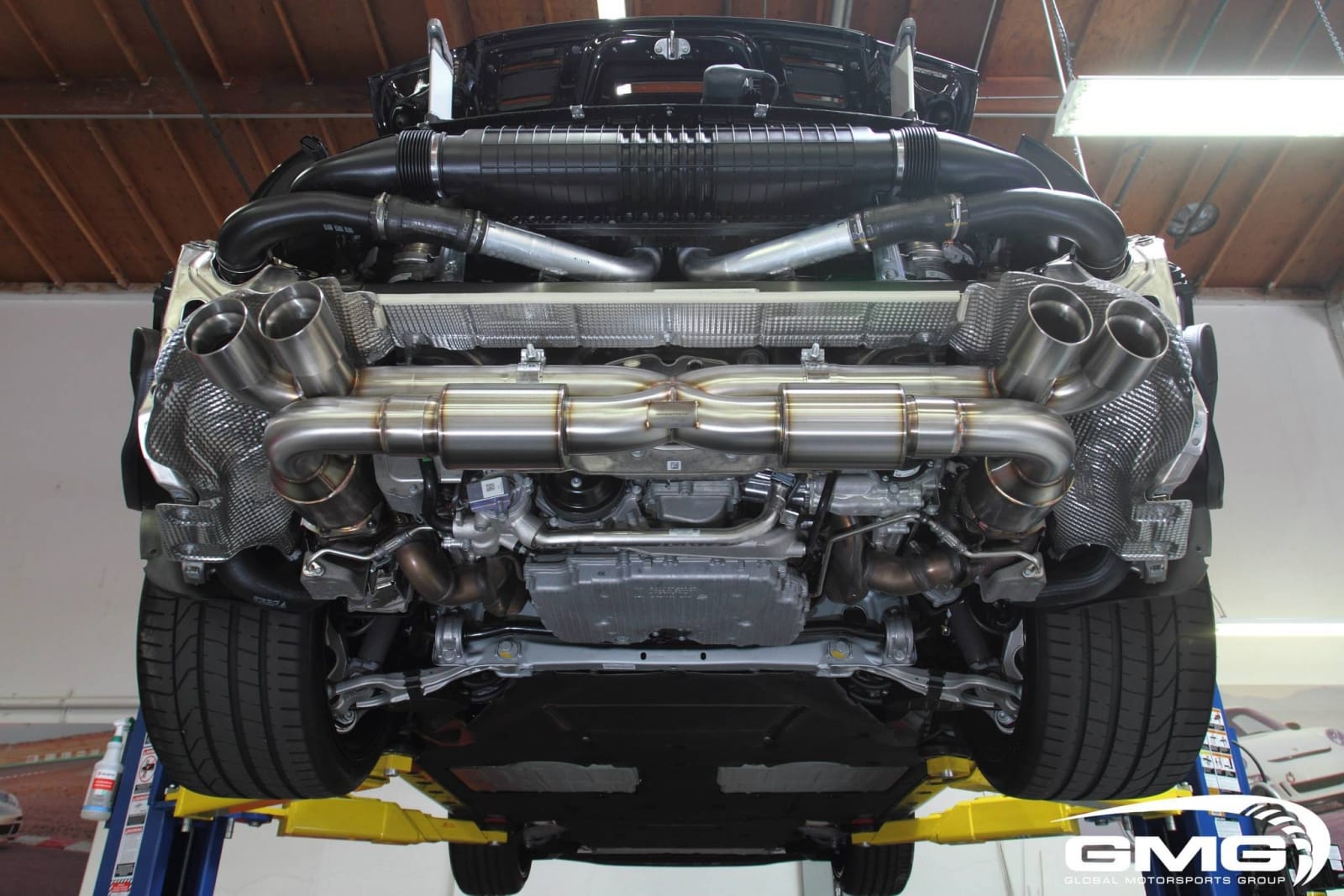 Stainless steel packing is used in their mufflers to withstand extreme exhaust temperatures and high intensity acoustic pressures that are generated by the turbo system that is located within very close proximity. This is one of the key advantages of the GMG exhaust system since most other exhaust systems uses fiberglass packing instead to lower costs, which are prone to rapid deterioration. The exhaust system is a direct bolt on replacement for the factory system and includes all necessary hardware.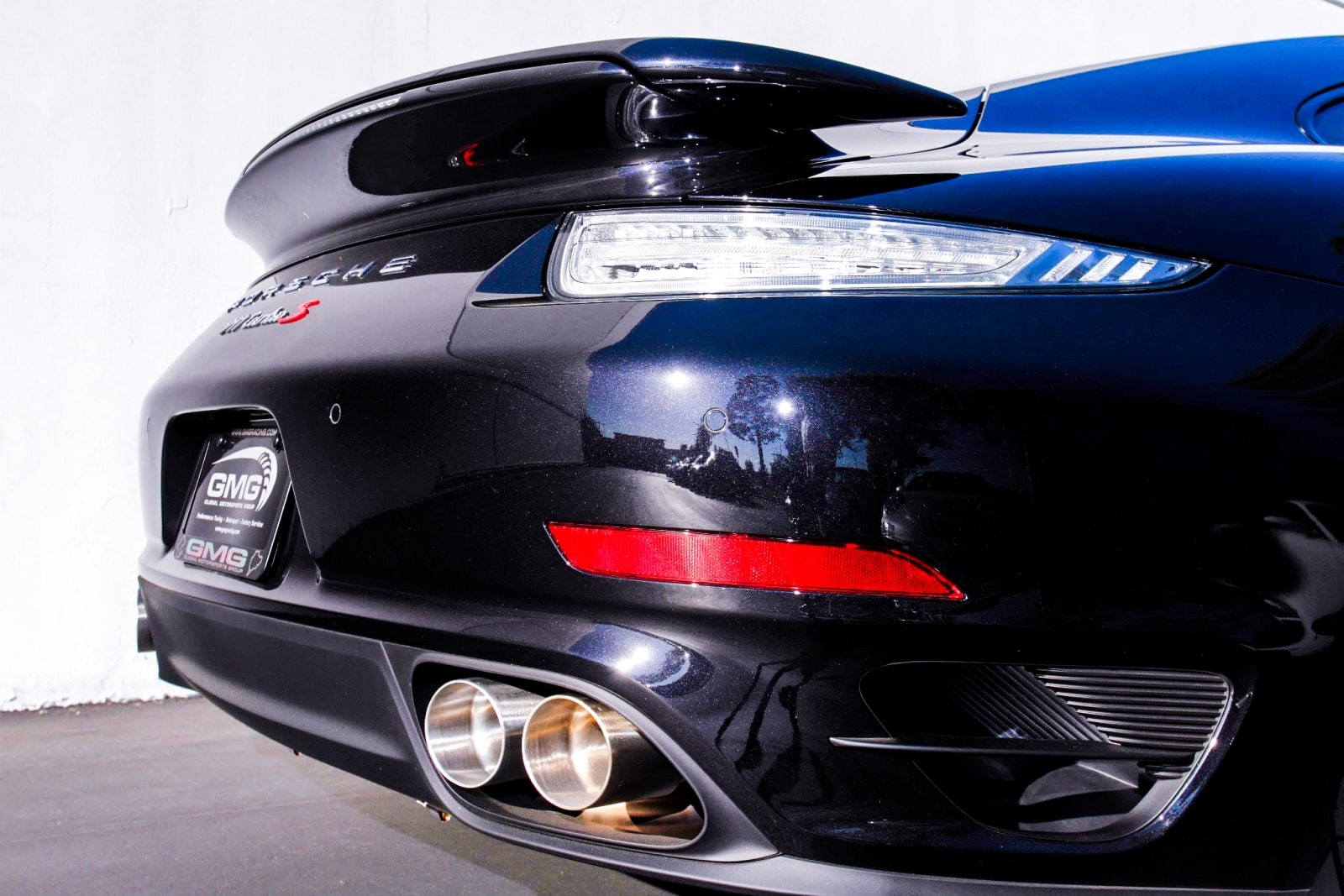 GMG offers two tips options as well:
– OEM Tips
– GMG Sport Twin Tips
FEATURES:
– Horsepower and torque increased up to 30hp without software upgrade
– Deep aggressive exhaust notes at lowers revs & exotic high pitched exhaust notes at higher revs
– Constructed out of US Made T304 stainless steel
– Hand built in the USA
– Meticulously TIG welded throughout to aerospace specifications
– Each system is individually serialized with laser etched badge
– Signature Brushed Finish and Quad tip design or OEM tip option
– Significant weight savings over the stock system
– System Weight: 37 pounds- Propriety Crossover center section with X pipe design
– OBD2 compliant German made 200 cell sport catalysts
– No CEL (Check Engine Light)
– Stainless steel muffler packing
– Direct bolt on replacement with all hardware and clamps included
NOTES:
*Exhaust systems are built to order. Please inquire for delivery time.*
* 200 Cell Cats are for off-road use only *
ALL US today for pricing and availability.
BRracing – implementing intoxicating sound for your car