Porsche Sprint Challenge – Apr 21-23, 2023 – Report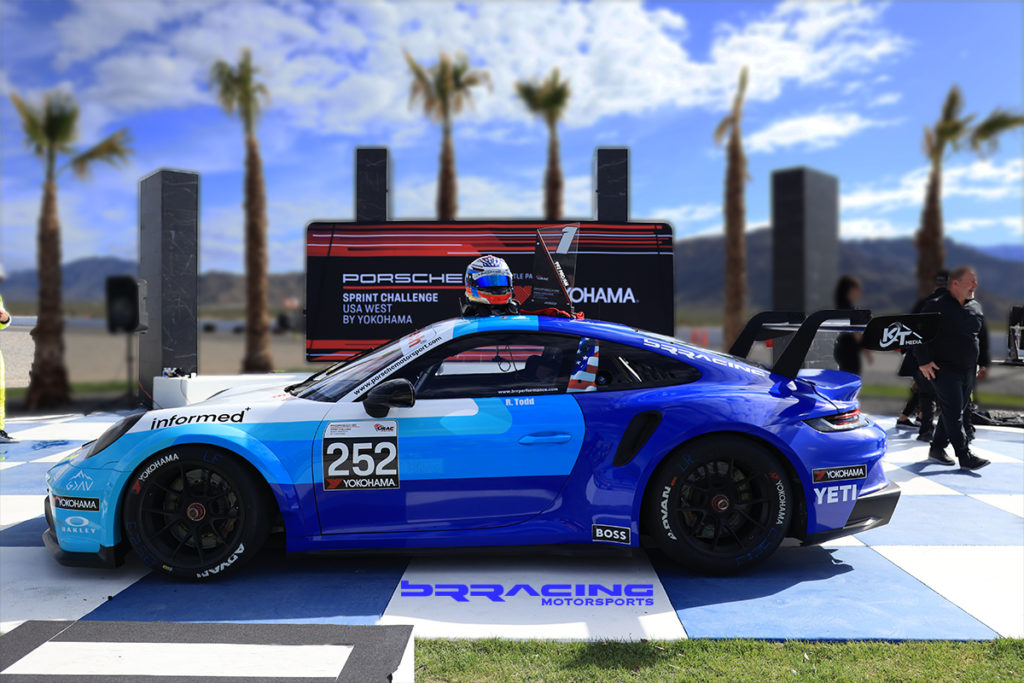 The first race of the Porsche Sprint Challenge Series, held at Spring Mountain Raceway, is now complete.  Amazing results for BRracing Motorsports, and all of it's customers.  Rare is it that you can report that ALL of your customers had a great, amazing event, especially when you field a large number of entries. (We were the largest team participating, with five (5) Porsche 992 Cup Cars…exciting stuff).
This was a new track for everyone.  The new track layout at Spring Mountain Raceway (the Charleston layout, 2.76 miles long)(located just West of Las Vegas), had only opened just earlier this year.  A very technical, demanding track, lots of elevation changes,  with few passing lanes, blind corners, and little sight lines, made it a very challenging first event.  The first event is always filled with pent up demand, anxiousness, new competitors, and new cars.  We had a very large field (over 26 entries), making it one of the largest Porsche Sprint Challenge events West of the Mississippi.  The field was also filled with five past champions – competition was tough, and very tight.  Due to the course being a desert course, you set one foot wrong, and it would be costly.  We had outstanding weather (especially considering this was near Las Vegas and desert country).  On to the results.
Robb Todd (Porsche 992 Cup Car, #252)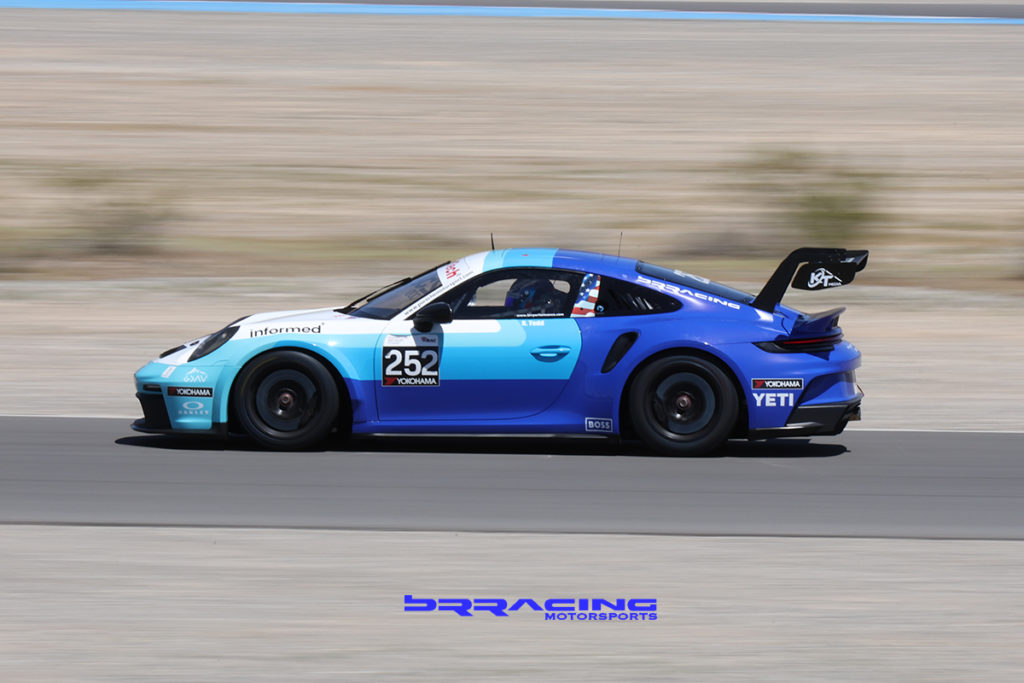 Robb had a near perfect weekend.  Practice went well on Thursday and Friday, as the team went thru continuous set up changes, trying to find the right setup for the smooth pavement at Spring Mountain. Prior testing had shown that the track was tough on the tires, especially the fronts, and that they would fall away after about 10 laps.  With races being about 22-24 laps, this was a real concern.  Robb didn't quite time the the traffic and out laps during qualifying, and missed pole (qualified P2, which would mean he would start from the outside of the front row).  Race 1 – Robb made a great start, and used his tires to perfection to make a pass for the lead on the first lap, and started to pull out a lead.  Robb's lead increased to about 6 seconds over 2nd place, but then encountered heavy traffic. Due to the narrow or non-existent passing lanes, this allowed 2nd place thru 4th place to close on Robb's bumper.  Will W made a strong move to the inside in Turn 9, forcing Robb a little wide and into the marbles. Robb recovered, and then parked his car on Will's bumper.  Robb made a move on the outside of T10, but was bumped by another car, which broke the steering rack.  Robb recovered to man handle the car home, getting 2nd place (in class).  Great points finish, but left hoping for more.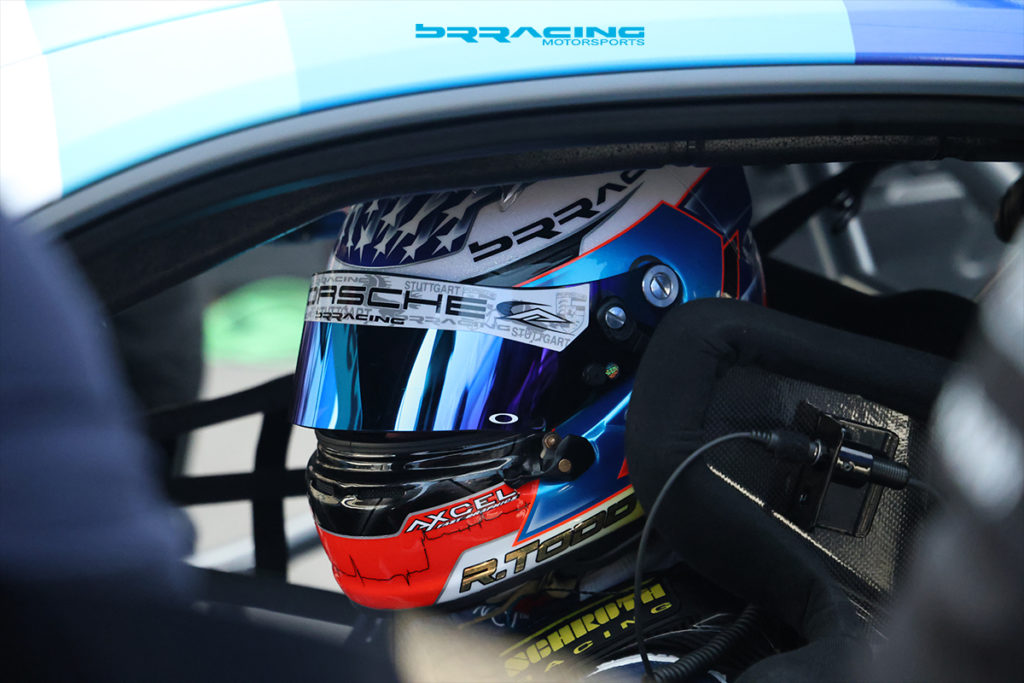 Race 2 – Robb started on the outside of pole again, with Will W on the pole and to his inside.  The two both made great starts, and ran side by side all the way to Turn 3, where Will was able to edge ahead.  Robb pursued Will, right on his bumper, and was able to use his tires a little better, and made a pass on the outside of Will entering T5, and took the lead.  As he did the day before, he then pulled out a strong lead, and this time, never looked back, and used traffic to his advantage, bringing home the WIN.  P1 in race 2, P2 in race 1, and now the series points leader.
Sam Parnagian (Porsche 992 Cup Car, #257, Peelz / Fowler Packaging)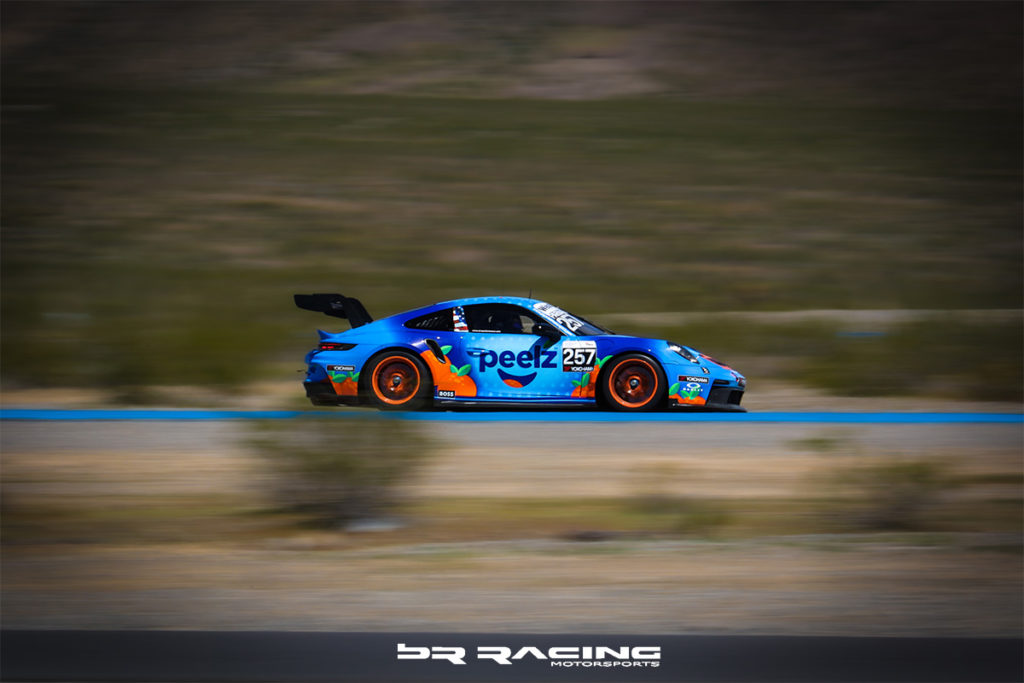 Sam is one competitive participant.  This year Sam moved up a class (he has been w BRracing Motorsport for over 4 years), to the new Porsche 992 Cup Car. Spring Mountain would be his first race in the new car.  Last year, Sam raced a Porsche Cayman GT4 Clubsport, winning most of his events, so he has very high expectations of himself, sets strong goals, and is just plain FAST.  He loves everything about the new 992 Cup Car, and to get speed out of the car is indeed a challenge. Quite a different car from the GT4 in almost every way.  Testing several times prior to the start of the season proved very valuable, as Sam could then focus his attention on finding the secrets to speed on the Spring Mountain course.   Sam proved that he was again going to be a competitor to watch and be dealt with, as he qualified P4.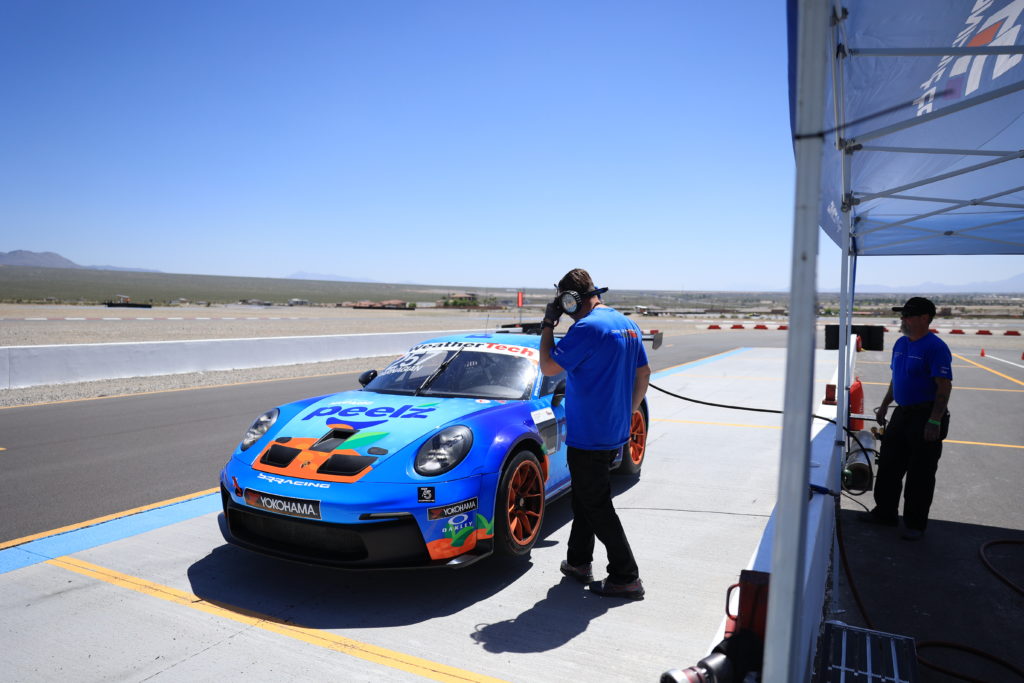 The field was tightly packed, as the delta in times was very tight, and he beat out P5 by a mere 0.019 seconds….that's less than a foot difference after 2.76 miles of driving.  Wow.  Race 1.  Just like qualifying, the race was tight.  Constant pressure from behind, looking for opportunities in front, managing the tire degradation, he never put a foot off, drove a very tidy race, and finished on the podium (P3).  Outstanding, but Sam is always hungry for more.  Race 2 – starting from the same overall position, Sam stayed tight to those in front (that's one of the elements of "race craft" that is hard…to drive your lines, and look thru, not at, the car(s) in front of you).  Sam drove many consistent laps, staying right with the large group, and then took advantage of the mistakes made by those he was pressuring, and finish P4 in class, but P5 overall.  Another amazing achievement.  No bangs, no touching or pushing, no putting a foot wrong, managing his tires, and a great first event.  What a drive.
Charles Gordon (Porsche 992 Cup Car, #231)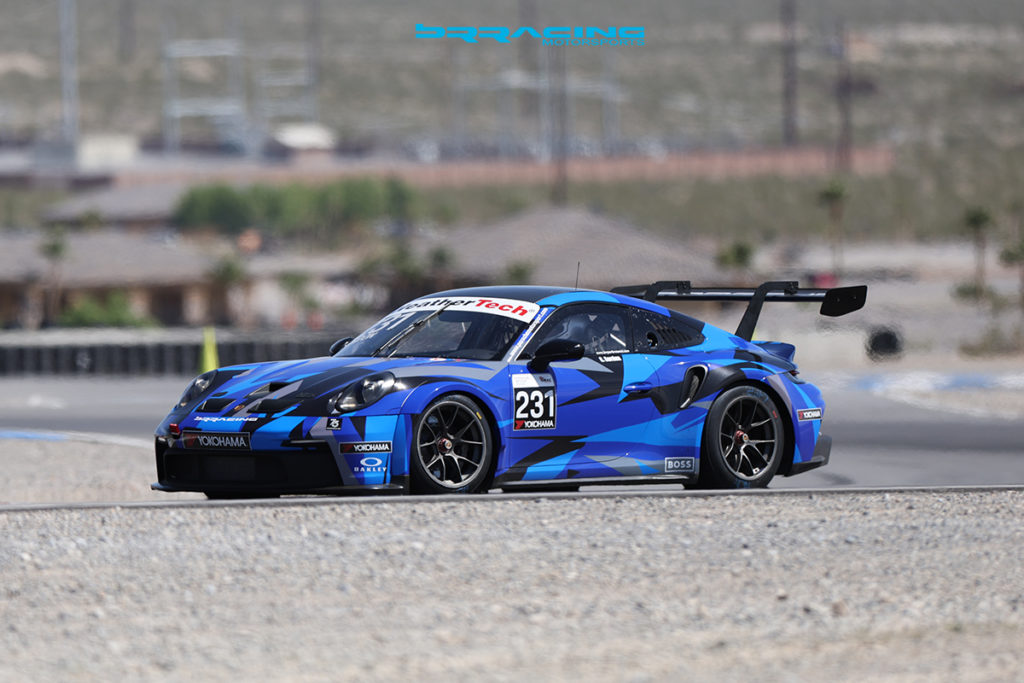 Charles is relatively new to the whole racing thing.  A veteran of track days, in 2022, he purchased a Porsche Cayman GT4 Clubsport, and immediately, was quick.  He was originally doing selected events as he transitioned into more full time racing, but at every event, he went quicker.  He impressed many last year at the Porsche Reunion Sprint Challenge event at Indianapolis, as he put himself in the quick group of GT4 Clubsport drivers, even challenging many of the East coast racers.  At one of our preseason testing events, Charles asked to taste what it was like to drive the amazing new Porsche 992 Cup Car.  He tasted, and fell in love.  Immediately he asked BRracing to secure him a new 992 Cup, and that was fulfilled in December 2022.  Charles immediately set out to get as much seat time as possible, to learn the nuances of this new ride. The speed, handling, grip of the new Cup Car felt so right to him…and it showed.
In qualifying, he put his 992 Cup into P6, just two spots back of Sam (see above).  His objectives for his first race in the new car were relatively simple….he wasn't looking for outright speed and results, he wanted to get a feel for the racing at this level, to learn the skills and trust he could have with the other new competitors, and to bring the car home with no incidents. Race 1 – Charles was right in the thick of it, as the core group just back from the leaders were all running about the same lap times, and this demanded the utmost focus and attention.  However, his focus drifted at one point, allowing his car to slip wide in a fast sweeper, and around the car came.  He gathered himself right up, and picked up right where he left off, and started the chase after those in front of him again. He drove a lap of 1.55.4 late in the race….which ended up being the 4th fastest lap of the race, and this was on old tires.  I'd say he came to grips with the car quite well.  With Race 1 under his belt, and quick laps to boot, he was looking forward to the Race 2 experience. Race 2 – Charles again had simple objectives…keep it clean, no mistakes, bring it home.  He started in the middle of the pack, and quickly and comfortably started churning faster and faster laps, putting pressure on those in front of him.  His focus, and calm approach paid great dividends, as he drove up thru the field, to finish P5 .  Amazing.  He loved the setup on his car that BRracing had put together, and he got out of the car, and exclaimed…is it possible to have any more fun than this?  We don't think so.
Richard French (Porsche 992 Cup Car, Racing for Diabetes)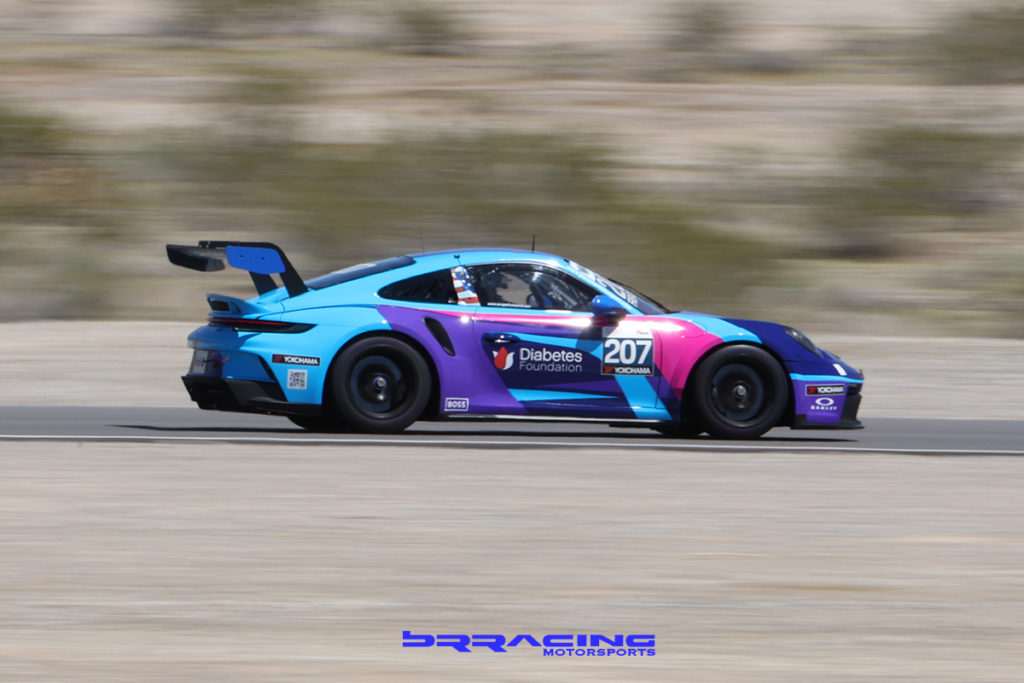 Richard has been with BRracing for over 5 years.  A veteran of over 12 years of track / DE driving and instruction, Richard moved into racing in 2018 when he acquired a new Porsche GT4 Clubsport.  The Clubsport is the perfect transition car…easy to drive, stable, confidence inspiring handling, comfortable, and w certain nice attributes (ABS, traction control).  Richard used the GT4 Clubsport to refine his driving, learning to explore the limits (you need to drive on the limit of adhesion if you are going to race…not just drive fast), and start the development of his racecraft skills.  Richard moved up a class, into his 992 Cup Car in 2022, and continued his progress on speed and race craft.  With 2022 as a building year in his Cup, he had good feelings about what 2023 would bring.  Very successful in business, he used those strong traits to continue to refine his craft, and was looking forward to the 2023 Porsche Spring Challenge Series.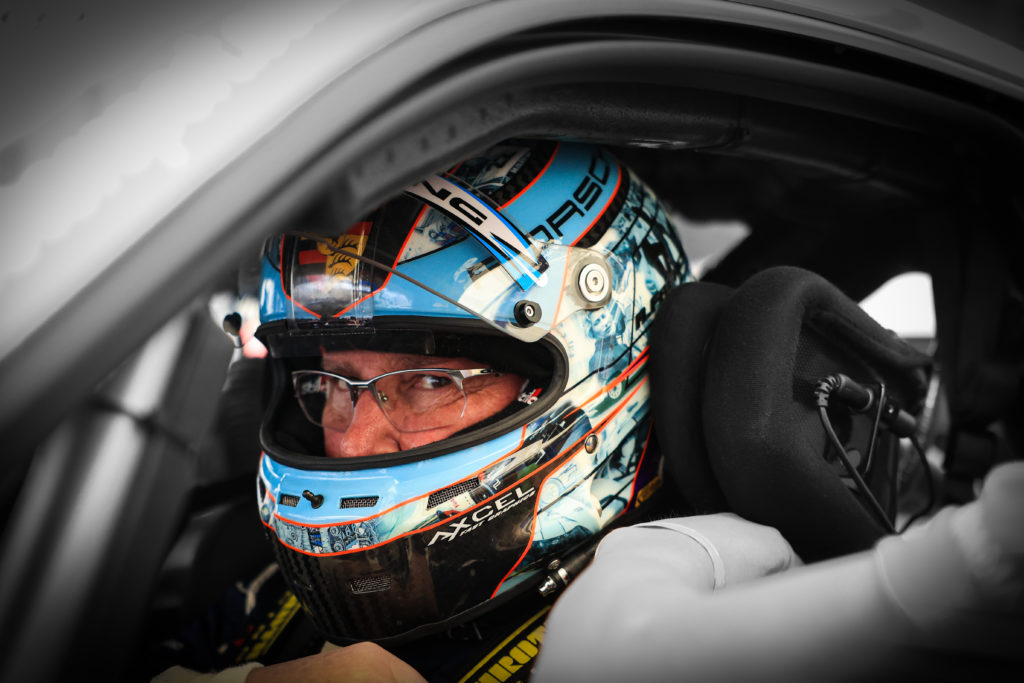 Every session…Richard went quicker and quicker, and in qualifying, pull out a new personal best, and only 3 seconds from the leaders.  This put him in the thick of things, a place he desired, but had not really been in before.  Race 1 – using the group as a rabbit to chase, Richard did just that, and as the group refined and improved their lap times, so did Richard.  Never put a foot wrong, never dropped a wheel, never lost focus, and the chase was on.  The results were the best he had ever achieved in a race group this large, and proved that good things lie ahead.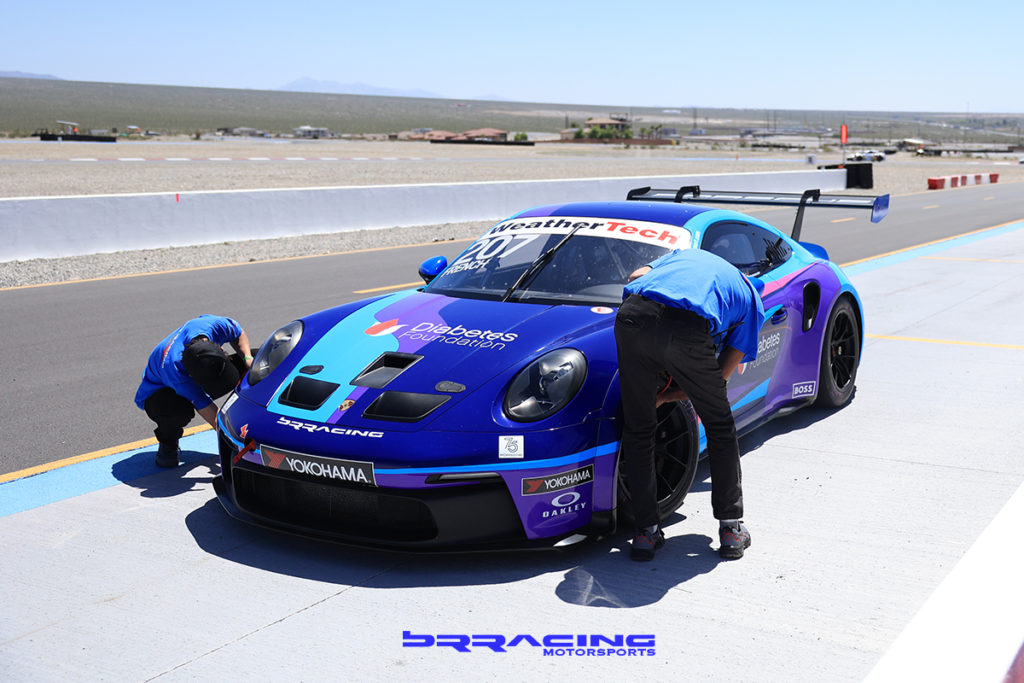 Race 2 – with the confidence of Race 1, and his ever improving lap times, Richard was looking forward to this event. The results were just what he hoped.  He ran an impressive race. withstood immense pressure from behind the whole race, and withstood that pressure, and upped his game during the race.  Learning from those ahead of him, and applying that skill, he moved up several positions, even beating last years champion…..unbelievable.  WOW.
Sal Brogna (Porsche 992 Cup Car, #244, INFORMED)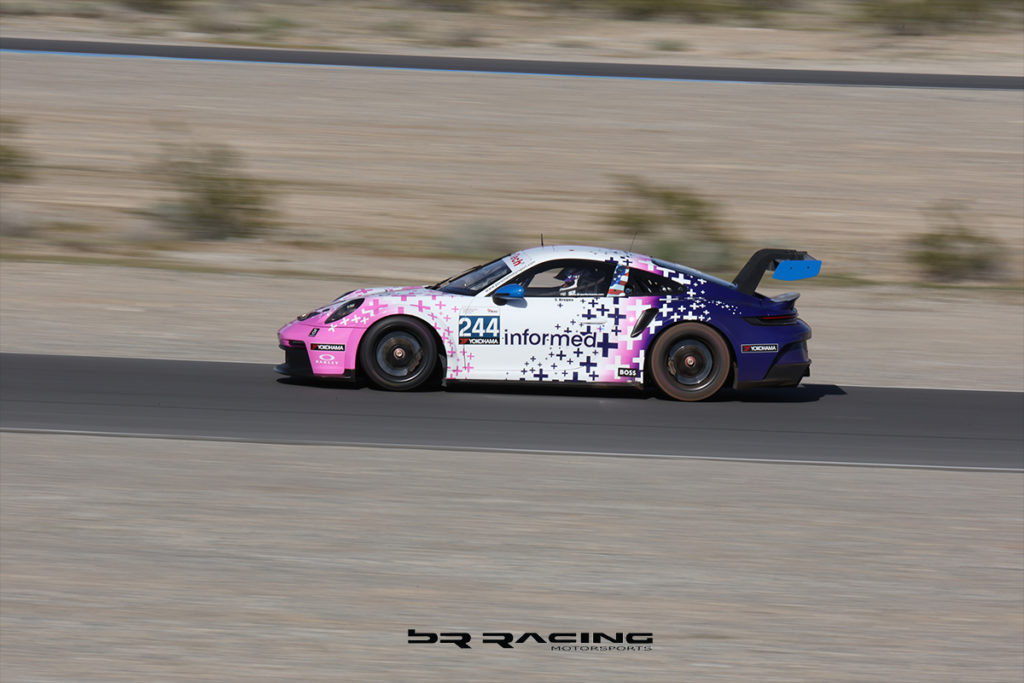 Sal is another racer that has progressed from doing track days, and making the leap into racing.  However, Sal didn't just leap into racing, he dove into the deep end, with his first race car being a Porsche 991.2 Cup Car (2018).  Going from a street car (even modified street)…to a race car is a leap much bigger than most perceive.  The level of grip, the speed in the middle of the corners, the braking, the handling, the setups, tire degradation, and more, is a lot to internalize.  But, every year, Sal has put his head down, focussed, plied his trade, and made continuous improvement.  The initial years were hard…w so much power, so much grip, it strained the mental aspects to come to grips with the car, and what it could do, and what he could get the car to do.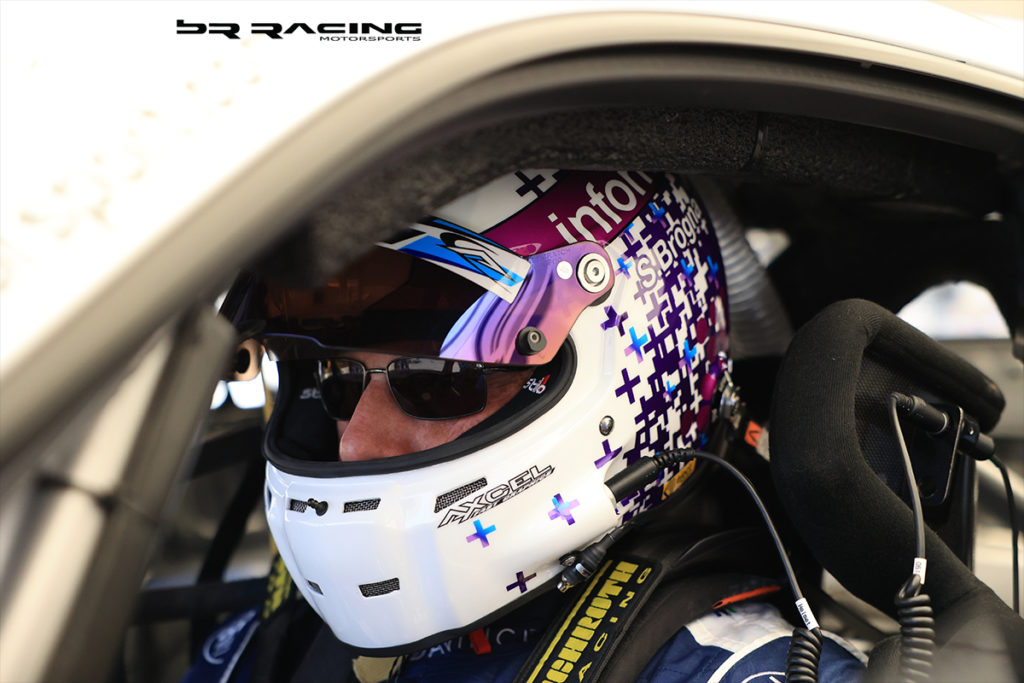 Qualifying – another great result, and only thousandths of a second off Richard, he too produced a new personal best.  This is much easier said than done….to do qualifying well, you need to get the tires up to temp on the out lap, set a base good time on Lap 2, turn the wick up and find all the speed you can in lap 3, and then save the tires for the race (in this series, you have to race on the tires you qualify on, so you want as few of laps on the tires as possible). So, for Sal to not only save the tires, turn progressively faster laps, and then a new personal best without over driving the car and tires is an awesome achievement.  Another piece to this puzzle of racing and going fast.  Race 1 – Sal was also now in the thick of it…in the group of cars, producing a whole new race experience.  A great start, and great laps ensued, but he got a little over eager in a fast turn, which caused the rear to lose traction, and produced a spin.  But, he got right back on it, and started off chasing the group.  This focus and determination again produced solid results, with him producing faster lap times near the end of the race when the tires have fallen off their optimum level of grip, than the group he was chasing.  Race 2 – with his focus now set, Sal set off to be part of the main group, and see what comes.  He ran a great race, never set a foot wrong, no offs, no spins, and finished strongly in the pack.  Major progress and achievement.   Can't wait to the next event.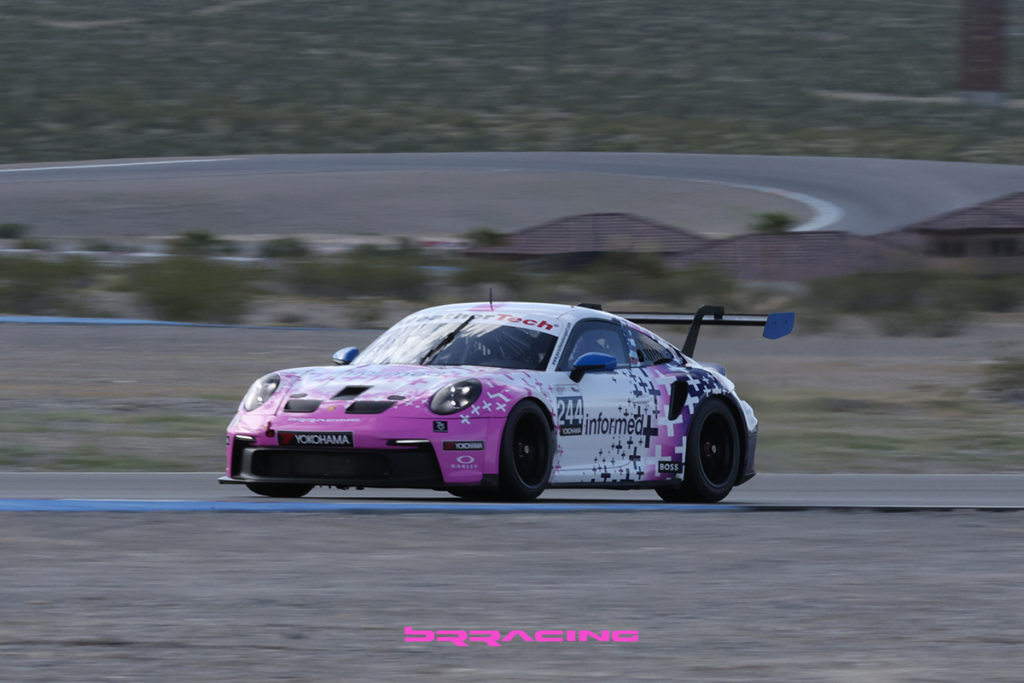 RESULTS
We couldn't have hoped for any better results for across the board.  Great setups, great qualifying, great race, great pit stops, great tire changes, great event.
Race 1 – BRracing Motorsports customers delivered:  P2, P3, P6, P7, and P8
Race 2 – BRracing Motorsports customers delivered: P1, P4, P5, P6 and P8
The TEAM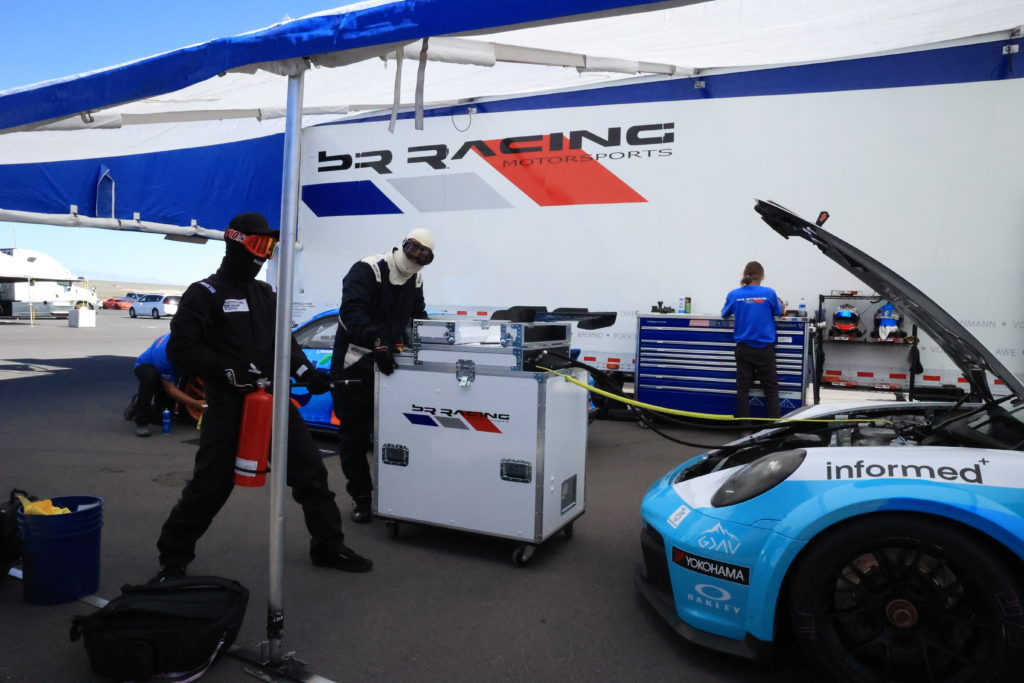 None of this would be possible without our team, our crew.  We have worked hard to assemble one of the best teams, organizations to provide the best experience for our customers / drivers.  This covers everything from our truck drivers, to our hospitality crew (more on them later), to our car crew chiefs, our engineering team, our setups and equipment, our tire guys, and our fuel guys.  Not only do we believe we have the best crew, we also believe we have the best camaraderie, and just PLAIN FUN.
HOSPITALITY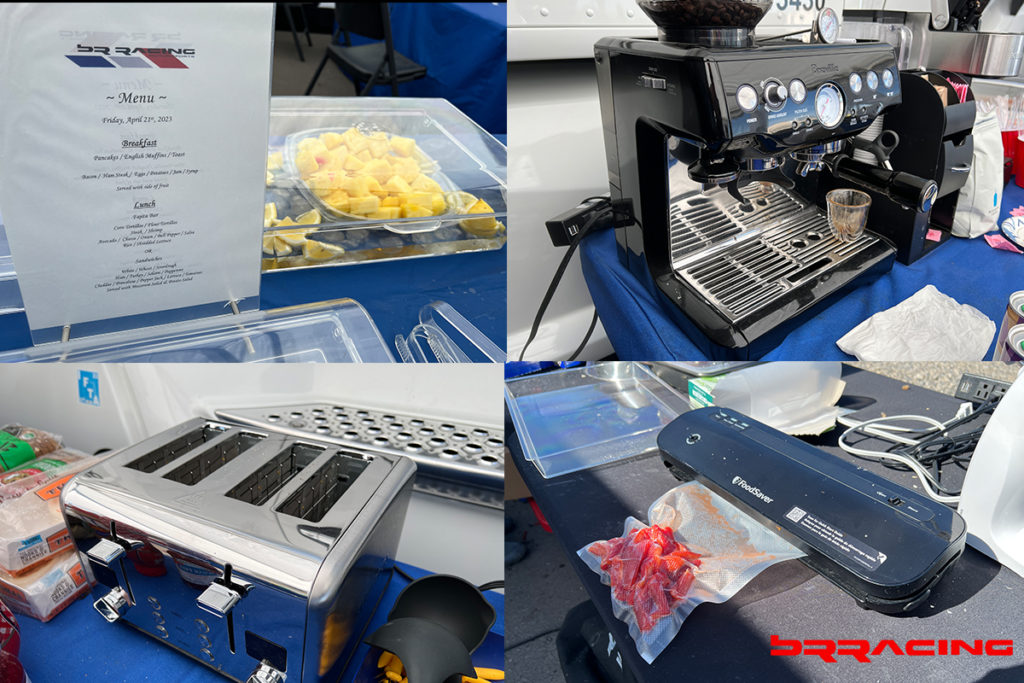 One of the areas we invested in for the 2023 Season was hospitality.  We wanted to stand out, be the best in this area as well.  From our gear, to our food preparation, to our drinks (we are the only team to have it's own dedicated set of refrigerators that we bring to ensure our customers always have a large selection of drinks, and that they are COLD), to our new grill and food preparation stations.  Custom menus, made to order food, for breakfast, lunch, and dinner, you can't beat this.  Add in a great cook (Marty), and hospitality crew (Brooke, Nicki), and we have made racing a great experience in every way.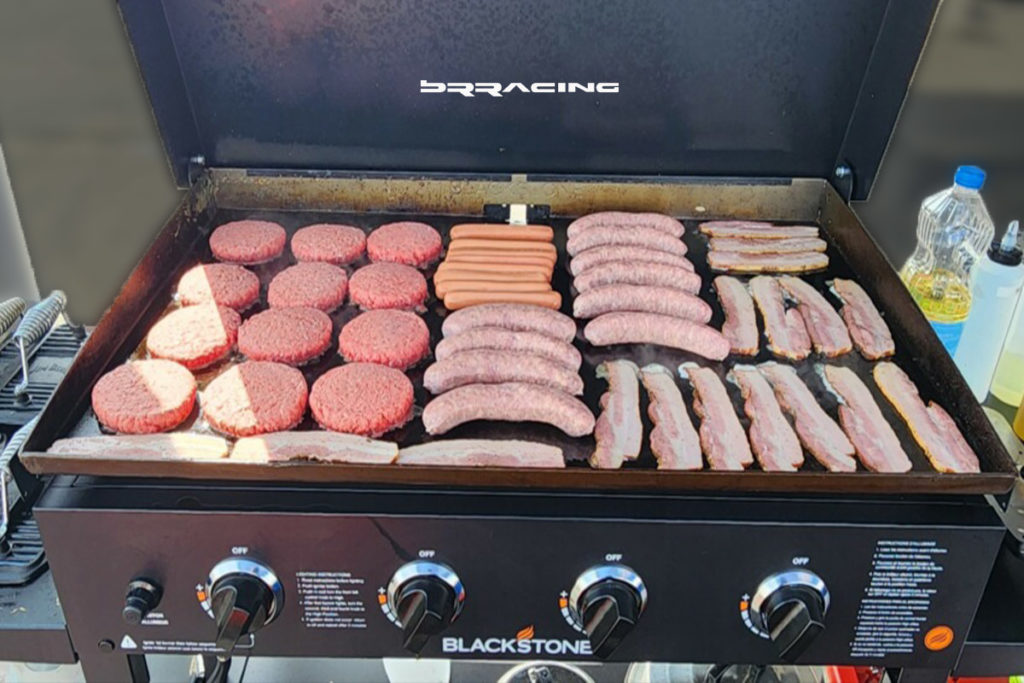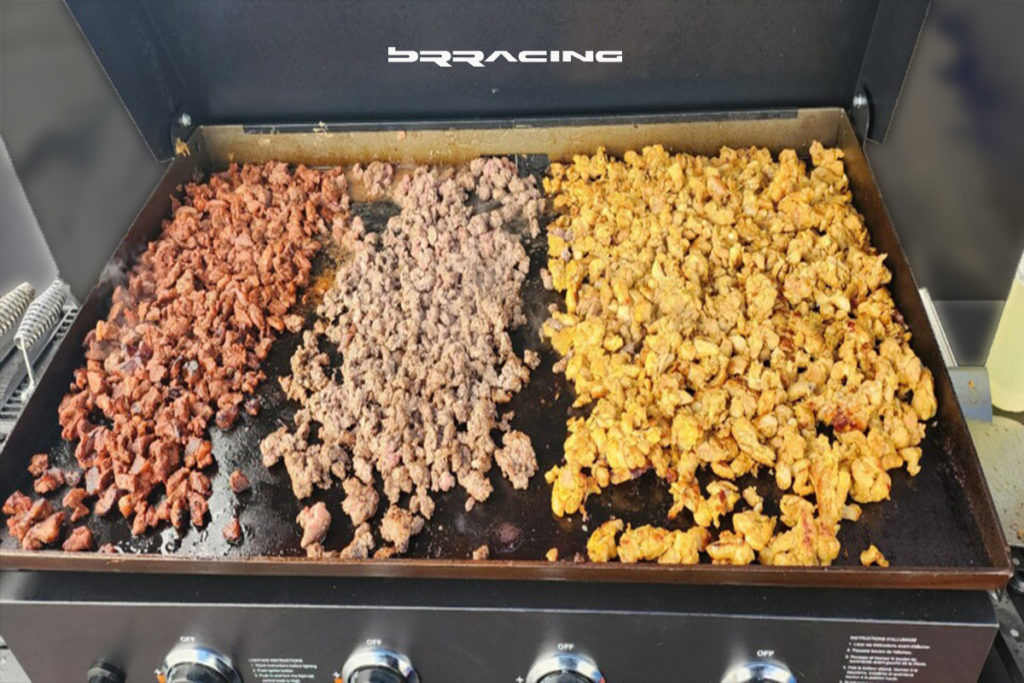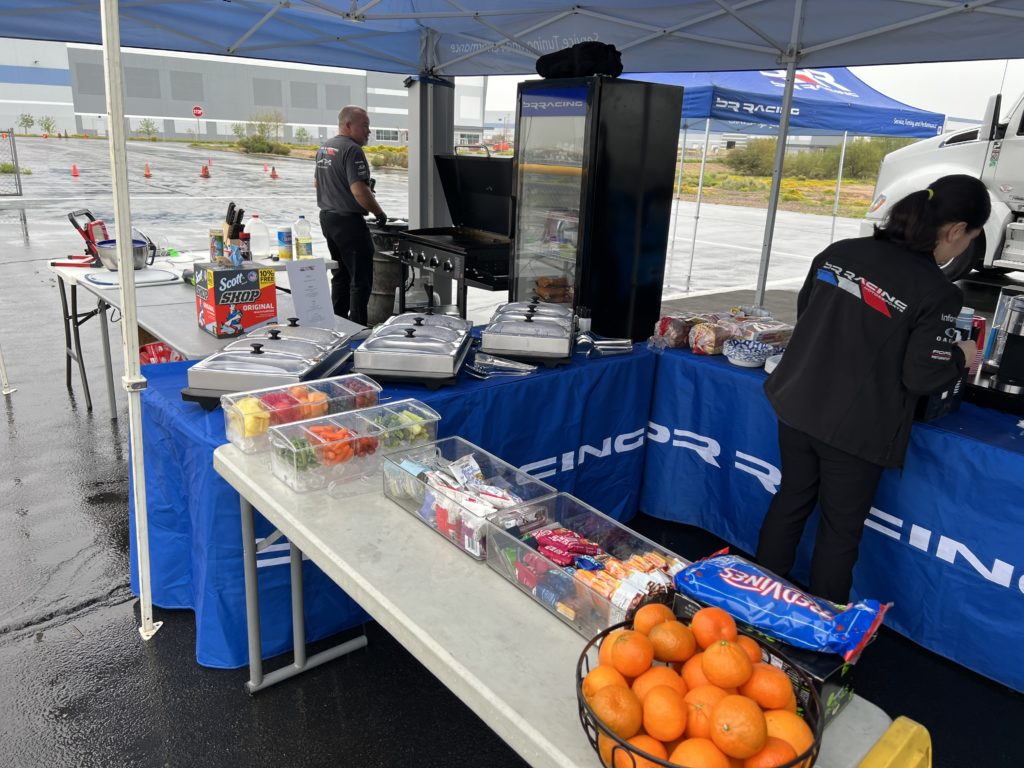 Come on out and join in our FUN (see our Motorsport schedule on the bottom of our home page on our website)