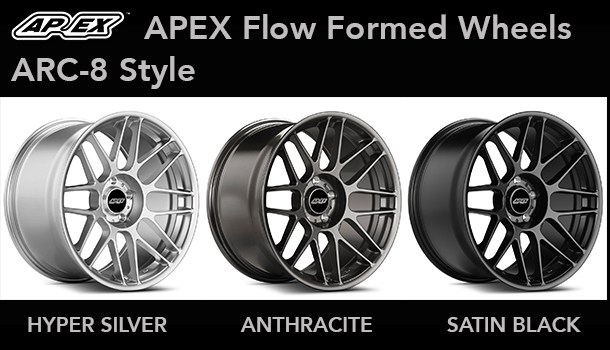 The APEX ARC-8 wheel is now available in 17", 18" and 19″ sizes for BMW. The ARC-8 design was first released back in 2009, and originally only available in race oriented fitments in a smaller 17″ and 18″ diameter. The straight spoke mesh design allowed for a strong and light-weight wheel that quickly became popular among racers and enthusiasts alike for it's deep spoke concavity.
ARC-8 Features & Benefits
Many unique fitments for most BMW models in 17", 18", & 19″ sizes
Designed for spacerless fitment for most applications
Minimizes the requirement for spacers to achieve a perfect fit
Maximize wheel/tire width with model-specific fitments
Seventeen inch sizes reduce tire cost for track day wheels
Spoke design and barrel work together to create additional brake clearance
Seventeens have clearance for up to 355mm BBKs in many applications
Eighteens and Nineteens have clearance for up to 380mm BBKs in many applications
Mesh design
Load is more evenly distributed to reduce stress and enhance durability
Aesthetics aren't compromised to create strength
Lipless design
Maximizes strength in the most vulnerable area of the wheel
Greatly reduces bends and damage from small impacts
APEX ARC-8 wheels are JWL tested and VIA certified
Each size and fitment is tested and certified
Factory Fit
Designed for BMW applications, the ARC-8 accepts TPMS sensors, factory lug bolts or stud conversion kits, and OEM roundel center caps.
All wheels come with APEX center caps.
Open center
Easy lug access and reduced weight
Unpainted lug recesses
Prevents wheel bolts or lug nuts from loosening
Mounting wheels does not damage the finish
The ARC-8 is perfect for street, track, and race.
Specifications
Diameter: 17", 18" & 19″
Width: 8.5" to 10.5″
Offset: variety
Lug Pattern: 5x120mm
Centerbore: 72.56mm
Weight: 17 – 23 lbs
Profile 1, 2, & 3
Available in 3 Finishes:
Hyper Silver
Anthracite
Satin Black
Manufacturing
The ARC-8 is produced using the Flow-forming technique. Flow-forming, which has also been called 'spin forging', produces a barrel with similar strength to that of a fully forged wheel. This significantly reduces weight in the barrel, which has the greatest impact on rotational mass and performance. By combining the strength of a forged, lightweight barrel and a more robust face design, we've produced a wheel that welcomes endurance racing, hard driving, and even potholes.
BRracing – Your Source for Performance & Style at a GREAT VALUE