Power steering fluid is the hydraulic component powering your vehicle's power steering system. Over time, power steering fluid can deteriorate due to prolonged exposure to fluctuations in temperature, humidity, friction and electrochemical degradation. In addition, harmful abrasives, sludge and varnish build up over time in your power steering system and can be circulated via the fluid. As the quality of your power steering fluid degrades, it can reduce the life of your steering rack and pinion and other power steering components. We recommend performing a complete power steering fluid flush every four (4) years (your manual and conditional based service do not have a specific time or mileage requirement when this should be done.  Our recommendation is based on what we have seen from local cars being serviced in our area).
Here is what good and used fluid looks like –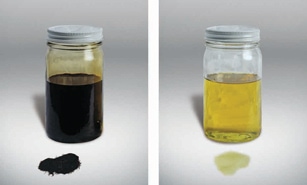 Don't wait till yours starts to ruin your power steering system…it will be too late then.  Keep your steering system working so that you don't get caught out by a system failure or major seal leak.
Schedule your service with BRracing NOW – our service includes:
Quality service by a professional BRracing technician
Complete inspection of the power steering system
Environmentally safe recovery of contaminated power steering fluid
Replacement of all existing fluid with new, quality (OEM) power steering fluid designed for your Audi
CALL US  at 408-356-1515 to make your appointment.
BRracing – SERVICE at its finest