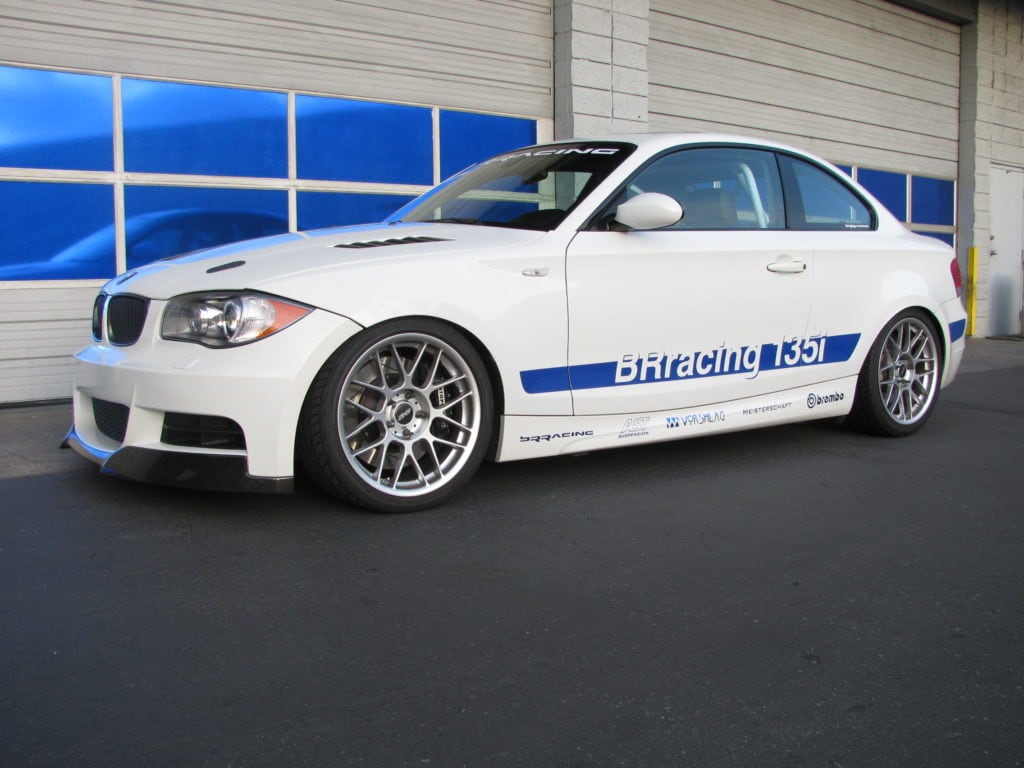 At BRracing ….we keep trying to find the solutions to provide the greatest results for our customers.  When customers want a suspension that can provide amazing handling…they want just that.  But, they don't want to always have to compromise on the results, they want the great handling, but also a ride that still allows them to use the car as a daily driver.
Often, it's not just the parts, but the foundation you start with.  With the introduction of the BMW 135i, we saw a great foundation where the next "cult" car, or 2002 type car could be created.  To reach that goal, a car that could provide a lasting reputation as the 2002 and E30 M3 have, you need to go far beyond the simple additions or changes, and you need to find what really works, not just slapping on parts or swapping out pieces.
We will chronicle here what we find, what works, and even those that didn't work, to help understand the right combination of pieces to create that truly great ride.  This is where we started –
We have now been working over the last year +  to refine our BMW E82 135i, to make it a true track killer, while retaining all the daily driver requirements and finese.  This project was meant to show how far you can go w a street car and have all the daily driver elements, while producing a car that can be taken to the track, flogged to death, and run at the front of the pack, but at a price point still below a new BMW M3 (yet beat the M3 at the track).
We now know that we have the track killer part down, as we have been to over 12 DE events, and nothing comes close (anyone care to try us?)…we finally have the suspension tuned without having to resort to unnatural acts on the front wheels.   And the result is this –
Here is the list of mods done to the car, but not a complete list –
Engine / Exhaust
– ASR fully enclosed intake system, charge pipe, and TIAL BOV
– ASR custom intake scoops
– Evolution Racewerks race intercooler
– Meisterschaft GT exhaust system
– Powerchip fully customizable tune
– Larger radiator
– Custom oil cooler, venting
– BSR gold foil heat shielding
Body
– Vorsteiner CF front hood
– Vorsteiner CF front splitter
– CF front grills
– Custom body graphics
– BRracing harness bar, rear shock tower brace (complete bolt in, and rear x-brace/down bars/horizontal harness bar come out to allow full use of rear seats)
– Sparco harnesses
– lightweight battery (Braille or Odyssey)
Suspension
– AST 5300 triple adjustable struts, shocks, all w remote resv
– Hypercoil race springs
– custom bump stops
– Vorschlag camber plates
– M3 control arms, links, tension, subframe bushings
– UUC sway bars, front and rear
Wheels
– Street – APEX ARC-8 18″ set, staggered (8.5″ fronts, 9.5″ rears)
– Track – APEX 18″ set, staggered (w 245 width in front, 255 width in rear)
– Track – Advan Racing, non-staggered
Brakes
– Stoptech ST-60 race calipers (front)
– Pads – either PFC (97) or Pagid
– Castrol SRF racing brake fluid
Here is some more details on the unique intake system
ASR intake for the BMW 135i w special build by BRracing.
– intake box, completely close, w clear or smoked lense
– 2 stainless steel air filters,
– charge pipe,
– 2 new larger intake scoops that mount in OEM location,
– TIAL BOV (capable of supporting motors in excess of 600HP).
– CNC mounts, intake air filter mounts
– Works in OEM solution, or can be mated to work w other FMICs and hard lines (we have the Evolution Racewerks Intercooler)
This kit fits right in, has mounts for the AC line, brake vacuum line, fits to the standard intake, also can come in custom powder coated colors (just like the BRracing harness bar…we want the look to be completely OEM).
We further customized out intake install by wrapping the intake in the std racing gold FOIL…to further reject heat from the engine compartment.
BRracing update – new wheels……amazing wheels.
We have just installed a set of the APEX ARC-8 wheels, that really maximize the offset to allow the biggest tires you can imagine without body work.
The first set that we have put on are for street use, not to mazimize the width, but a near square set up.
We put 245/35/18 on the front.
We put 255/35/18 on the rear.
We have -1.8 degrees of camber of on the front for street trim (you can't go below this to wear 245 on the front). We tried -1.7, and had slight rubbing on the front outer portion of the fender lip.
To get the 255's to fit on the front, you need to go to max negative camber (and yes, we have both the Vorshlag camber plates on the front, and the M3 lower control arms).
More refinements being added to the BRracing 135i project car.
This is both for performance, and for looks.
As many have noted from a performance perspective, the car suffers from understeer when driven hard. Most of that can be addressed through the extensive suspension modifications, both detailed here, and by so many others in other posts.
But, we would love to have more downforce, and that can usually be addressed with the addition of a front splitter or front lip.
We needed a piece that was both very pleasing to look at, great construction, and had the strength to endure when speeds of over 140mph are obtained on the track. At those speeds, huge amounts of downforce can be generated, and we needed to ensure we had a very stout piece that also had the right attachment elements/methods and overall strength.
We now have one, in the brand new single piece Vorsteiner CF front lip. It is a beautiful piece, built to the same exacting standards that Vorsteiner is known for, but they have also added some strength reinforcing elements to provide the strength and rigidity needed.
The pics show the wonderful fitment and tightness that can be achieved (attention needs to be taken if anyone undergoes the installation AND intends on using the splitter on the track, and we can provide some additional information on how the installation needs to be performed if this is ever to see track duty).
Enjoy…and yes, we can get this beautiful piece for you.