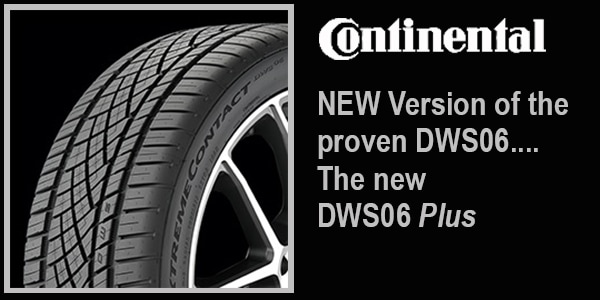 At BRracing, we have been very impressed w several of Continental's tires…the DW, DWS and the recently added TrueContact.  They have all combined great performance with great value, and most have the traits that one is looking for, at a great price, but key to us is they all last longer than other comparable tires.  With the Continental DW and DWS, we have sold more of than any other tire, they have a hard act to follow.  But, the DWS has been on the market for over six years, and the engineers at Continental knew they would have to really up the anti to make the new DWS06 Plus a winner, and they have. We really didn't have any complaints about the current DWS06, but some have said the side walls were a little too soft, and dry handling was not as strong as a tire like the Michelin SuperSport. This is one area the Continental engineers have focussed on, and you can see the slight change in the tread design.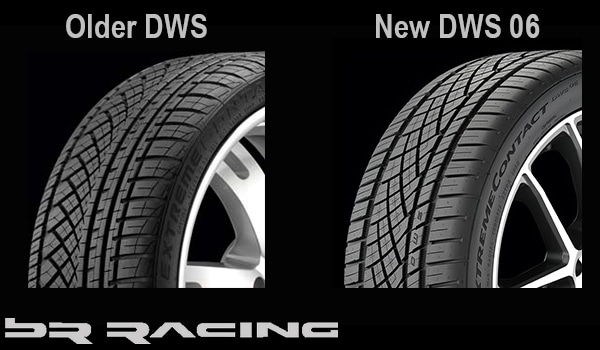 The new ExtremeContact DWS 06 Plus (released in Feb 2021, and we have already installed them on customers cars)…is Continental's Ultra High Performance All-Season radial.  Developed for drivers of sports cars, sport coupes, performance sedans, and sport trucks (sounds like most of our customers).
ExtremeContact DWS 06 Plus tires feature Continental's SportPlus Technology, which combines enhanced handling, wet traction, and wear (longer life). An advanced silica-enhanced all-season tread compound featuring +Silane additives increase wet grip and extended treadlife. This compound is molded into a unique asymmetrical tread design featuring Continental's Chamered Edges that help deliver maximum tread contact in dry conditions while Traction Grooves (ridges in the bottom of the tread grooves) enhance three-dimensional snow traction. Outboard shoulder macro blocks enhance responsiveness and cornering stability.  Central independent blocks with X-sipes, separated by high-angle, crisscross grooves provide the biting edges necessary to promote all-direction traction. Independent inborad shoulder blocks help disperse water to further hydroplaning resistance and foul-weather traction.
ExtremeContact DWS 06 Plus tires feature the new QuickView indicators to help identify vehicle misalignment concerns early in the tire's life before wear patterns form, as well as confirm suitability for different driving condition through Tuned Performance Indicators. Tuned Performance Indicators are visible letters molded into the second rib from the outboard shoulder to alert drivers of the tire's performance levels. A visible "DWS" indicates the tire has appropriate tread depth for dry conditions, as well as wet roads and snow.  After the "S" has worn away, the remaining "DW" indicates the tire only has appropriate tread depth for dry and most wet road conditions.  After the "W" and "S" have both worn away, the remaining "D" indicates the tire has appropriate tread depth for dry conditions only.
The tire's internal structure features twin steel belts reinforced wiht spirally wound jointless nylon cap piles to provide long term integrity under high-speed conditions while reducing weight and helping to provide more uniform ride quality.
With the upgrade of the DWS06 to the new DWS 06 Plus, Continential has provided a tire selection for almost any driver –  …the DW as the true performance sports car tire, the new DWS 06 Plus as the performance all season, and the TrueContact as a long life sedan or SUV type tire.
Just like all tires, from all manufacturers, you can get any of these from BRracing at the best prices on the NET, where we also do top of the line mounting (touchless), balancing (load force balancing on all wheels).
BRracing – value, selection, ease of purchase…make your tire buying easy.