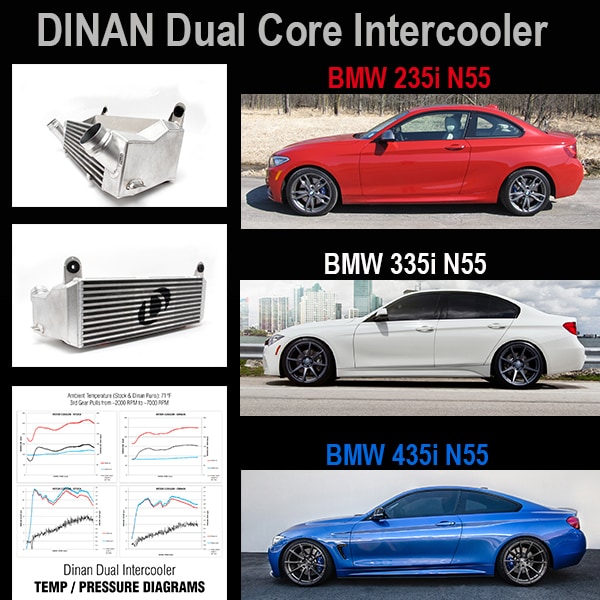 At BRracing, we get to see a lot of products.  But, to our dismay, many are not really engineered for the application, but rather just cobbled together.  One of the facts that impresses us though with DINAN products is the thorough engineering and development behind every product.  The Intercooler featured here is exactly that…it addresses the core need and application by having outstanding flow number, no big loss of pressure and yet, a great gain in the temperature drop. At the same time, it fits right, and is CARB legal.  Can you ask for anything more?
DINAN DUAL CORE INTERCOOLER
For BMW F3x 335i / 335ix, F22 235i, and F3x 435i / 435ix models (see more notes below)
D330-0021
Dinan's unique dual core intercooler design for the F series N55 engine elicits impressive power gains and a wider power band along with astounding cooling characteristics that nearly guarantee 'heat soak' a thing of the past.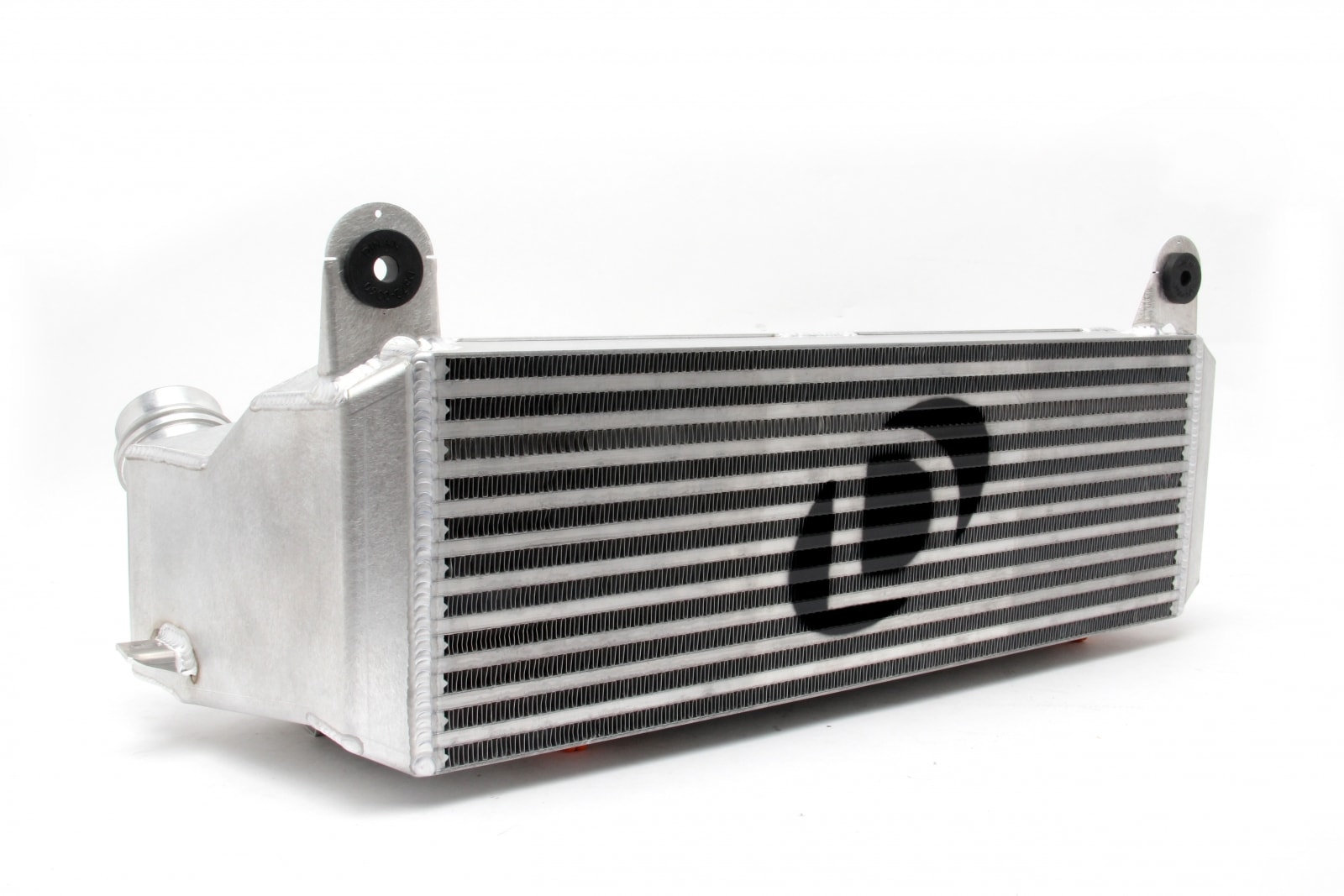 Greater power gains are achieved with a larger high performance intercooler. The Dinan® dual core intercooler provides a 240% increase in face area along with an equally impressive increase in volume, substantially reducing the pressure drop to 0.8 psi, as well as providing for more efficient heat exchange and more consistent output power. Dinan's unique dual core design allows 2 separate cores to be working in conjunction with one another at all times. This doubling of resources is directly responsible for a 60% improvement in the delta from charge air temperature to ambient temperature (See diagrams below). "Cool down" time is also reduced, enabling the cars to produce full power under varying driving conditions such as stop and go traffic. This leaves the chances of being susceptible to heat soak nearly a thing of the past.
The system has been engineered to be as direct a replacement as possible to the stock unit, requiring only minor modifications for a clean, factory-like installation. The increased thermal efficiency provided by the Dinan dual core intercooler will also enhance turbocharger reliability in addition to overall power. On a stock vehicle power gains can be had from 4000 RPM and beyond (when the car is in boost).  In order to achieve the best performance the intercooler should be paired with the Stage 3 DINANTRONICS™ Performance Tuner as it provides optimization of the intercooler. In particular it extends the power band to be more robust and powerful from 4000 RPM to redline whereas without tuning the bulk of the gains are from 6000 RPM to redline.  
Benefits of the Dinan® High Performance Dual Core Intercooler: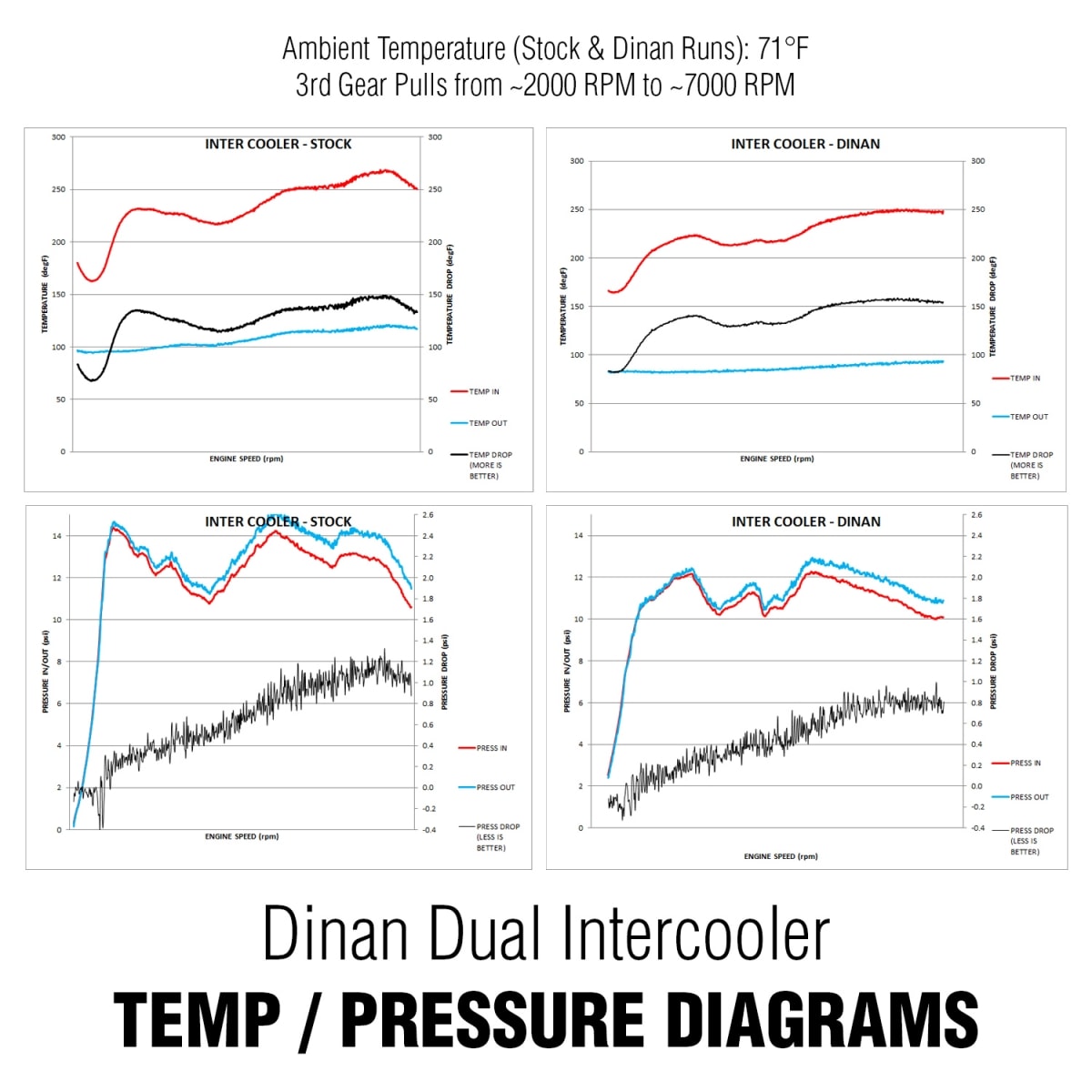 + Max gains of 15 HP and 13 lb-ft of torque @ 6250 RPM (greater gains and a wider power band can be achieved when paired with stage 3 DINANTRONICS™)
+ Face area  240% larger than the stock intercooler setup for maximum cooling efficiency to deter heat soak. 
+ Charge Air Pressure drop: 0.80 PSI (25% improvement over stock)
+ Charge Air Temperature drop: 155º F (11% improvement over stock)
+ Charge Air Temperature / Ambient Temperature Delta: 18º F @ 6250 RPM (60% improvement over stock)
APPLICATION NOTES:
Does not fit vehicles equipped with Active Cruise Control.
For F30 335i applications with M-Tech bumpers please review optional hardware kit D333-0025 for optimal appearance.
435i fitment only confirmed on the M-Tech bumper; standard bumper not yet tested.
Labor times depending on application and the amount of bumper modification that is necessary. Labor times range from as little as 2 hours to 4.5 hours.
Additional applications are forthcoming.
Product Specifications
Labor Hours/Installation Hours    4.50
Emission Status    50 State Emissions Legal. California Air Resources Board Executive Order Number D-176-46.
Max HP Gain    15 @ 6250 RPM
Max Torque Gain    13 @ 6250 RPM
Included Notes    Dinan® N55 High Performance Dual Core Intercooler.
BRracing – creating smiles for all our customers