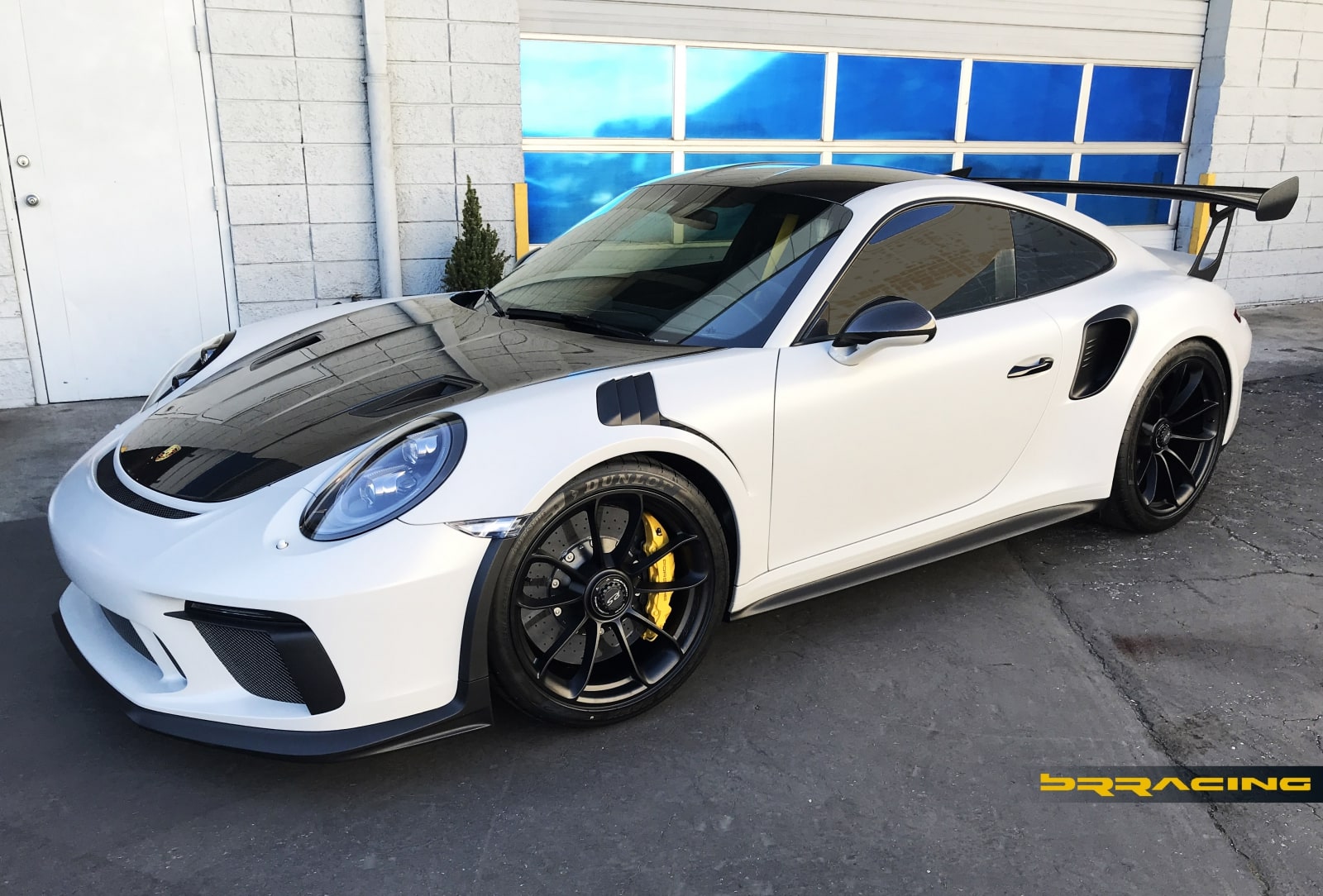 Finally the moment we have all been waiting for, GMG has released a full exhaust system for the Porsche GT3 and GT3RS (991.1 & 991.2). GMG offers the system in modular approach – (a) the center section and / or (b) the long tube headers / cats. If you wanted to keep the stock exhaust manifold and the stock catalytic convertors, then the center section would be the right fit for you. But if you are looking to open up as much air flow and sound as possible for the exhaust, then the complete system with the long tube headers and center section will bring even more sound and performance throughout the rev range for your Porsche.
The GMG WC Center Section is a direct bolt-on replacement of the factory center section. Handcrafted out of US- Made of T304 Stainless Steel and meticulously TIG welded to aerospace specifications.  A brushed finish is standard and a satin-black thermal ceramic coating is optional.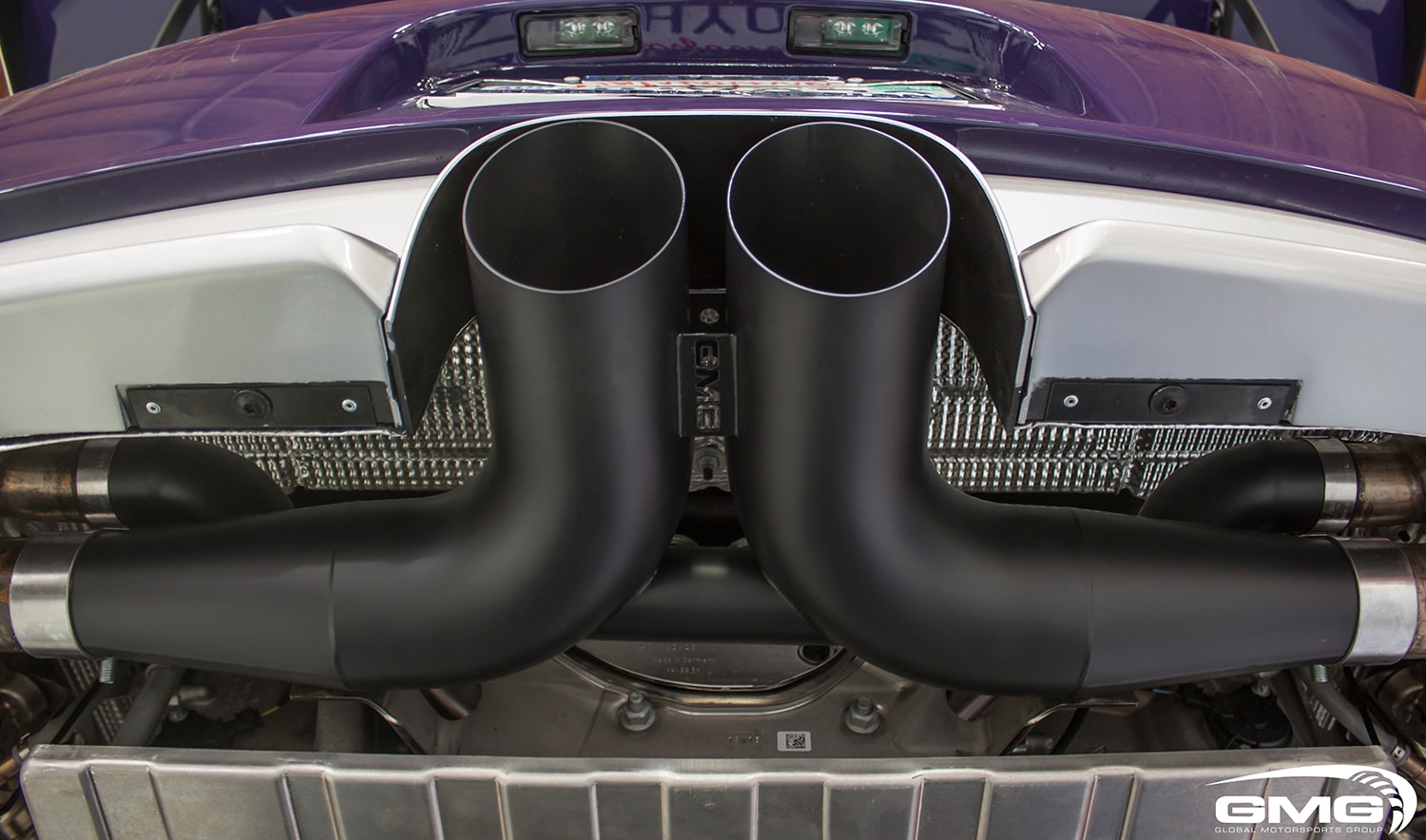 Weighing in at seven pounds, the GMG exhaust system is thirty percent lighter than the factory system and features a proprietary megaphone design to improve sound and performance throughout the entire rev range. The GMG Center Section produces deep, aggressive, exhaust notes at lowers revs, and an exotic wail at higher revs.
The GMG WC Twin Tip Center Section is 100% emissions legal and will not void the factory warranty. It's a complete bolt-on upgrade, utilizing factory exhaust bracket locations, which will bolt up to both the stock primary mufflers while retaining the factory sport exhaust option. Hit the Sport button and listen to the beautiful exhaust note.
Highlights:
Twin 4″ tips that fill the exhaust opening on the bumper perfectly.
Produces deep aggressive, exhaust notes at lowers revs & exotic high-pitched exhaust notes at higher revs.
US-Made T304 stainless tubing.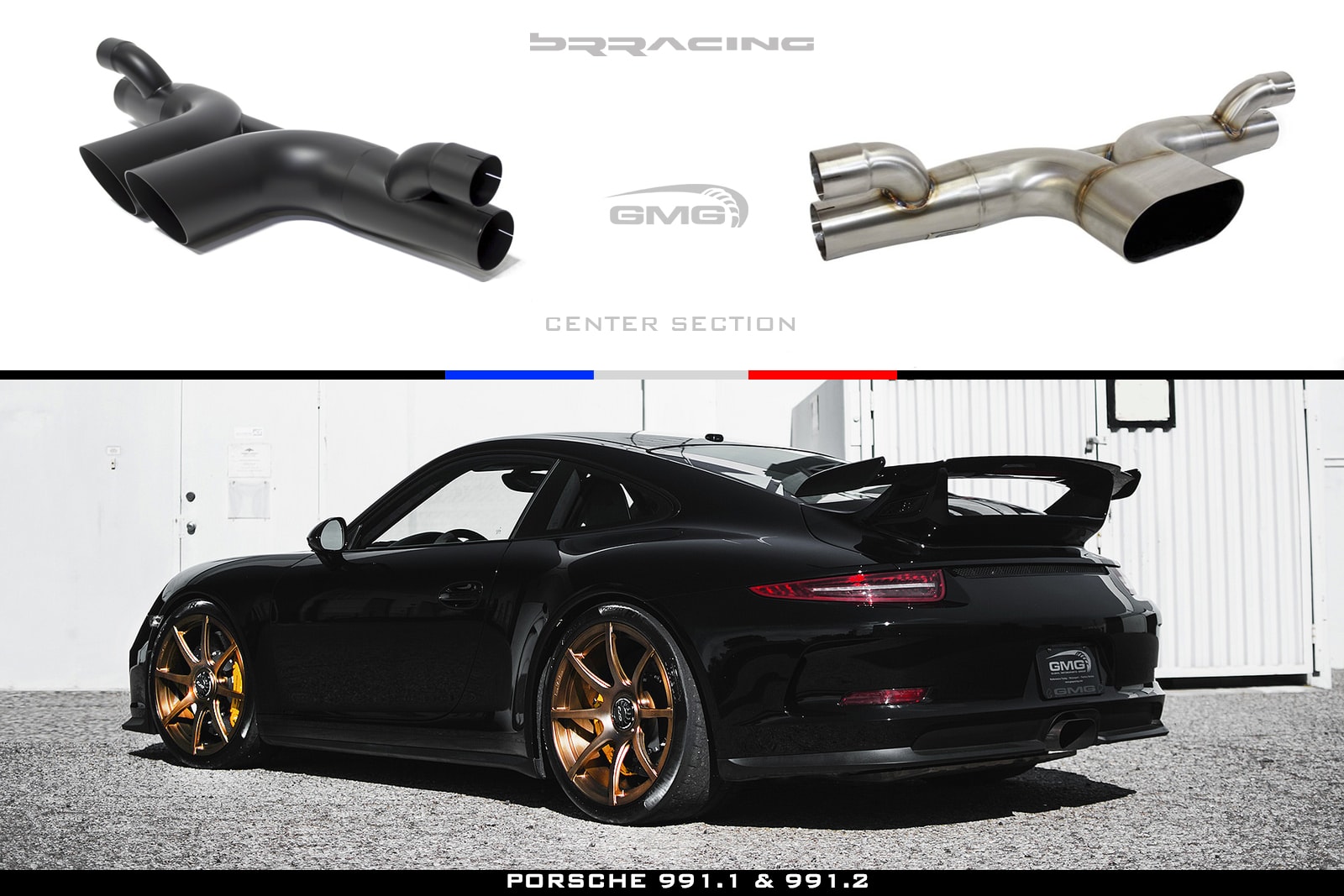 If you are looking for even more flow, horsepower and sound for your engine you might also be interested in the long tube headers also offered by GMG.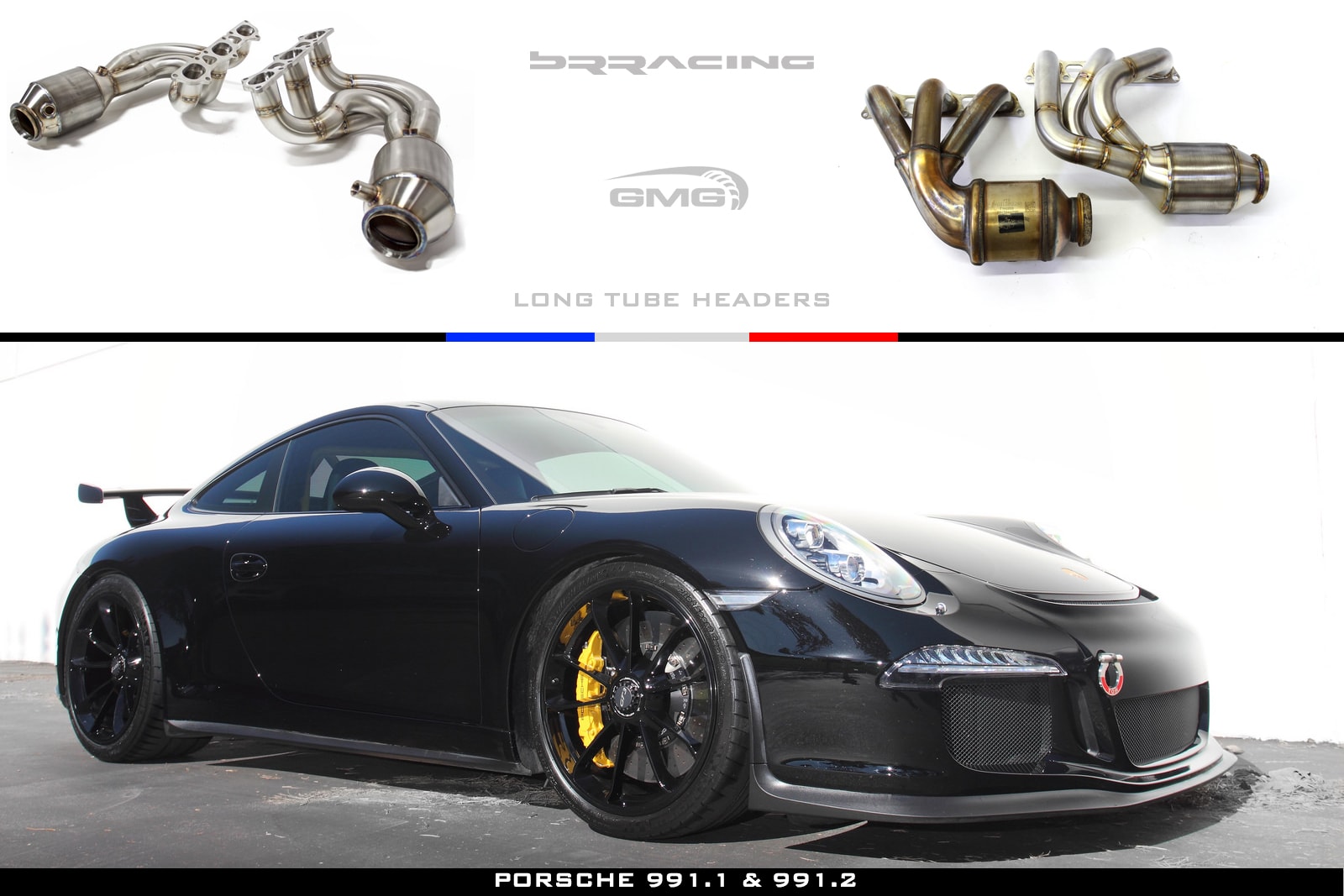 Engineered, developed, and thoroughly tested on the street & track, the GMG WC Long-Tube headers were designed to provide a consistent increase in power throughout the powerband.  The design stems from their professional racing experience in running Porsche 3.8L and 4.0L engines throughout a broad spectrum of motorsports.

This header incorporates German-made HJS 200-Cell Metal-Matrix Sport Catalytic Converters.  These dramatically cut down on obnoxious fumes inherent with race headers.  HJS manufacturers the finest Catalytic Converters on the market today.
Innovative Design – While the header features a Long-Tube unequal-length design, it is still modular with the rest of the exhaust system.  This means you will be able to keep your sport button function / feature (valvetronic control) if you are racing at a noise-restricted circuit.
Fabrication – Each header is fabricated in Southern California.  GMG uses only the highest quality US-produced stainless steel tuning and laser-cut flanges.  Each joint is TIG welded and precisely normalized.  The finished header features an exceptional finished and is peerless in its quality and durability.
Highlights:
Equal length runners
True 3-into-1 F1-style merge collector
German made high-flow 200 cell HJS HD catalytic converters
Increase horsepower and torque throughout rev range
TIG welded using US Made T304 stainless tubing
CNC machined extra-thick flanges to prevent warping
Direct bolt on replacement, no removal of bumper required
Sport button remains fully functional for everyday use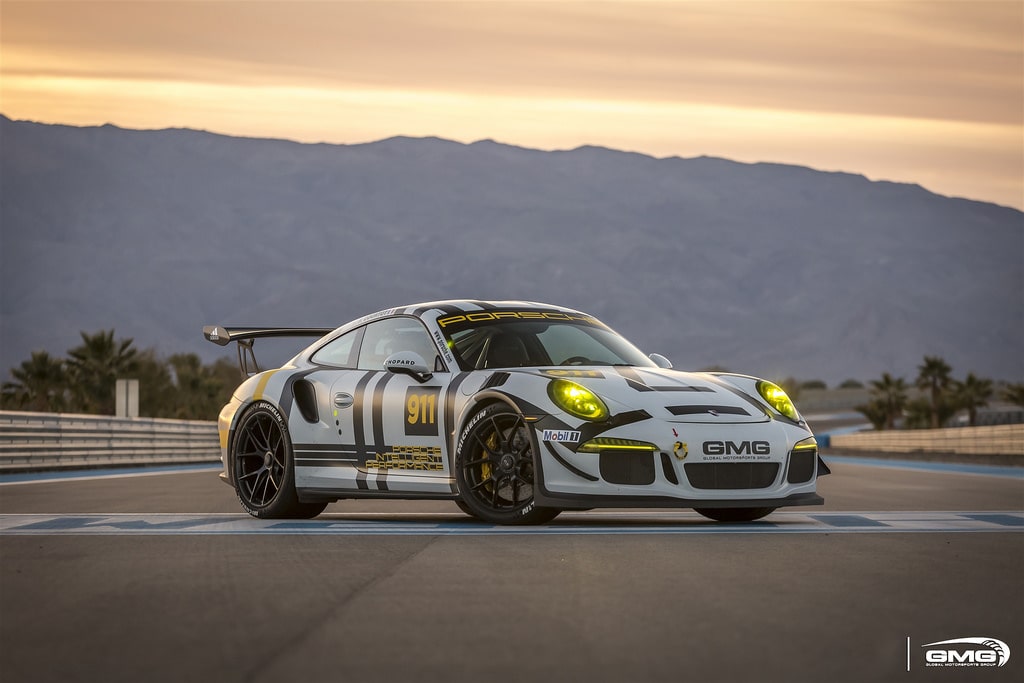 If you are ready to have your Porsche stand out from the crowd call BRRacing today for pricing and availability!