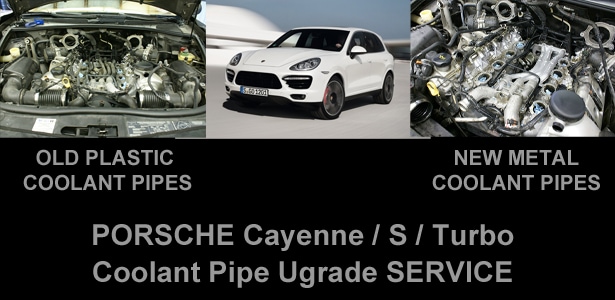 We are seeing an increasing number of Porsche Cayenne's come in with coolant leaks.  Almost all of them are due to the breakdown of the inner plastic coolant pipes that run from the front of the engine to the rear distribution block under the intake manifold. 
Porsche realized the poor design with the plastic coolant pipes, and has upgraded the set several times, now producing a new version in metal.
You can either wait till the leaks start, or you can add to the relaibility of your Porsche Cayenne, and get the coolant pipe upgrade SERVICE done now.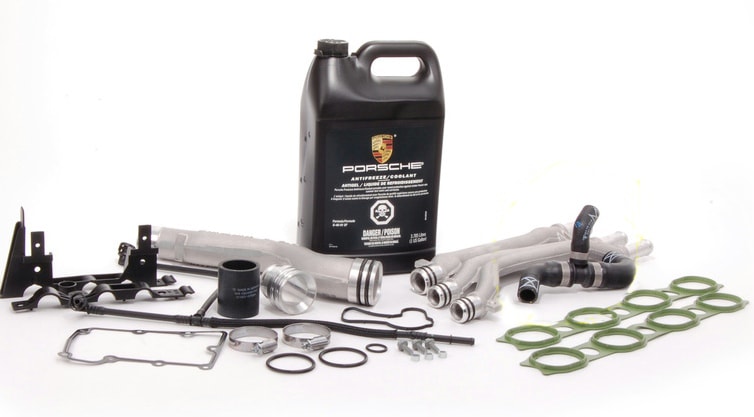 The upgrade kit includes all of the following:
– metal upper cooling pipe (triple set)
– lower metal cooling pipe (large single pipe)
– lower junction hose
– new cooling pipe mounts (2)
– new cooling vent line
– intake manifold gaskets, thermostat gaskets, coolant, clamps
For the Cayenne Turbo, the kit also includes the problematic upper coolant line T-fitting replacement
BRracing has been doing many of these upgrades, and now has a standard kit and a packaged SERVICE.  Call us today and schedule the service upgrade.