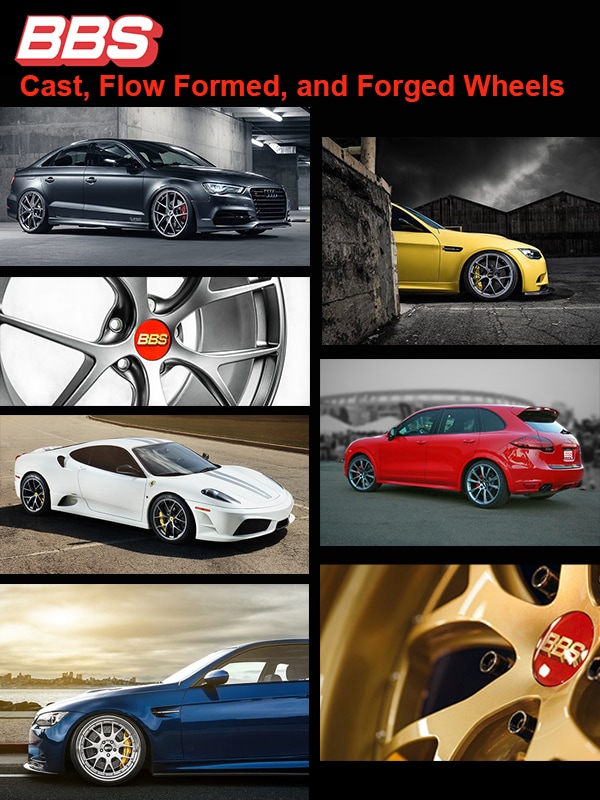 BBS Wheels
Style, strength, light weight
Leading Motorsports provider
Unlike most other wheel manufacturers in the world, the first wheels produced by BBS were for racing only. BBS continued to engineer and develop racing wheels long before we were asked to produce wheels for road cars. The know-how and successes from our Motorsports program has always been the foundation of all BBS aftermarket products. Our best designs and technologies used for our aftermarket wheels are directly linked to our motorsports activities. "Technology through Motorsports" is much more than just tag line.
In 1992, BBS developed the first forged magnesium wheels in Formula 1 (for Ferrari). BBS took the forged magnesium technology to Indy Car Racing in 1994. We have also developed cast and flow-formed aluminum wheels for several factory racing programs including BMW, Ferrari and Ford.
Although many people confuse "light weight" with "performance", the key to a performance wheel is to have the proper "Stiffness-to-Weight Ratio". In the aftermarket, some customers will ask "What is the lightest wheel you have for my car?" and although the weight is important, it is not the only factor that you should be considering. Many aftermarket wheel companies will overlook "stiffness and durability" in the pursuit of a "light weight" wheel. Replacing an OE wheel with a (non-BBS) aftermarket wheel that is only considered "lighter" without respecting the required stiffness and durability, will not enhance the vehicles performance and may lead to buyer's remorse.
The balance of "Stiffness to weight" is very important. The OE wheels on modern performance vehicles are designed to meet the performance requirements of that vehicle. The stiffness and durability specifications from the OE manufacturers are very important factors so the finished product meets the intended performance capabilities of the vehicle.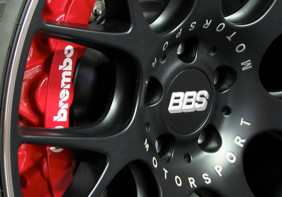 BBS does not compromise on strength or durability. Regardless of whether we offer a cast wheel, a cast flow-formed wheel or a forged wheel for a given application, the strength and durability aspects are not compromised. BBS has produced many cast flow-formed wheels for OE customers like BMW, Ferrari and Porsche. This technology can produce a high performance product that is also a great value. The flow-forming of the rim area creates a rim structure similar to a forged wheel without the higher cost related to a forged product. In the aftermarket BBS produces a wide range of cast flow-formed wheels, the CI-R, CH, CH-R, CHRII, CX-R, SV and RX-R all offer a high level of performance and an excellent stiffness to weight ratio.
BBS can also offer forged wheels that will deliver on high performance and lower weight. The BBS specialty forged products like the FI-R, RID and FI wheels deliver performance at the highest levels. Naturally BBS offers a full range of racing wheels through our Motorsports department if you need dedicated track products.
BBS started making high performance products back in 1970 and that is still the heart of the brand today.
BRracing knows Motorsports….knows winning, and there is a reason we use BBS wheels on most of our race cars.  Get your BBS wheels today from BRracing…and set your car apart from the crowd.