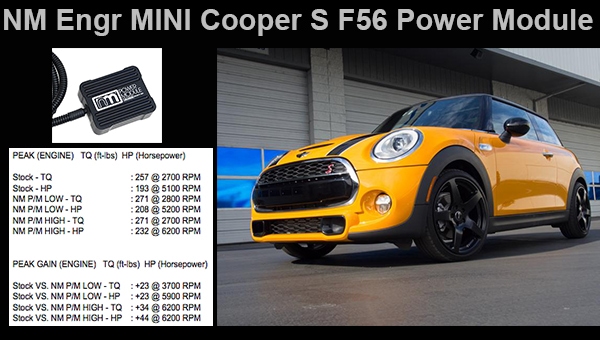 NEED more POWER from your MINI Cooper S F56?
Want a simple and effective upgrade?
NM Engineering has just the answer.  Their F56 Power Module.
HUGE gains at a bargain price, and it only takes 15-30 mins to install, or de-install.
NM Engineering Power Module is a device which easily allows most able person to upgrade the performance of their new MINI Cooper F56  without reducing the reliability or integrity of the engine, clutch and driveline. This is the simplest and best alternative or option to chip tuning. The NM Power Module is an all new propriatery tune box designed specifically for the F56, not some rebranded 3rd party product for the MINIs. It is a plug and play box that intercepts the T-MAP sensor and can be installed or removed within minutes without any detection. The electrical components are housed in a billet aluminum enclosure which is protected from the elements and is designed and manufactured to be positioned within the engine bay of your vehicle. The wire harness is manufactured using automotive quality wiring which is both oil and heat resistant, and has the same OE water proof connectors as used on your engine.
Features:
Two position switch:
LOW: 91+ Premium Fuel (+23HP/+23TQ)
HIGH: 100+ Octane Fuel (+44HP/+34TQ)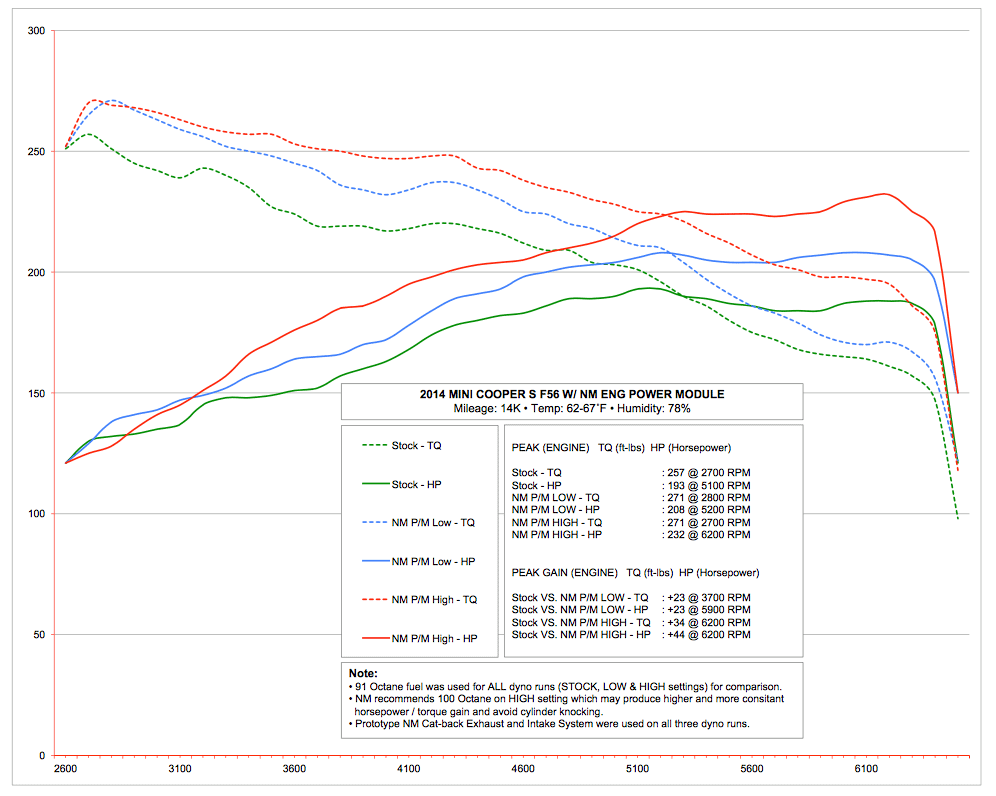 Functions:
Allows ECU to remain in control of boost
The actual boost is increased by a precise amount
Boost is increased in a gradual, progressive fashion
Correct Air/Fuel mixture maintained from the wide band O2 and closed loop mode of the ECU
Ignition timing optimized by the ECU
Retain factory engine safety protocols
Not effected by ECU reprogramming by the dealer
Plug-and-play intercept at T-MAP sensor connector location
Installation or removal can be completed in a few minute
No trace Power Module was ever there after removal
Power Module can be sold or transfered to another vehicle of the same engine type.
 
Notes:
Not to be used with 1.5T Engine
OBDII displays actual boost and not compensated, which makes the module compatible with all OBD reader/scanner, such as: Scan Gauge, P3, PLX, Torque Pro, etc.
PRICING = $399.95
BRracing – providing the best and latest to make your MINI AWESOME. 
Orders yours from us today!